Femme Fabulous - Samia Said
Samia Said started her career in showbiz by winning the title of Lux Channel I Superstar 2012. Soon after entering showbiz, she performed in TVCs and serials, notably 'Nil Shopno', 'Keo Keo Mrito Jonaki' and 'Newtoner Tritiyo Sutro'. She is currently working as an anchor in the show 'Rupchanda-The Daily Star's Super Chef 2018'.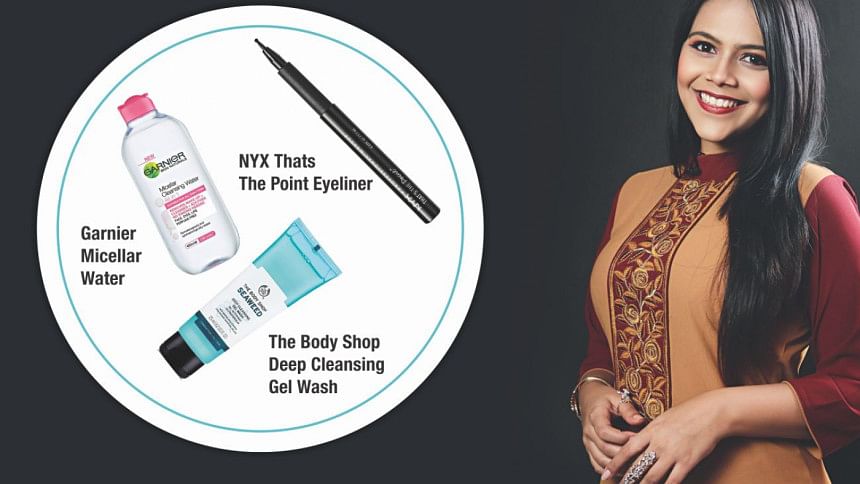 Skincare
Samia's first priority in skincare is clean skin. Therefore, every day after coming back home, the first thing she does is cleanse her skin properly using the Garnier Micellar Water and Sephora Waterproof Eye Makeup Remover. Once she has rid her skin of all eye makeup, she uses the Body Shop Deep Cleansing Gel Wash to further clean her skin. Finally she uses either Vaseline Moisturizer and goes to bed. She also regularly gets a facial from the parlor once a month.
Haircare
For her hair, she tries to keep her hair as clean as possible. However, she avoids using a shampoo as this causes a loss of the natural oil produced by our scalp and eventually causes the hair to become dry. However, after using a shampoo she applies a conditioner religiously to keep her hair silky and smooth. She occasionally likes to apply baking soda and apple cider vinegar mixed with water to further help it stay smooth and healthy. She also gets herbal hair pack applied on her hair once a month in the parlour.
Make-up
Samia loves minimal makeup. Thus, she tries to apply as little makeup as possible. Usually to run errands or while going out with friends, she applies a little bit of the Maybelline Dream Liquid Mousse Foundation and set it with MAC Studio Fix powder. For her eyes, she applies a thin line of NYX That's The Point eyeliner and a little bit of L'Oréal Mega Volume Mascara. Samia loves to complete her look with really dark lipcolors such as Colorpop's Lax, Friday and Guess. However, when going to a dawaat or a party, she likes to apply a heavy base with colour correction and heavy contour.
Regular Wear
For her everyday attire, Samia likes to be as comfortable as possible. Thus, she wears loose t-shirts, shirts with palazzas or baggy pants. In winter, she likes to wear more form fitting outfits such as jeans, fitted tops with jackets, etc.
Party Wear
When going to a family function, Samia usually goes with traditional clothes such as salwar Kameez or saree. But when going to a party with friends she usually goes with western outfits. For media programs, she prefers gowns. She loves to accessorize all these outfits with lots of rings and bracelets as they are her favourite amongst all types of accessories.