Taskeen - Veni, Vidi, Vici!
It is usually the protagonists of a hit movie who bag all the praise, but when the antagonist is Taskeen, we can't help but talk about how well he portrayed the character. Taskeen Rahman has won many hearts in a very short span of time. The blue-eyed boy caused a buzz with his debut film 'Dhaka Attack', where he played the villain. Taskeen recently visited The Daily Star Centre and on the set of 'Uncensored with Rafi Hossain' he talked about his debut film, the journey so far and his aspirations.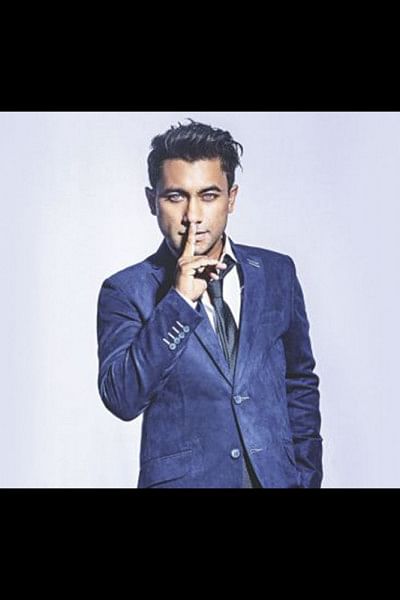 Rafi Hossain: Taskeen, tell us did you ever expect Dhaka Attack to be such a success?
Taskeen Rahman: The thing is, even though making the project was an amazing experience, I never expected it to be thrust into the limelight. The thing about this character was, I had to study it a lot. Playing negative characters is hard as you must study the character a lot. But all actors want to play a character like this at least once in their career, just to show that they are skilled enough to do it.
Rafi: So, you took the character very seriously?
Taskeen: Yes, I took the character very seriously. I had to study a lot for the character, which was very challenging. What intrigued me about this character was that he had a back story, he had his reasons for becoming a villain. I had to project all these emotions on screen. I am deeply grateful to everyone involved in the making of Dhaka Attack, and I really enjoyed playing the character. To get to know my character better, I studied all the characters around me. This helped me understand the essence of my character. To me a remarkable actor has to become the character, and after the filming is done, they have to have trouble getting out of the character. I still feel like Zishan (the antagonist from Dhaka Attack) at times.
Rafi: How did you get involved in the movie, without having previous acting experience?
Taskeen: To be honest, I have been involved with music and acting since I was a child. My father was a music director and producer, so I am familiar with these since I was a child. When my friends used to go to the fields and play, I would go to BTV and do a program. So, I got the chance to learn directly from legends like Abul Hayaat.
Rafi: But everything you did was as a child; how did you get noticed after so many years?
Taskeen: Back in 2015, I was shooting for Aadi. Dhaka Attack director Diponkor Dipon contacted me as he had had a chat with the director of Aadi Tameem Rahman Angshu about me. He told me all about the story, and after explaining the character he told me to think about it. But, as I really liked the character I told him that I was interested. We then did a quick on camera sequence, and after reviewing the tape he told me that the character was mine if I wanted to do it.
---
Rafi: Every emerging actor wants to play a lead role. But you started by playing the villain. Did you always plan for it like this?
Taskeen: To me, the lead actor isn't the hero. It's about the person who steals the show. Dhaka Attack is a film about terrorism. It shows that without the bad we cannot have the good. The character I played is the story turner. Even though he is a negative character, the story does revolve around him. Many people have this conventional view that they must be the lead actor, but I prefer exploring all the opportunities I get.
Rafi: Tell us about your upcoming projects Sultan: The Saviour and Jodi Ekdin.
Taskeen: Sultan is a Kolkata film which is being made in association with Jaaz Multimedia. This is my first affiliation with the Kolkata film industry. I also happen to play an antagonist in Sultan. This is an action film, and I have always wanted to do an action film since I was a boy. I really hope people will like this film. In Jodi Ekdin I am playing a rockstar, it's a character with a wide spectrum of emotions involved.
Rafi: Till now, all the characters you played are different from each other. The audience gets the chance to see you in a different light in each of these movies.
Taskeen: I try to be selective when choosing my projects. I believe in quality over quantity. I don't want to be that person who does movies so frequently that they lose their credibility. You also have to make sure that your character transformations are flawless. You have to lose or gain weight, you have to change the way you look so that it suits the character. That's why I prefer to do 3 or 4 films per year, so that I can make sure that the transformation is perfect.
Rafi: Since you currently reside and work in Sydney, how do people communicate with you?
Taskeen: I have to come to Dhaka quite frequently. It's hard to get a lot of days off there, and sometimes I think that I spend half my time in-flight. Initially, we talk on the phone, and I just read the script on the plane. All the signing happens once I am in the country. Since I have been working in a government position for the last 8 years in Australia, they have been very nice to me. I made sure in my contracts that I can travel back anytime I need. But as of right now, I am committed to the industry. So, I will spend a lot of time in Dhaka making films.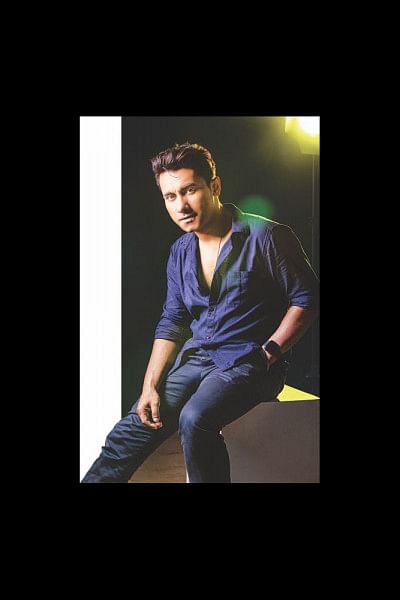 Rafi: The industry is going through a lot of changes, what do you think of that?
Taskeen: In my opinion, now is a really good time to make an actual difference in the industry. We have a lot of talented artists and film makers, but our minds just don't sync with theirs. Think about it, the young generation can watch anything from their phones. We can't just ignore them. People can differentiate good films from the bad. We need to take risks, and be more open to possibilities; we can actually improve the industry by being open-minded.
Rafi: Can you name some actors you think are amazing?
Taskeen: There's always Shakib Bhai, he has always been an inspiration for me. Arefin Shuvo, a good friend of mine, is also a brilliant actor. ABM Sumon, Siam are great too. The directors and producers have a lot of talent they can use. They should give us challenges, so that we can play different characters to our ultimate potential.
Rafi: Have you done any acting courses?
Taskeen: The truth is, I have no academic qualifications for acting. I would love to have qualifications to do theater. But, I am not skilled enough to do theater, unfortunately.
Rafi: What are your plans for the future besides acting?
Taskeen: In some years when I am hopefully a seasoned actor, I hope to go into directing and ultimately into production. I really enjoy horror movies and would love to make them. But I would really like to also make a romantic movie. Maybe even a romantic thriller.
Rafi: Who are your all-time favourite directors?
Taskeen: I love Satyajit Ray, Stanley Kubrick, Martin Scorsese. Recently Diponkor Dipon has become one of them, as he is a very relentless director. Bangladesh has a lot of talented directors these days.
Rafi: Have you faced any crazy fan encounters yet?
Taskeen: I saw a picture of this girl, who had tattooed my face on her back. It's kind of weird, since I will probably never meet her. It's also very disturbing.
Rafi: Is there any specific female actor that you would want to work with now?
Taskeen: I have already had the opportunity to work with some amazing female actors. I have worked with Srabonti, I have worked with Mim, I am having talks with Pori Moni about a project. Working with Srabonti was amazing, she was very supportive and very nice. Nusrat Faria is also very nice, but I have not worked with her yet. Joya Ahsan is also another actor I want to work with.
Rafi: So, are you in talks for new movies now?
Taskeen: I just finished Jodi Ekdin, and 4 projects are pending this year. Two of these projects will be finished in 2018, and the other two will slide into 2019.
Rafi: Any difference between the film industry here and in Kolkata?
Taskeen: The people there are more punctual and professional. Don't get me wrong, the people here are too, but in Kolkata the level of professionalism is remarkable. Here, due to less professionalism movies can be delayed, and in the worst-case scenario the movie may not even be released.
Rafi: Thank you Taskeen, it was great talking to you and I hope to talk to you about your future projects soon. Do you have any final message for your fans?
Taskeen: I would like to thank the audience for supporting me, and I hope that they will stay with me as the years go by. Every form of review my fans give me means a lot, be it positive or negative. Please keep me in your prayers, and I hope to receive your support as the years go by. Thank you all.