Bashundhara's Best Burger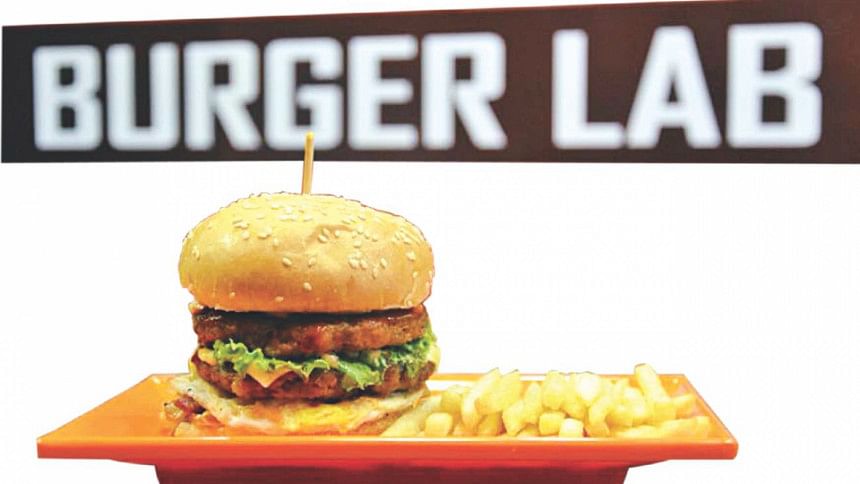 For those of us living a city away from Bashundhara, a trip to there might eat up our entire day. I was in a similar rut and during lunch time too. Luckily enough, a few of my friends dragged me to Burger Lab because burgers. 
A cute little place next to Jamuna Future Park right next to Arabian Sweets, only 10 people can fit inside at most. If you can find a place to sit which I did both the times I went there, you can actually see the amount of effort put behind Burger Lab. The decorations are excellent and they reflect the overall laboratory theme of the joint. There are quirky little quotes on the wall where someone is insisting they're on a date but they end up delaying it for a burger. If you're with a bunch of friends, it can be a really fun place to hang out over burgers. The soft yellow lights complement the red of the décor, giving the place a friendly feel. 
I'm one of those people who go to restaurants and obnoxiously order more food than the couple sitting in the next table. As the girl whispers to the boyfriend to look at the thin guy in the next table, I gorge down the food. Of course I feel embarrassed and guilty afterwards. Just because I eat like one doesn't mean I am an animal. Now, following that, I ordered Burger Lab's Big Bang which cost Tk. 350 while my friends were getting the Mushroom Cloud (Tk. 250) or the Burger Lab Legacy (Tk. 290).
The Big Bang, like its namesake, was huge. Two patties, beef bacon, jalapeno, pickles, mushroom and possibly everything in the universe in between two buns. I hate eggs in my food and since the menu type was small, I completely missed that, realising it when I bit into a portion of the fried egg.  I actually didn't hate it. That's the thing with the burgers at Burger Lab, the ingredients are balanced out very well. Mostly, one or two flavours overpower the food like an audio track with too much bass. But the burgers at Burger Lab felt unique in a sense that the flavours were very distinct from each other. The fries that we ordered were very run-of-the-mill and forgettable. They make a good supplement but the ketchup and mayo they give with the fries are great.  Oh and did I mention that the portions were quite fair? 
If you can grab a seat at Burger Lab, thank your luck and get a burger. If not, get takeout and make that Bashundhara trip worth it.