TRASH TO TREASURE BY LABIBA MUSTABINA
Putting the 'New' back in the Newspaper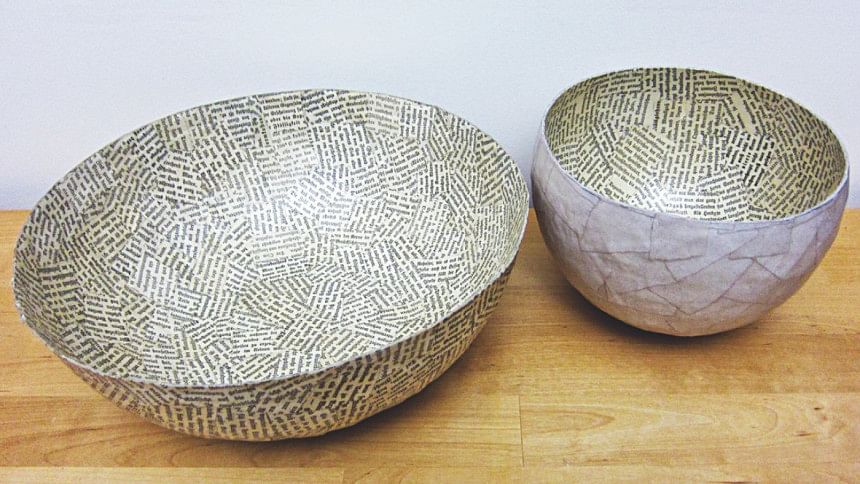 It's Thursday morning. You're sifting through the pages of today's SHOUT. When you're done reading, you may or may not decide to save a few clippings but the rest is indefinitely tossed away, with its destiny unforetold. Allow me to introduce a few ways in which old newspapers can be destined for greater purposes in life.
Rolled-up coasters
Since caffeine and morning news are best mates, why not use the newspaper to prevent that hot cuppa leaving a stain on your furniture? To make coasters out of the paper, first you'll need to make around 10 strips of newspaper of roughly half inch, each time folding the sheet of newspaper 5 times on itself. Now, applying adhesive on one side of the first strip, begin to roll it on itself, keeping the centre tight. Continue applying the next strips similarly, one after another on the structure till you've attained the desired size for the coaster.
Paper mache bowls
When it comes to organising your clutter around the room, nothing beats bowls. Blow up a balloon and securely place it on a bowl. Now, start applying coats of adhesive mixed with water and place pieces of newspaper over it, continuing the process for 5-6 layers or more to achieve a solid thickness. The paper mache should be allowed to dry overnight before coating a new layer. Then, pop the balloon to reveal the paper mache bowl. Trim the edges off and apply a final coat of adhesive for a glossy finish. You could leave it at its newsprint classiness or paint it.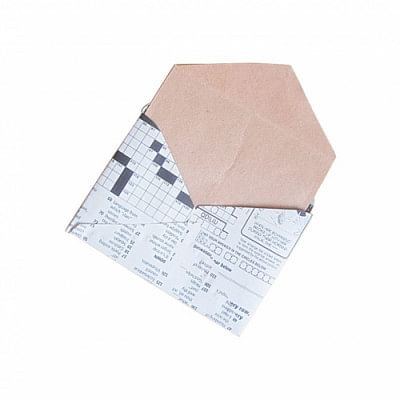 Swirled paper roses
Super easy to make, these swirled paper roses will never fail to add elegance to your décor. To make this, simply cut a circle out of the newspaper depending on the desired size of the rose. Now maintaining a half inch width, starting from the circumference and moving towards the centre, cut a continuous circular strip with wobbly cuts on the outer edge. Now, starting from the outer end, wrap the swirly strip on itself. Adjust the shape to your liking. Finally secure the shape with the application of hot glue or adhesive at the bottom, holding the shape till the glue dries.
Newsprint canvases
What do you do when you have a few old painted canvases ruined beyond repair? You make newsprint canvasses with them. This just requires an old, tattered, ruined canvas (a new one works too) and adhesive. Simply layer glue over the canvas and juxtapose newspaper strips in various angles over it. You now have a new canvas. You can paint over it or sketch on it but nothing beats silhouette cut-outs in black against the newsprint background.
Instant envelopes
Gone is the era of letter writing but we still haven't managed to say goodbye to envelopes. If you find yourself rummaging around for one, just grab a newspaper. Take a rectangular sheet of newspaper, fold about half inch inwards from both sides. Fold the paper to create three parts: a smaller fold to create the lid and the rest folded in halves for the body. Glue it in place and it's ready for mailing!
Labiba Mustabina studies biochemistry and biotechnology at North South University. A tree hugger, she also claims to be a closet artist. You can reach her at [email protected].