Showcasing Young Inventors
FabLab Dhaka Organizes MakerMeet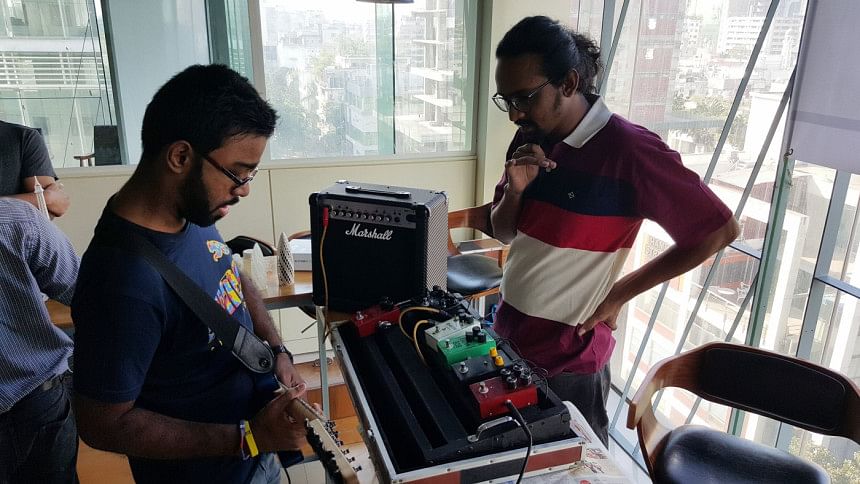 On October 31, Fablab Dhaka hosted its first MakerMeet. When asked about what MakerMeet was all about Tauseef Anwar, one of the founders of FabLab Dhaka said, "We want to increase interest in making, to inspire consumers to become builders. MakerMeet serves as a platform for young innovators here to showcase their creations and share ideas."
MakerMeet took place at the beautiful workspace at Moar in Banani. First there was a Build Session where Mehad Ul Haque, the other founder Fablab Dhaka, conducted a Robotics Workshop. The participants were taught hands-on how to build their own remote-controlled robot car.  Following the Build Session, was the main highlight of the event, the Showcase Session. Present at MakerMeet, were The Jute Lab, Daddy's Pedal, The Tech Academy, TechnoNeeds and various student inventors from different institutions.
The Jute Lab, a research venture by the NGO Gold of Bengal, aims to create a natural composite material using Jute. Guillemette from The Jute Lab enthusiastically talked about the project, "The production of glass fibre is quite harmful for workers, and it's also expensive to import. We're trying to make a recyclable and durable substitute using jute fibre." The Jute Lab brought samples of their work, including a long-board made entirely of jute composite material.
The Tech Academy Founder Shams Jaber, did an interactive demonstration of two video games designed by his students. A proud teacher, he explained how after a few months of training his students who came from different backgrounds and age groups were able to write the code for their own games as well as design the hardware. On the other hand Imran Mohammad, a representative from TechnoNeeds which provides 3D printing services in Bangladesh, showcased 3D Printed trinkets.
Navid Imtiaz Choudhury, with a background in advertising and a passion for music, started making his own high quality guitar pedals because imported ones were overpriced. "I had no idea about electronic engineering, but once I taught myself with the help of a friend, there was no going back." Soon, other musicians started ordering his pedals and Daddy's Pedal was born.
Similarly, Abir Mohammad from BRAC University also encountered a difficulty and solved it by designing his own product. Always forgetting his keys at home, he created a device that allows the user to lock or unlock his door using his mobile device via Bluetooth. Another student Robin, also a Lego fan, made a functioning robot and printer using Lego.   
A team of students showcased their app called VAT Checker, which is currently available on the Play Store. If you take a photo of your receipt from a particular restaurant using the app, it will tell you whether their VAT registration number is authentic or not. If the registration number is fake, you can immediately file a complaint with the NBR through the app. The NBR has already conducted raids on restaurants reported by users of the app.
MakerMeet drew visitors from all walks of life, children accompanied by parents as well as science nerds, music lovers and artists. The event concluded with a speech by the founders of Fablab Dhaka where Mehad Ul Haque said, "Fablab Dhaka is an open Digital Fabrication Studio where we turn ideas into products. We want to become Dhaka's central maker hub by providing an interface between Makers, Companies, Universities and Schools." The founders also invited all those present to join them in getting Dhaka's first Fabrication Laboratory, an openly accessible workspace equipped with state-of-the-art gear, up and running.       
Don't forget to check out Fablab's facebook page, facebook.com/fablabdhaka
Maliyat is an ergophobic self-proclaimed sociopath. But she'll be nice enough, if you send her intelligent commentary at [email protected]