RESOLUTION FOR GOOD GOVERNANCE
NSU Model UN Conference 2015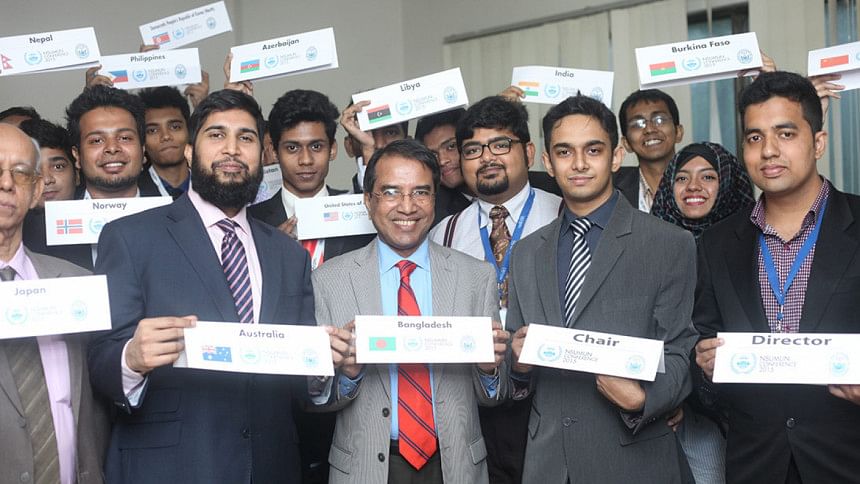 From July 30 till August 1, the three day long NSU Model UN Conference 2015 took place in the university campus, hosted by the North South University Model UN Club. More than 250 participants from both country and abroad took part in this well-orchestrated United Nations simulation, under the banner of 10 respective committees which included UNSC, UNEP, UNIDO, CCPCJ, SOCHUM and the likes. The general theme of the event was "Ensuring Sustainable Development through Good Governance".
The event was officially inaugurated on July 30 at the Exhibition Arena of NSU. M. A. Kashem, Chairman, BOT, NSU, was the chief guest of the event, while Professor Amin Sarker, Vice Chancellor of North South University, presided over as one of the special guests of the programme. The other notable special guests at the event included Dr. M. Emdadul Haq, Director of Student Affairs at NSU; George Mesthos, Cultural Affairs Officer at the U.S. Embassy, Dhaka; and Moniruzzaman, Officer in Charge at the UN Information Centre, Dhaka.
In his speech, M.A. Kashem praised the efforts of the NSU MUN club and said, "This initiative has indeed proven to be a very commendable one, as I am sure, that this conference has immensely helped in creating future leaders for the world."
The second day of the conference consisted of a Social Night at Dhaka Regency where the audience was entertained by the tunes of Arbovirus and Fahad Zaman.
The event finally closed on August 1, as the participants were provided with a phenomenal Model UN experience. This was the very first session of the conference and the club hopes to arrange the event next year as well. As the event concluded, the president of the organising club Ahnaf Tahmid expressed his gratitude to the members of the club and the participants. He stated, "Not only did we create a platform to negotiate and teach our youth the power of diplomacy, but we also aimed at spreading the message of peace and prosperity."
The committees in this event discussed different agenda while the students represented their own institutions as well. The young delegates solved challenging issues with aplomb, brainstorming and unleashing their creativity. More than 40 awards were distributed among the delegates based on their performance.
A participant in the event, Maisoon Binte Tariq, shared her experience: "For someone attending an MUN conference for the first time, it was great watching expert MUNers in action. Learning how diplomats work was very instructive and I hope this participation will help me do well in the next ones."
Jawad is your next-door superhero who needs you to get him his cape. Your curtain will work too. Shout at him on facebook.com/jawad.muhtasim or [email protected].