Struggles of a Middle Class Gamer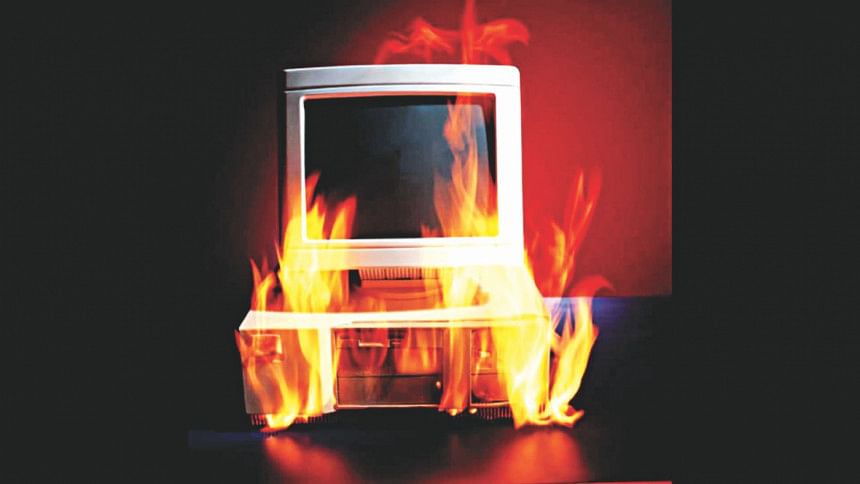 Everyone has dreams. Dreams of becoming something no one could think of, like a doctor or engineer. Unfortunately, more often than not, those dreams are never achieved, for some dirty papers which make the world go round. We, two brothers, dreamt of becoming professional gamers. But how could we even think of that when we couldn't even afford an indie game on Steam Sale? Yes, this is our story, a tale of claws and talons stuck into the skin of anti-consumerism in order to get our gaming fix.
The constant stake through our hearts was however the dreaded console. Every couple of years we would wait in dread for the big reveal. Another big box we couldn't afford, and even if we could, how do you expect us to cough up a couple thousand takas for one single game? It's like the publishers don't even care about fans living in a developing country. It's all EA's fault.
We would often see our cousins, who we used to think would amount to nothing, post pictures of their newly bought PS4s. A lot of times we would give them a call, just to know how they're doing. We usually laugh and reminisce about the good ol' days and talk about meeting up, preferably at their homes, in their room, with the TV, and the PS4. It's nice to meet and reminisce with cousins.
You might be wondering, "Why don't these two just play free games on their PC?" First of all, did you just assume we have a PC that can run Minecraft at max settings? Our computer has Intel's integrated graphics, and not even the good kind. If we could, we would have played Fortnite and ruined our lives. "Why not just play old games?" But then how would we keep up with the gaming crowd that always talk about the newest releases? We both cared about what others thought of us, and we craved to feel valued.
The other day, we came up with the bright idea to try out a gaming lounge. Thirty taka per hour sounded like a great deal. We paid the clerk and started our duo PUBG no-scope-crossbow-only play, when suddenly the same guy came up to us and informed that our time was up. Our mother always said that the years just pass by and how we should savour every moment; this was not what we thought she meant.
One thing's for certain, this gaming lounge, the game importers, the developers – and capitalism – were all out to get us. Enough was enough and it was time for the proletariats to rise and seize the means of game production. We needed to "git gud" and vanquish the final boss, the invisible hand.
Our first plan of action was to call up that same cousin. We set our plan in motion, got all our proletariat comrades together, and hatched a plan with our capitalist cousin's shiny PS4. The first part of the plan came along nicely. Five people, two accounts, one PS4.
We called it "game sharing"; it was genius.
One account would handle PlayStation Plus while the other would keep stock of all our games. It worked similar to any money laundering scheme except we were innocent and weren't doing anything illegal. We pooled together whatever meagre sum we could and bought whichever game we wanted. But how long could we keep this up?
Games about stealing cars and spidermen, you would not believe your eyes. But the chipping in and taking turns was getting frustrating. There had to be another way. We decided then and there that we were going to only buy couch multiplayer games. And before realising that we were becoming our worst nightmares, we became one of the exclusive FIFA squads that we sought to destroy.
Everything was a blur from that point on. Controllers were broken, couches caught fire, and by the end of the year we were back to square one. It wasn't worth it for everyone involved. And wouldn't you know it; we were back to playing Runescape, two boys staring blankly into the screen.
Despite our best efforts to serve our self-interest, we had to come to terms with the fact that there is nothing for the middle class gamer to escape to. It was either watching thirteen year-olds on some sick Fortnite gameplay over dinner, or no Fortnite at all. We just wanted to belong to the master race and if that meant we would have to keep up with all the gaming news then we were going to do just that. After all, it's not like our mother was going to buy us Netflix.
And while we both had our moment in the sun, it had gotten difficult for us to keep up. We still heckle with every rickshawala, trying to save up every penny we could. Ultimately, we all have dreams. We couldn't be pro-gamers, sure, but that's why we're listening to our mother now and we are studying to become "programmers".