Why you shouldn't be sleeping on Kaguya-sama: Love is War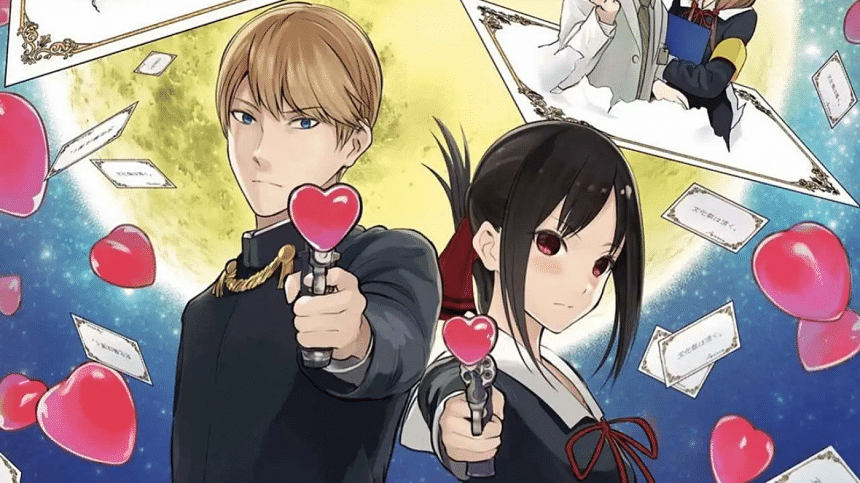 After seven years of build-up, the curtains were finally drawn on Kaguya-sama: Love is War earlier this month. What started out as a tale of two geniuses with an interesting hook eventually grew into one of the most popular and emotional character-driven stories in the industry.
Written and drawn by veteran author Aka Akasaka, Kaguya-sama: Love is War is a romantic-comedy manga series. The titular character, Kaguya Shinomiya, is a rich, sheltered, and prodigious young girl whose most formidable opponent is Miyuki Shirogane, an academic powerhouse. After working in the student council together, the two proud and naive teenagers engage in an all-out battle of wits to make the other confess their love before they graduate high school.
This wacky premise works brilliantly in favour of the author because it is essentially one big comedic progression. This allows him to throw around a barrage of jokes, self-contained misunderstandings, and above all, calculated mental warfare that is so self-aware that it is impossible to not feel invested in it.
Even though the story starts off hysterically, it only gets better with time. Aka Akasaka's ability to reuse gags and character quirks without making them feel stale is something that must be lauded.
With each passing chapter, the timing and execution of jokes feel more confident, the absurd punchlines feel more grounded, and the mundane moments become more subtle and nuanced.
The comedy, however, feels real and convincing because of a stellar cast of supporting characters who are just as vibrant as the main pair. Characters like Fujiwara, Ishigami, Iino, etc. have clashing personalities, hobbies, and ideals, but their dynamic feels organic because they are all fundamentally the same – hormonal high school teenagers.
They experience love, growth, and the chaos around them in different ways, but contemplate their interpersonal relationships critically. While they view their own character flaws and insecurities in a pessimistic light, the relationships they build help to bring out the best in one another. Their over-the-top antics might make up the crux of the story, but seeing their relationships blossom feels just as rewarding.
Additionally, one of Kaguya-sama's strongest points lies in how it handles character arcs. Since every character is inherently flawed and struggles with internal conflicts, their growth isn't limited to single events or encounters. Throughout the series, their values are confronted, their past is brought up, and they are pushed to take the initiative to spark change. Through this process, the audience can fully invest themselves in the story and characters.
On the flip side, the series' romance is somewhat of a slow burner. Since the story puts its comedy first, the romantic progressions are few and far between, and seemingly inconsequential. But in retrospect, even the simpler developments — such as sharing an umbrella or walking home together — become heightened due to their infrequent appearances, and contribute to the story's emotional depth.
In a way, Kaguya-sama: Love is War has a mesmerising way of subverting expectations, while also staying true to the expectations it laid down several years ago. The ending may not have been perfect, but the emotional rollercoaster journey was well worth the weekly wait, and warrants respect for how far the series managed to come.
Ayaan loves to read dinosaur comics and poorly-written manga. Recommend your least favourite shows at [email protected]