Why Studio Ghibli's Howl's Moving Castle is a Timeless Classic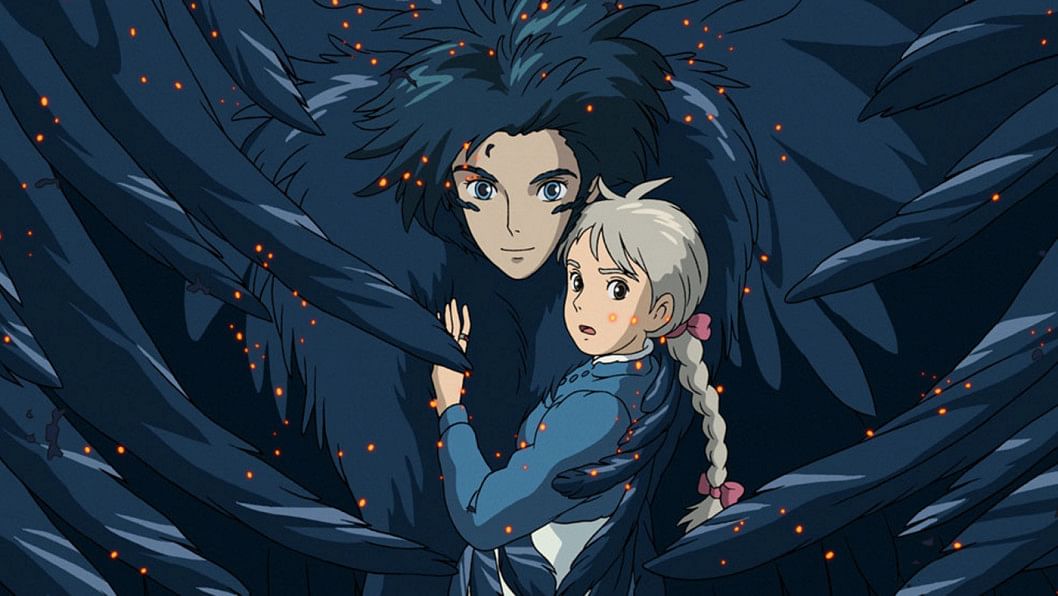 Studio Ghibli's award-winning animated movie Howl's Moving Castle (2004), loosely based on the critically acclaimed novel of the same name by Diana Wynne Jones, is a tale of love, loss, the perils of war, and the value of finding family among friends. The movie centres around a group of mismatched individuals helping each other through their struggles and creating a home for themselves. The movie's message of love and kindness resonates with audiences of all ages, making it one of the best films created by Studio Ghibli.
Unlike its predecessors, Howl's Moving Castle is a love story. It is the story of Howl and Sophie falling in love and learning to accept themselves throughout the process. Howl, who the rest of the country perceives as a devious womanizer eating the hearts of young maidens, falls in love with Sophie's empathy and her kindness. On the other hand, Sophie sees Howl for who he really is: a man trying to do the right thing and avoid perpetuating the cycle of abuse.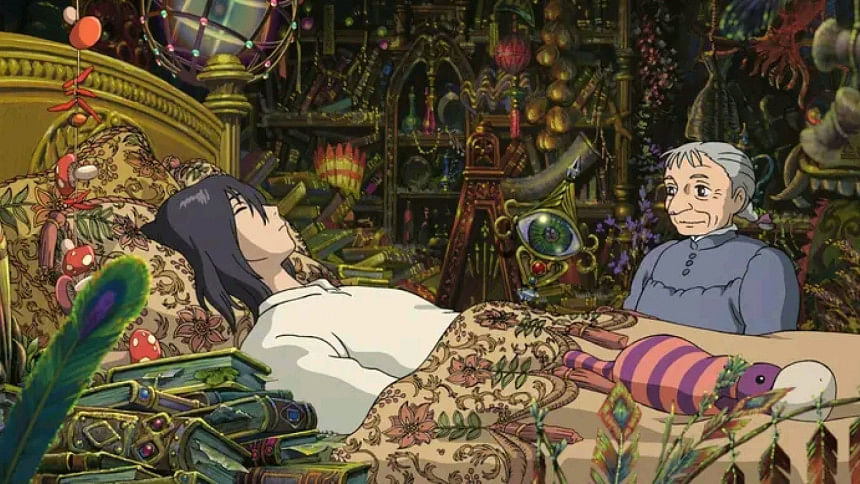 Howl loves Sophie no matter what she looks like because Sophie's curse is actually not old age. The curse only makes her outward appearance match how she feels on the inside, which is often rickety, useless, and undeserving of love. Only when Sophie feels ready to let go of her burdens and follow her own path can she break out of her curse. Similarly, it is only when both Sophie and Howl can open their hearts for each other that they are able to heal. Howl helps Sophie step outside her comfort zone, regain her confidence, and find purpose in life. Sophie in return helps Howl retain the humanity and heart he thought he had given away long ago. She helps him realize that running away is not the answer to his problems and that he needs to face his demons head-on. 
Throughout the movie, Howl's narcissism and destructiveness lessens after finally finding someone he cares about more than his desire for self-preservation. Sophie gains confidence in her capabilities, which allows her to break free from the isolation and monotony of her life. They finally accept themselves for who they are, not because their relationship changes or fixes them, but because it shows them that they are both worthy of love.  The transformative power of their love helps them grow and genuinely love themselves, in spite of their flaws and shortcomings.
To the viewers, Sophie and Howl falling in love might seem sudden or unexplainable in the beginning. However, everything makes sense when a blink-and-you-miss-it scene towards the end of the movie reveals that Howl and Sophie's meet-cute at the very beginning is not merely a chance encounter. Their meeting has been predestined ever since Sophie tells young Howl to find her in the future. So, when Howl's first words upon meeting Sophie are "There you are, sweetheart, sorry I'm late. I was looking everywhere for you," it isn't just a ruse to get her away from the soldiers. He has actually been looking for her all this time. It is just that exact moment that makes Howl's Moving Castle such a timeless masterpiece. The unmistakable brilliance in Miyazaki's storytelling shines through as the threads connecting the plot come together in the end, providing a cathartic experience for the viewer.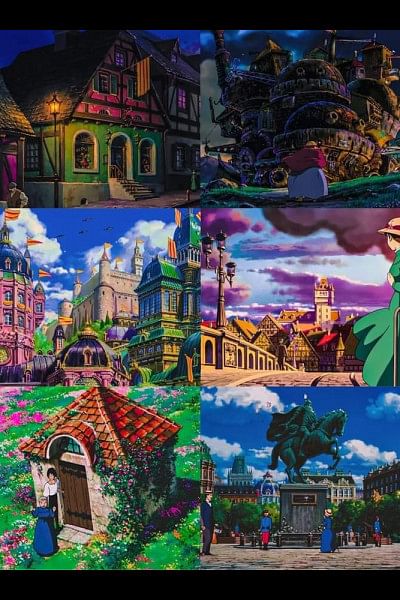 Howl's Moving Castle makes use of all the recognizable hallmarks of a classic Ghibli film — the romanticization of everyday tasks, the beauty of nature, magic, mouth-watering food, the general disdain for industrial pollution, and the futility of war. Hayao Miyazaki, who served as both the writer and director of the movie, has always been staunchly anti-war. Growing up in the middle of war and witnessing first-hand the madness it creates significantly impacted his work. It becomes clear that the movie is heavily influenced by the injustices of the 2003 Iraq war, as it does not shy away from commenting on the absolute ruin and horror that results from conflict. Seeing the flowery romance bloom amid all the chaos is intently jarring, as Miyazaki wants the audience to internalise the reality of war disrupting peace.
But despite its dark subject matter and grim outlook on violence, Howl's Moving Castle is a movie many people turn to in times of hardship. The magnificently drawn visuals offer the perfect escape from the anxieties of daily life, while providing a sense of comfort and reassurance.
The movie is the epitome of Miyazaki's mission statement, which is to send a message of cheer to all those wandering aimlessly through life. Howl's Moving Castle shows us a relatable version of our reality, while allowing us to dream of a world where the selflessness of people encourages them to do the right thing. A world where people in power listen to reason, and even the worst villains can change for the better when shown compassion. It teaches us the importance of prioritizing our dreams instead of living a life dictated by external expectations and taking responsibility for our actions. It shows us how people are often self-serving and unpredictable, with all our personal scars and inner demons. But, despite all that, we are capable of fostering so much love that it inspires us to share affection and compassion with those around us.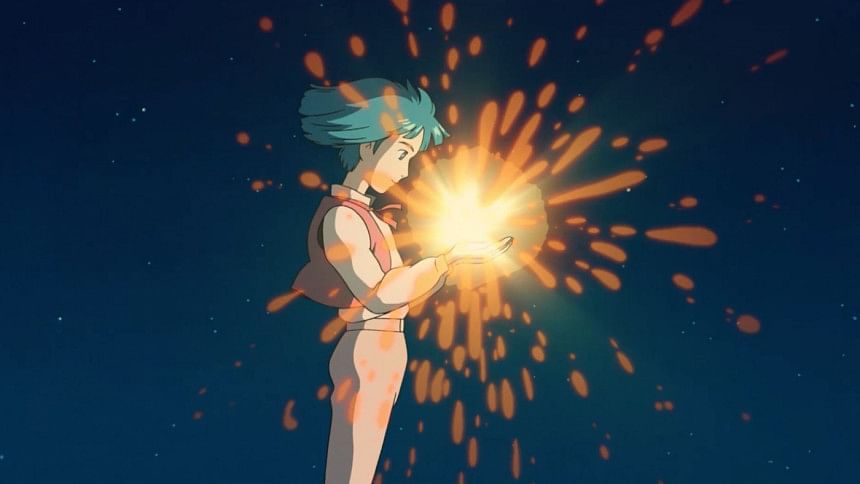 Howl's Moving Castle is the breadth of the human experience, of what it means to be alive and to find joy in the little things. There are so many interlinked details and underlying messages throughout the movie that even on my 12th rewatch, I still find new things to analyse. I could go on and on about the movie's breath-taking visuals, its spellbinding storytelling, its introspective characterization, and even the heart wrenching soundtracks, and so on. But at the end of the day, I think Howl's Moving Castle is a timeless classic because it gives us hope that everything will turn out just fine and reassures us that love will always prevail. After all, if an enigmatic wizard, a sassy fire demon, a cursed hatter, a lost prince, a magician's apprentice, a jealous witch, and a spy dog can happily live together as a family underneath one roof, maybe anything is possible.
Sara Kabir is a dreamer, a literature major, and a writer. She is often found juggling academics and her countless hobbies. Share your favourite Ghibli memes with her @scarletfangirl on Instagram.