Where is the music?
Music has always been an important part of the youth culture in this country and in the last decade, an independent scene has formed its own niche through alternative sounds and unique personalities. Weekends would mean going to an intimate indoor concert in spots like Russian Cultural Centre (RCC), Jatra Biroti or the more recently opened 3rd Space.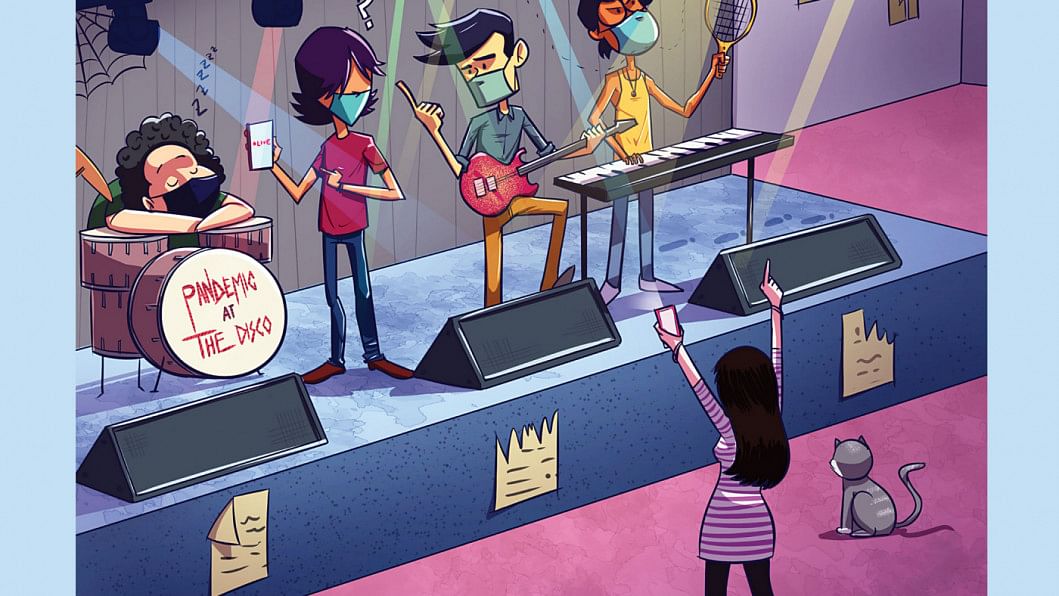 However, since the world went into a standstill, the capital city Dhaka has been quietly following suit, and its slew of independent musicians have been isolated for months. Granted, for a while, their fans were satisfied with listening to their favourite music on various online streaming platforms. But now it was a question of how many of such artists would be able to retain that connection with their respective fan bases.
Before the lockdown was enforced, artists would spend time honing their crafts, writing songs with their band, recording music with their producers or just practicing for shows. It was a lifestyle in itself. If nothing else, staying active in the scene was important just to keep musicians inspired and motivated.
Rushmian Wadud, lead singer of the band Petty Never Grew, laments over how organic the songwriting process was for his band before the pandemic hit. He says, "Even a few months ago, writing music was obviously easier for bands like us. I think we can be the most creative when the members can sit together and write. Personally, I am not a big fan of the individual music composing process. If compared to the recent situation, I'd say recording songs was easier and more fun for sure."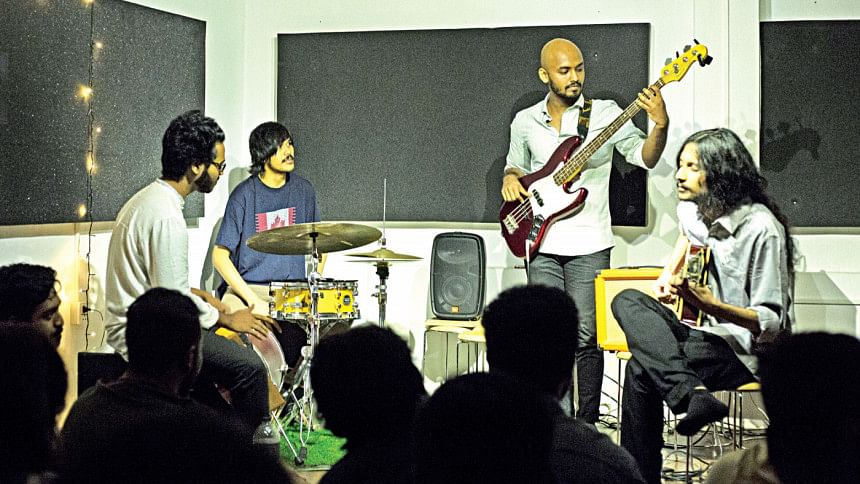 For bands that depend on rigorous practicing, like the Imran Ahmed Trio, the pandemic has not only resulted in a disconnection with the fans but also disrupted the synergy within the band itself. Frontman Imran says, "We would rehearse almost every day which obviously had to stop ever since the lockdown started. We always perform long sets, so the rehearsals were important."
Even plans for recording new music fell apart for many of these bands. Arif Kazuki Kunimoto, from Headline, mentioned how his band was on its way to record a new album and how they were practicing and writing new music every day.
However, it wasn't just artists living here that had a hard time with working on new material for their growing audience. Issa Nibras Farooque, prominently known as Farooque Bhai and a resident of Toronto, Canada, talks about how even though his presence has mostly been online, the pandemic has found a way to make things difficult for him too.
"I realised that as a diaspora artist, the pandemic has put me on a level field with artists in Bangladesh. I could now do Zoom interviews whereas I was only doing interviews during my Bangladesh tours in the past. I had to adapt and use this opportunity to my best ability while keeping in mind the sensitivity of what we are going through and how I deliver my message. Performing for people is what brings me a lot of joy and I can't wait to be playing shows again. For now, I can say that the pandemic has forced me to have a better setup for my online shows," he tells us.
As the initial lockdown was later on extended indefinitely, the morals of the artists were soon affected.
"The first month gave us some breathing space after performing non-stop live shows both in and out of Dhaka. Then, as the lockdown kept on extending with each passing month, the band started becoming more and more demotivated," shares Ifaz Abrar Reza in regards to his group Arekta Rock Band.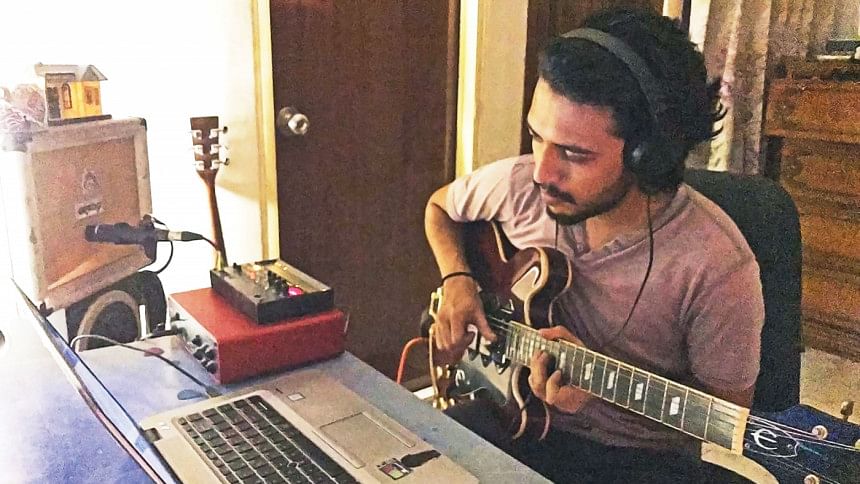 It isn't just the morale of the band members that stand at risk here. The individual career of these artists, as well as their livelihood, faces doubt. Live shows were the primary income for most artists, and although online performances and interviews have continued for some to interact with their audiences, unfortunately, it does not generate any income.
As a result, the artists are forced to look into other avenues to cover their costs. "Apart from taking on some commercial gigs, I am going back to teaching music. It's open to students of all levels and people can message me directly to book a lesson," says Imran Ahmed.
Many newer artists, who were only beginning to establish a fan base through interaction during live shows and concerts, are also having a hard time coping with how things have changed.
Fairly new in the indie music scene, Anika Rashid Khan, states, "Early this year my music career was finally going towards the direction I wanted it to. I started out by doing a lot of small shows and with time, I started receiving bigger offers. I also had a couple of corporate shows and song releases lined up for the year but now they have been put on hold indefinitely."
As bleak as the situation may seem so far, artists are still persevering. Although studio and jamming sessions don't see much activity, there has not been a pause on creativity. Since most of these artists are students, juggling between education or a more conventional career path alongside their music, office and educational institute closures in some cases have provided them with more time to focus on their art.
Just a few weeks into lockdown, we received the new single "Bhor" by Petty Never Grew, followed by Headline's "Take it Easy" and Orfred's "Jaflong" was released in July. Bands such as Karnival and Embers in Snow have continued with their album releases and gifted us Mohumukti and Solstice, respectively. Moreover, bands like Dads in the Park, EIDA, and many others are enticing us with new music, telling us that the indie music scene is not dead yet.
And so now we have to ask, what does the future of this scene look like? With social distancing measures continuing and online streaming platforms taking the main stage, live shows with passionate crowds seem like a distant dream. However, as seen in the UK, the advent of "socially distanced concerts" gives us hope for a new dimension of music events.
Accordingly, artist Armeen Musa with her Ghaashphoring Choir, is wasting no time to adapt to this newness while staying as pragmatic as possible. She explains, "We are planning to do more online recordings to keep everyone's spirits high. Post-pandemic is really not a date, but a whole era where things will slowly be readjusted to a new way of life, so for performing arts we don't really know what it means. Currently, we are trying to build better spaces in our homes to transmit good sound for live shows."
Tilok Adnan from Orfred feels optimistic about people and their need to socialise and connect. "I would personally be happy if future live shows have audience quotas. I also feel that we'll see a lot more from solo singer-songwriters, and most bands will eventually shift to recording in home studios," he adds.
And the fans, do they feel the same way?
The indie music scene in Dhaka provides a much needed cultural experience for the youth. Even before the pandemic, the number of these indoor concert attendees was increasing. Large, open-air music venues never saw a shortage of big names and massive crowd presence. However, more people wanted to listen to new materials from local outfits.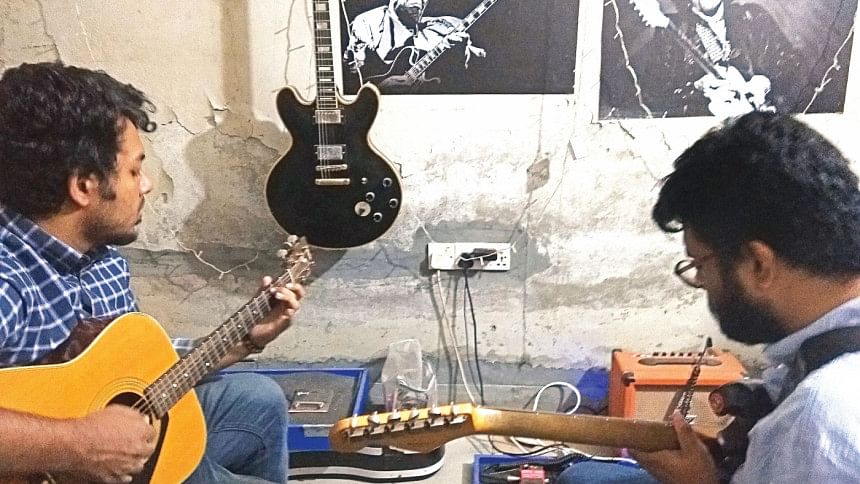 Kazi Sami, a student of University of Dhaka and active follower of the indie music scene shares his thoughts on how he feels about his favourite local artists, saying, "It'd honestly be too much to ask for anything during this pandemic, as we all are suffering more or less, but a lot artists and bands are reaching out to their fans through streams, even enabling fellow musicians or fans to jam with them, and I believe keeping these up might really help boost everyone's mood during these tough times and is also a great opportunity for both parties to get to know each other better. And post-pandemic expectations? Well, all I hope is they do a lot of shows."
As difficult as it is to come to terms with the current state of things, it was clear from the beginning of the lockdown that isolation can lead to even more creativity as people learn to cope and adapt to a new uncertain world.
This optimistic kind of adapting not only comes from artists but event managers as well. Muttaki Mahmud, owner of 3rd Space, shares how his platform has changed and progressed since the pandemic started.
"The lockdown has led 3rd Space to make the biggest decision since we started our platform: to let go of our current venue and move our platform online. However, we are currently working on a bigger, better venue that will provide even more facilities for all our amazing patrons. We only hope that our community will continue to support our mission to provide a place for culture and the arts to flourish," he shares.
Elita Karim, renowned musician and Editor of The Daily Star Arts & Entertainment and Star Youth, talks about why live shows are important for the artists well as the audience. She says, "Live shows are really important to build an organic connection between the artist and the audience. There is a kind of rush you get from performing a live set where you can reach your audience in a more direct way. All artists and of course, indie artists are vital for the culture and we need to keep supporting them to support the culture."
It's wrong to assume that local, upcoming talents provide entertainment for a smaller audience. They also inspire many more to pursue music, and the artists who churn out emotions in their music and lyrics at a time like this, will surely stand as examples in the future for how creativity and adaptability can and should go hand in hand, even in dire straits.
Mohua Mouli likes cats and taking naps while listening to podcasts about aliens. Don't mail her at [email protected]
Tasnim Odrika has only one personality trait and that is cats. Share ideas for new personality traits with her at [email protected]ahoo.com