The need for admission counsellors in Bangladeshi schools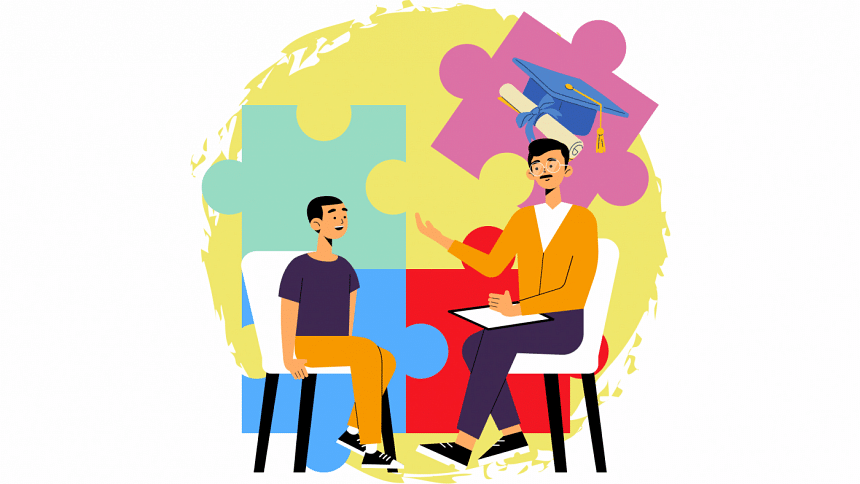 Studying abroad is a dream that an increasing number of students are realising through sheer determination and hard work. Now, more than ever before, Bangladeshi students are exploring their options to study abroad.
Statistics show that 44,338 students went abroad for higher studies in 2021, a huge jump from 24,112 students in 2015.
However, the increased popularity hasn't made the application process any less daunting. Taking the first step is always the hardest, and when students discover the tedious process in their last year of high school, stress, confusion, and anxiety follows. This is where school counsellors come in to help students navigate the difficult road ahead.
So, what exactly are school counsellors supposed to do and what makes their role so crucial?
The first step of the application process is choosing the country and the institutions you want to apply to. It is only natural to feel overwhelmed, and this is where counsellors can help students recognise what sort of institution they want to attend and narrow down the list to an appropriate length.
School counsellors also help craft essays, review applications, and, more importantly, write recommendation letters and upload transcripts. A good recommendation from a school counsellor which mentions all the areas a student is involved in, and paints a vivid picture of who the student is as a person can essentially make or break an application.
Different countries have different requirements and application procedures, but transcripts and letters of recommendation are common factors when it comes to university applications. To access these documents and send them to the institutions, students require assistance from their respective school counsellors and their schools.
More often than not, the applicants find themselves alone on this path or have to deal with teachers who are not used to the process yet. As more people are aiming to travel overseas for higher education, educational consultancies, Facebook groups, and YouTube channels have stepped up to fill the gaps formed due to a lack of information and direction from schools.
The fact remains that students in most schools do not receive the support they require from their institutions. While a lot of teachers are eager to help, they fail to do so due to being unfamiliar with the process. Uncooperative institutions result in students going as far as writing their own recommendations when they're left with no other choice.
To make the whole process easier for both students and teachers, Bangladeshi schools need to invest in qualified school counsellors who know their way around the maze. This will benefit the schools too, and their reputation will be bolstered as a result of having successful alumni around the world.
As the youth of our country unlock new achievements every day, it is high time students get the backing they deserve from their schools to reach their full potential.
Jaiyana is looking for ways to stop procrastinating and survive A Levels. Send her suggestions at [email protected]