The beauty of Eid mornings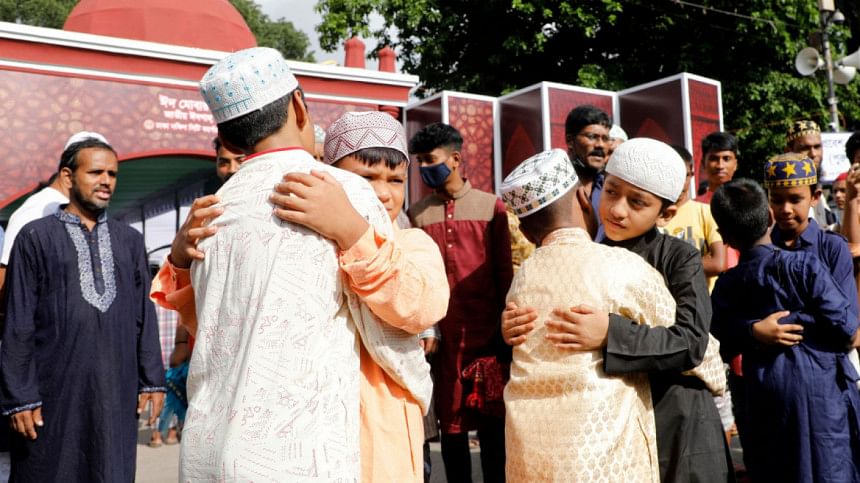 There is something magical about Eid mornings. Naturally, they have grown to become a huge part of my Eid celebrations.
These rituals have become integral not only to my Eid experience, but life too. Every Eid, I look forward to the early morning shower, followed by wearing my brand-new panjabi. Few things make me as elated as starting my Eid wearing fresh threads.
I have always been one for attending the very first Eid Namaz. But before that, I have to tackle the matter of eating sweets. I hate eating payesh, shemai, and firni. I believe these three are the worst food inventions by mankind.
My chand raat is spent trying to come up with a valid excuse. Over the years, however, I have realsied that pre-Eidgah sweets are unavoidable, due to Islamic tradition. Left with no options, I relent, and am only allowed to leave for Eidgah after eating roshogollas. These memories evoke emotions inside me to this day.
The magic in the air becomes starker in the Eidgah. After the prayers, embracing my dad and other neighbours is a heartfelt experience. People often ignore this aspect, but this simple hug can rekindle and strengthen our emotional bonds. 
Eid mornings in general bring reunions. I look forward to meeting family members receiving my haul of salami more than anything. Engaging in an unofficial 'who gets the most salami' competition with my cousins, we just fly around trying to collect as much salami as possible. Friends and relatives dropping by my home, or me going to theirs just serves to brighten my Eid mornings even more.
The celebratory mood instantly gets me into the groove. Even if I am swamped by studies, the carefree vibes seep through. In no time, I also find myself engaging in winding conversations, long walks, or singing along to my favourite songs. Add to that a bout of rain, the atmosphere becomes electric.
Despite the happiness surrounding Eid mornings, I couldn't help but remember the past. When I was in Chattogram a decade ago, our bond with the neighbours used to be deeper. We would often receive food from all our neighbours, and we would do likewise.
Additionally, since the pandemic, I realised that all of us have grown more distant. Online interactions are increasingly replacing those wholesome family visits on Eid mornings. The fact that I have AS exams right in the Eid season has also made me adapt accordingly.
Despite my cravings, I can't go to my relatives and friends' places. I also had to give up on my favourite Eid morning rickshaw rides through an empty Dhaka.
Inqiad is the CEO of Rashford FC. Suggest him soft-metal songs at [email protected]