Stray: A purr-fect breath of fresh air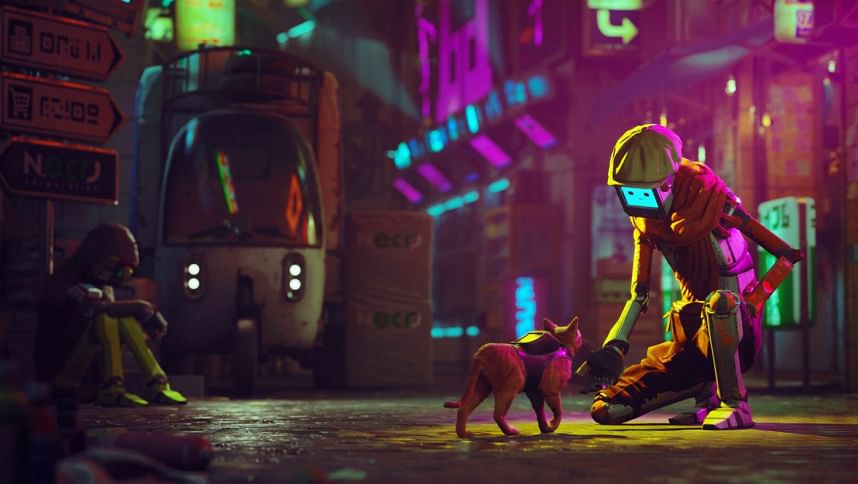 Elden Ring's second playthrough had honestly tired me and had me craving for something new other than the tensed, gritty adrenaline rushes. Thus, I decided to get the new PS+ bundle of games and even though some people may say they have way too many options there, I would argue that there are some genuinely innovative and new concepts available at a good price. One of them was Stray, a beautiful, complex yet simple, indie platforming adventure game.
As the name suggests, Stray puts you in the paws of an orange stray cat lost in a picturesque cyberpunk world as they strive to rejoin the family they lost. Throughout your journey, you meet multiple characters who act and behave like humans yet have the body of a machine. The prologue sets you up to meet your cute and adorable partner in the adventure named B-12. With B-12, you set out to find your family and solve the twisted tale of what happened in this mysterious, vivid cybernetic city.
Right off the bat, the first thing I want to praise is how astoundingly good this game's soundtrack is. The tunes are fairly simple, but it goes so well with the game's aesthetic that I have found myself just walking around just exploring the city and losing myself to the wonderous tunes and visuals the game offers.
The visuals are a sight for sore eyes. Everything you see is colourful, lively and breath-taking. The city, the characters are always breathing, some are painting walls, serving drinks while some are just doing chores or playing a ukulele. Most characters I have seen so far have been interactive in some way, each with their own story, motives, lives, etc.
The gameplay is quite linear but gives you the freedom to explore areas in your own will and like recent good exploration games, there are no objective markers. The main story mainly consists of solving puzzles and fighting enemies but there are so many other mysteries the open world has to offer like memories of your friend B-12 or musical notes that lets a street musician play songs for you. I don't want to reveal much as it may ruin the surprise.
Before I go into praising the cat-ness of the game, I want to say that this cat is not a mutated or a super intelligent being, it's just a normal feline. This game makes you feel exactly that, and it does it so well that it has a dedicated button for saying meow. I found myself constantly smashing the meow prompt and ended up doing it so much that the game gave me the 100 meows trophy in the first 5 to 6 minutes. I wasn't going to stop until I found out that it attracts enemies. Other than the meow, you can just go around scratching walls, knocking over paint cans and take long naps as the camera zooms out and plays that sweet melodious music. These things aren't just there to be there but actually add to the game as you may need to scratch a wall to tear it down or knock over a few bottles to wake someone up or meow to lure away enemies from a point so you can get through.
One thing I didn't really care for was that the game did not have a dedicated jump button but rather a pre-prompted marker and you had to align yourself to get there essentially.
In conclusion, this game is much needed escape from the crazy colourful hero shooter the gaming industry has become. I am around three hours into the game and am eagerly waiting to finish it. I look forward to any new projects Blue Twelve studios have in store and will be buying Stray just to support them.     
Abhoy Hriddo is curling up in his bed with his dog debating whether he should get a cat to play with. Help steer his decision at [email protected]