A safety guide for solo female travelers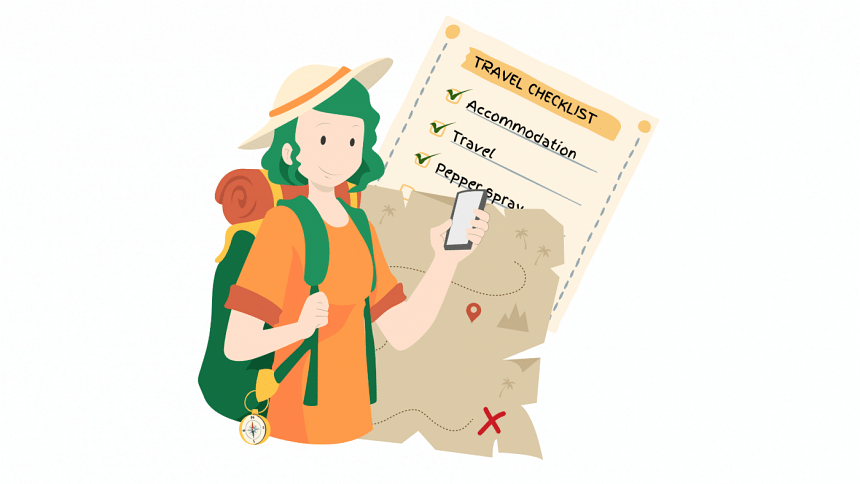 I was stranded in the middle of nowhere by a minivan driver. I accidentally left my backpack at a random agency and got lost in a shady back alley. All of this happened during my first and only solo trip abroad.
Safe to say, I learned the importance of taking some safety measures the hard way. 
Whether you're travelling in your home country or abroad, the world outside is not always the safest place for a female solo traveller. So here's a handy guide to help you during your solo meanderings.
Have a safety device
Always have a safety device with you. Like a pepper spray or alarm keychain. Also, have a list of emergency contacts you can use in a crisis. Having these does not always ensure safety as we cannot think clearly during a crisis. So make sure whatever you have on you is easily accessible and simple to use.
Pretend you know where you're going
While travelling solo, it is normal that you will get lost or have confusion regarding the route. Suppose you look confused and unsure while travelling through unknown shady roads. In that case, you become a target, since it is easier for perpetrators to take advantage of your vulnerability.
So, it's important to fake it till you make it in these situations. Especially if you ever encounter shady drivers/strangers on the streets. Walk with your head held high and maintain at a brisk pace so it looks like you know where you're going.
Stay at a hostel and make friends
As a solo traveller, it is always better to stay at hostels. If you stay at a girls' hostel/dormitory, you will meet other female solo travellers and be able to make friends. This can save you from a lot of trouble as you'll have someone to rely on or travel with. If not by giving you company, they can help you with information and tips.
Book your seats carefully
Booking isolated seats or aisle seats can give you more room and lower the chances of having to sit next to a creepy stranger. This is helpful for any ride but becomes quite necessary if you choose to make an overnight bus journey.
Take account of your surroundings and (maybe) make a scene
A friend of mine once said, if you ever find yourself in an uncomfortable situation, slap a random stranger across the face and make a scene. While she meant it to be a joke, creating a scene can sometimes actually get you out of tough situations.
But this decision should be made with care. If you are with people you know will support you and add their voice to yours, by all means, scream at anyone making you feel uncomfortable. But if you're travelling to a place where like-minded support is hard to come by, maybe prioritise your safety and de-escalate the situation.
Safety tips come with a premise of unsafety. But beyond those anxious thoughts is a world for your taking. So get out there and explore. Just make sure you're prepared and responsible.
Tazreen is torn between her never ending travel plans and a nonexistent bank balance. Send moral support at [email protected].