One Piece Film: Red is imperfect, absurd, and beautiful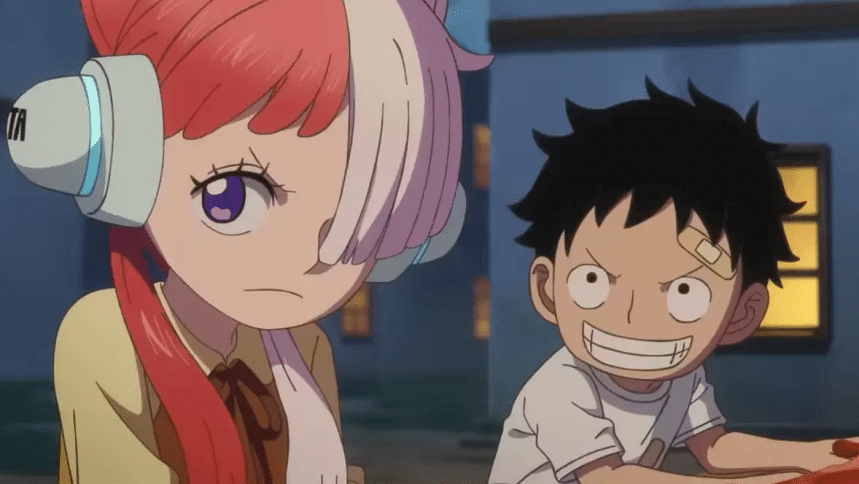 Contains spoilers for the movie One Piece Film: Red
After patiently waiting for over a year, I finally got the chance to watch One Piece Film: Red in a fully packed theatre. And I can safely say that it is, by far, the most ambitious and unique feature film in the One Piece franchise.
The movie focuses largely on Uta, the world's most revered singer. She is also the daughter of Red-Haired Shanks and a childhood friend of Straw Hat Luffy. Her close affiliations with two of the biggest names in the pirating world make for a fun and light-hearted opening sequence. But as the movie progresses, Uta's true ambitions are exposed, leaving most of the larger world in dismay.
The very first aspect of Film: Red that'll attract (or bore) viewers is its central musical motif. The music used in the film is not only integral to Uta, but to the movie as a whole. And it is clear that the producers left no stone unturned, as a total of seven different songs was played throughout the film, all written and sung by J-pop sensation Ado. Each of the songs represents different emotions that Uta goes through – powerful, inspiring, melancholic, and even borderline insane.
One Piece Film: Red is also unique in terms of narratives and storytelling. It deviates from standard One Piece arc and film structures by focusing on a character-based drama instead of a fast-paced action plot.
At the same time, the movie still retains its classic One Piece essence. It strives to be unique without missing the vintage One Piece feeling that fans have been in love with for over 25 years. This is a great strength because it makes Film: Red feel like a true canon-like experience.
Additionally, one of the biggest highlights of the film is its wide cast of characters. From the very beginning, every Straw Hat pirate is seen showcasing their honed attacking abilities. For most fans, it was an emotional journey to see how far they came from where they started.
Apart from the main cast, several marines, CP0 agents, and returning characters from previous story arcs end up playing major roles. Even still, the narrative managed to tie them all perfectly into the story without it seeming like unnecessary fan service. Instead, their inclusion makes for some expertly executed high-octane action.
But the characters who took the crown were, undoubtedly, the Red Hair pirates. For the first time in the history of One Piece, we saw the most mysterious pirate crew in existence take the helm and showcase their absurdly overpowered abilities.
Without diving into too many spoilers, their presence throughout the final act of the movie was an unbelievable adrenaline and emotional rush, leaving everyone at the edge of their seats with their hearts racing. It went above and beyond to be the most hype-inducing climax seen in a One Piece movie, which was brilliant because it perfectly sets up the emotionally vulnerable climax that follows soon after.
In terms of presentation and animation, not much needs to be said, since Film: Red succeeds as the best animated One Piece film ever, without question. The fight sequences were fluid and vibrant, the use of multiple colour palettes was pure eye candy, and even the CGI was well-implemented.
However, the film did have some flaws.
For starters, the pacing wasn't exactly slow, but the first two acts focused mainly on expositions and world-building. Moreover, some of the musical sequences felt awkward and misplaced, focusing more on visuals unrelated to the current scene.
Uta's motives and progression as a character were also somewhat peculiar. Her troubled past with her foster father, Shanks, led to her making questionable decisions that tied loosely into her character arc. The movie left much to be desired in terms of exploring Uta's personality.
Despite these caveats, One Piece Film: Red was an unforgettable experience that I wouldn't trade for the world.
Ayaan believes that the One Piece is real. Ask him if we can get much higher at [email protected]