Making our city beautiful
SHOUT sat down with Mohammed Abu Sufian, the individual who supervised the artists responsible for bringing the pillars of the Moghbazar flyover to vivid life. We managed to sneak in a small yet thought-provoking conversation with them, with Abu Sufian as the artists' representative for our interview.
What can you tell us about how this work came to life?
Abu Sufian: This was carried out under the authority of Dhaka North City Corporation (DNCC) with the sole intention of figuring out a way to stop the spread of the disastrous state of pillars across the city.
For now, we are only doing the pillars that start at Moghbazar and go up to the rail gate. Many of these pillars have far too many posters and advertisements which give it an ugly look, almost to the point where no one wanted to even look at the pillars. So, the whole purpose here is to make these pillars beautiful, and that's how DNCC gave us this opportunity to make the area look livelier and pleasing to the eyes.
Did DNCC have to reach out to a particular organisation to make this happen?
Abu Sufian: No, actually. Most of us are students of the Faculty of Fine Arts at Dhaka University. We don't belong to any specific group. DNCC reached out to the faculty and with their cooperation and the mayor's blessing, we have been able to carry this out. The work has been done by many different artists, each bringing their own unique style. While I personally helped in gathering artists, it was not a very difficult process since we artists are very keen on trying new and exciting things.
What's the process like for painting these pillars? Could you walk me through the whole thing?
Abu Sufian: The artists mainly work at night, sometimes up until 2-3 AM, and every pillar takes around three days to complete. The duration depends on several factors such as making sure all the artists are present and coordinating ideas and much more. Right now, we're working on another new pillar that may take a similar length of time.
This work that you're doing is under the city corporation's authority. What do you think about doing more street art that isn't necessarily under authority?
Abu Sufian: We'd very much love to do something like that. We are appreciators of art of all kinds, and to be able to do more street art, especially alongside others, is a fantastic idea. However, whenever we, as artists, attempt something new, we are always bound to face certain restrictions. "Do this, don't do that" and whatnot. This feedback comes from everywhere, so there's obviously a huge challenge that we need to always face. Artists are free people, they like having freedom in their work, so with barriers things do feel difficult.
Personally, would you like to do more community-driven street art?
Abu Sufian: Yes, absolutely. We want to celebrate this more because the more people learn and love art like this, the more artists will be valued. This is actually a loop because as more artists find recognition, the more we will find ourselves wanting to hone our skills and make better art. And when something is pretty to look at, it obviously makes everyone feel better.
What has the response been to this whole project? And what obstacles have you faced in carrying this out?
Abu Sufian: Obstacles have been rather minimal, fortunately. Everyone who has seen our work here now seems to be of the same mind – all pillars should be decorated like this. They want this beauty to spread across the city.
As artists, we are overjoyed with how positive the reception is, but at the same time, we should also try to be careful to preserve the beauty that we have strived to create. Spilling dirt, muck, or even urinating in these spaces is, sadly, quite common. We have seen a lot of these with our own eyes and have had to stop them from happening while we were hard at work. Everyone should try their best to not use these spaces however they want. When more people are careful about preserving beauty, it will last longer.
In the past, we have seen people who do not like street art take steps to stop it. Have you faced anything like that?
Abu Sufian: Not at all, none of that came our way. Everything we have painted has been entirely for the benefit of society and the development of a clean and beautiful city. We would not want to attempt anything that would be hurtful to the people of this society, and anything that may contain ideas that will hurt others will never be something we would be interested in doing. We try our best to spread kind and thoughtful messages all around through our art. If you see through all the pillars, you'll actually notice a lot of the messages that we're trying to deliver.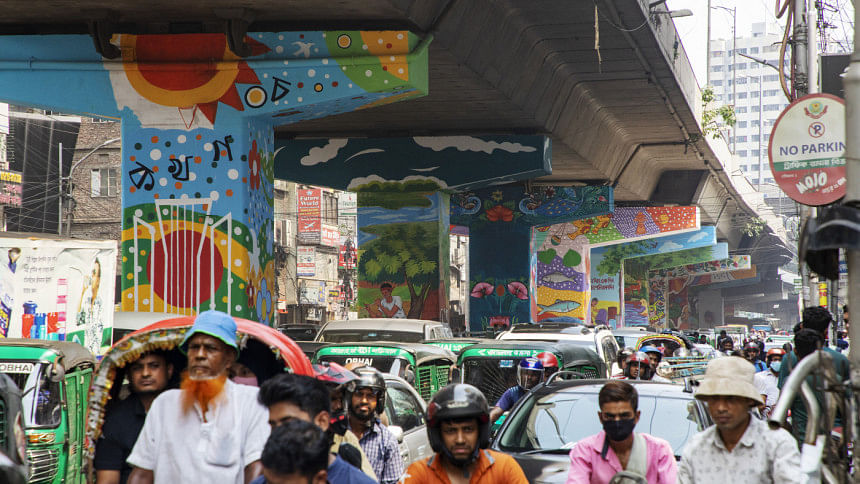 Do you have any further plans for decorating other flyovers?
Abu Sufian: For now, we have not talked about any such thing with the city corporation, so this is it. But then there is something to be said about the state of so many of these pillars with their posters, ads, and dirt that make them unsightly. We, as artists, very much want to work towards making them a sight to behold. That's very important to us, and I think the Moghbazar flyover may be the start of something new in this way. Who knows, maybe soon enough we'll be doing this all across the city.
Remind Raian to make space in his google account at [email protected]