Icche Ghuri Helping and learning together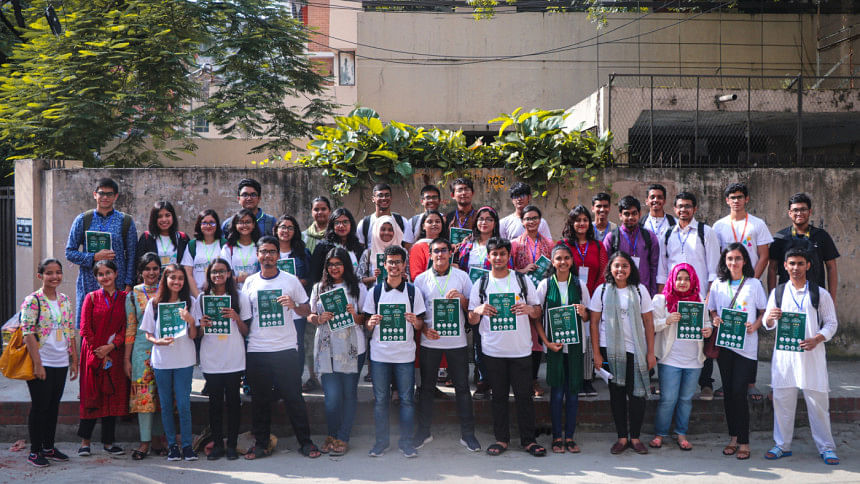 Seven high school students, with one goal — to do good for the community. This is the story of Icche Ghuri, an initiative by a group of Sunnydale students who wanted to raise awareness regarding the ongoing dengue epidemic.
Founding members Arpa Banik, Nazif Ishrak, Fatema Binte Faisal, Orthy Aiyana, Rahdin Zaman, Maisoon Amina Rahman and Aisha Hasan are all A Level students at Sunnydale school.
Their very first campaign named "Stop the Bite" took place in July where the goal was to help spread awareness about the dangers of dengue virus and to educate people on how people can take simple precautionary measures against it.
"For the campaign we designed posters and flyers, included information on signs and symptoms, prevention and treatment of dengue. We discussed extensively with our parents and relatives, most of whom are doctors by profession, to understand what exactly should be talked about in the campaign," said Arpa Banik, Leader and Event Manager of Icche Ghuri.
By the time of the campaign, a total of 32 Sunnydale students took to the streets of Dhanmondi to go from house to house and spread awareness regarding the fatal disease.
Fatema Binte Faisal, Researcher and Writer of the organisation, talked about how difficult it was to get people to agree to listen. "There were times when people didn't even allow us to come into their homes," Fatema added. But that did stop them from pushing forward with their work.
Since their campaign, the organisation has been growing rapidly, with over 50 members, all of whom are currently Sunnydale students. They have already started working on new projects.
Their latest campaign was a fundraiser titled "Dough Nation" that took place from September 22 - 24. This campaign aimed to raise money for working university students who are the sole earners of their families.
They also have upcoming plans for providing special English Language classes to under-privileged primary school students. The group also wants to conduct workshops on sexual harassment education for children ranging from Class 1 to 6.
Moving forward, the Icche Ghuri team hopes to welcome more volunteers from various other schools and even universities to take on a variety of issues in all aspects of social welfare. They stand as a testament that the youth is capable of accomplishing great things not just for themselves, but for their community too.
To find out more, visit their Facebook page at www.facebook.com/iccheghuribd.org