Hollywood films beyond generic blockbusters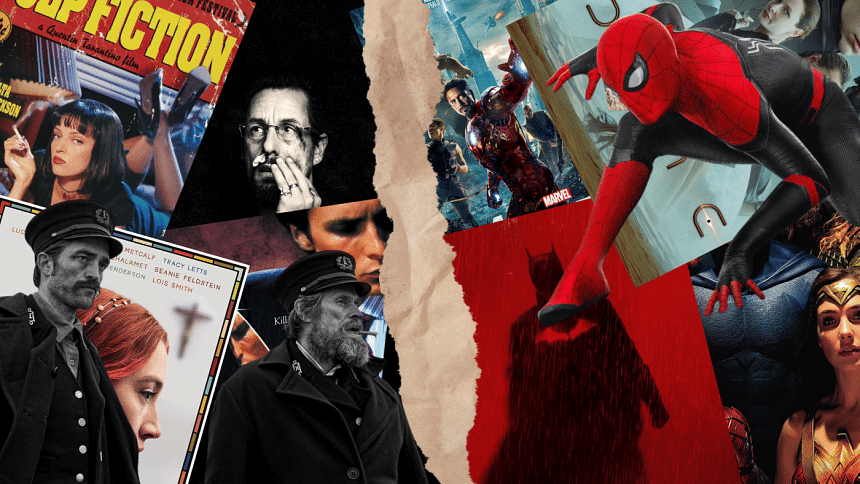 Lately, every other movie seems like a tentpole or blockbuster movie churned out by a major studio. The cultural shift brought on by the Marvel Cinematic Universe has spurned numerous other franchises, which have tried (and often failed) to replicate Marvel's success by saturating cinemas with high-budget VFX and star-studded cast films. However, A24, Searchlight pictures, and Netflix are helping arthouse, and unconventional films regain lost ground amongst cloying blockbusters.
Superhero movies firmly remain in the box office throne. The newest Spiderman and Batman films garnered critical acclaim and box office success. However, superhero fatigue is also very prevalent, with the likes of Martin Scorsese stating he doesn't consider Marvel films to be "cinema." Beyond blockbusters, the industry faces backlash for being overly reliant on remakes, adaptations, and generic action movies rather than new ideas.
In an industry as competitive as Hollywood, independent films have always been important due to their creativity and unorthodox nature. In the nineties, studios such as Miramax were dedicated to backing budding indie filmmakers and discovering greats such as Quentin Tarantino and Steven Soderbergh. Lionsgate Films also distributed cult classics such as American Psycho, Saw, and Fahrenheit 9/11, considered too controversial at the time for big studios.
While blockbuster fatigue is a core reason for the recent revival of art films, the popularity of streaming sites such as Netflix and their vast libraries of indie pieces alongside the success of studios such as A24 and Fox Searchlight have played a big role in its resurgence.
Netflix has done wonders for indie films, producing films such as Malcolm & Marie, Uncut Gems, and Roma into mainstream phenomenon. At the same time, Hulu is responsible for popularising movies such as Parasite, If Beale Street Could Talk, and I, Tonya.
Searchlight pictures focuses on speciality films and has championed many independent movies into bona fide blockbusters. Notable films on their roster include Slumdog Millionnaire, The Shape of Water, and 12 Years a Slave, all best picture winners at the Academy Awards. A24 is another indie powerhouse, garnering massive success with titles such as The Lighthouse, Lady Bird, Moonlight, Midsommar, and Hereditary. 
Furthermore, the indie space has been credited with helping revive genres such as psychological thrillers (Get Out), teen dramas (Eighth Grade), and feel-good comedies (The Grand Budapest Hotel), which were popular in the early 2000s, and gained some footing since then.
Undoubtedly, superhero films are here to stay, with Marvel and DC pushing full steam. But the success of indie cinema shows that there is more to Hollywood beyond flashy blockbusters. The popularity of art cinema has also seeped into mainstream films, with recent blockbusters such as Dune and The Batman deviating from the norm and being more creative and auteur-driven than other movies of similar magnitude.
Turns out Taaseen Mohammed Islam can write semi-decently at the expense of being able to do basic math. Send him pointers at [email protected]