Fun Upcycling Projects to Try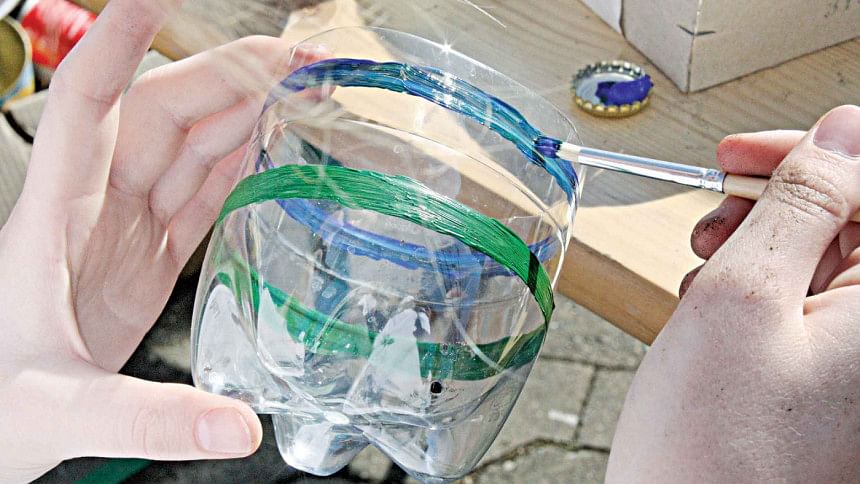 Imagine growing up in a home which contains countless memories of your loved ones. Imagine it being destroyed slowly as you grow up and before you know, it's gone, ravaged. Withered away like a flower, once beautiful and fragrant. In the blink of an eye, we might stand helpless, in despair, hopelessly trying to salvage the remains of our charred house.
Our earth is our home. If we want to protect what is essentially precious to all of us, we need to take measures to ensure proper fortification. Here are some fun ways to make daily life amusing and get us slowly on our way to adopting a zero-waste lifestyle.
Make pots for your home plants with used oil bottles
Do not throw away large oil bottles you have at home. Have a smaller oil bottle at your disposal so that you can refill that and wash off the bigger bottle meticulously. Take a pair of scissors and cut the bottle in half. That is plainly the lone step you have to take. Easy, right? You would be left with cylindrical and cone shaped pots and a fulfilled heart.
Feed your plants eggs, bananas and garlic juice
Plants require nutrition to thrive. Egg shells and banana peels can be placed on the soil. Just like human beings, floras also require potassium to ensure their leaves and fruits are well taken care of. Now, we do not want our plants to be potassium deficient, do we?
Pro tip: A solution of garlic skin, detergent, chilli powder and residue of mustard oil keeps the insects away. However, the usage should be in moderation so use this natural pesticide once or twice per week. Residue of mustard oil can be excluded (warning: an extremely bad smell may conquer your home).
Crafting with pencil shavings, tissue paper rolls and glass jars
I have fond memories of crafting with my mother during my childhood. During Eid, we made cards which had pencil shavings decorated on top because they looked like colourful flowers. Even the simplest of residue can enhance a household object.
Cardboard rolls can also be made into pencil holders. If one can beautify them with papers, even better. Once a jar of jam or chocolate spread has finished, reuse that jar. This does not have to be fancy; daily necessities can be stored in the glass jar. However, if you are willing to go the extra mile, you can present sweet handwritten notes to someone.
Cola bottles to watering cans
Before disposing of soft drink bottles, think twice. Take a metal stick (needles and nails work just as fine) and heat it very carefully. Draw holes with the aid of the heated stick on the cap of the bottle. Fill in as much water as required, and press the bottle down while watering home plants. Simple, right? It is fun to work with as well.
The next time you see something that may be upcycled, start working on them. Our home is calling, it needs us.   
Ayra Areeba Abid's favourite word is 'serendipity' and she's a linguistics geek. Connect with her at [email protected]