Five books to help you delve into the world of Bangla literature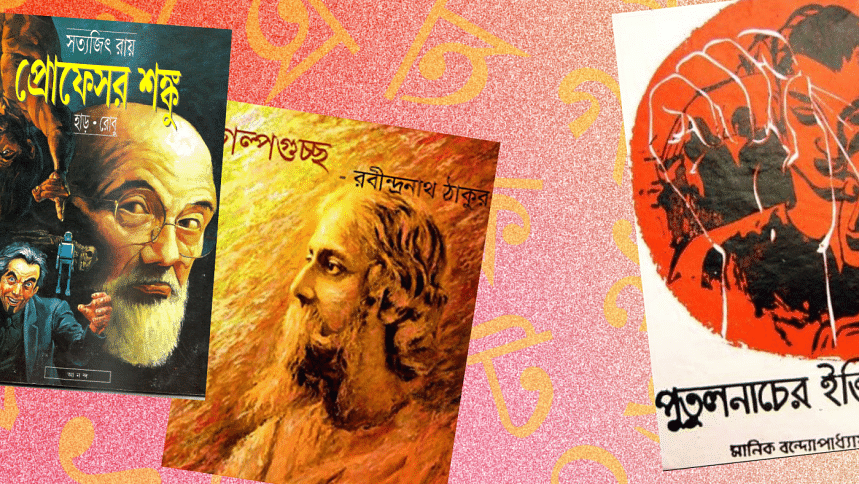 We grew up speaking and hearing Bangla and yet, we sometimes find it difficult to get past some of our renowned literary works, having to resort to the Bangla Ovidhan on nearly every word. 
Exaggerated as this scenario might be, giving up on classic Bangla books because of the dated lexicon is a fairly common phenomenon. However, Bangla works from the 19th and 20th centuries are some of the best bodies of writings in world literature. Therefore, missing out on such gems due to the intricate nature of its language would mean doing yourself a great injustice. 
Having established that, here are five books you can try if you're relatively new to Bangla literature.
Putulnacher Itikotha by Manik Bandyopadhyay
This is arguably one of Manik Bandyopadhyay's best works. Putulnacher Itikotha is the perfect place to start if your end goal is reading classics with relative ease. The magic of this book is the author's writing style, which uses the formal Shadhu Bhasha in verbs and the colloquial Bangla in pronouns. This feature lends his writing gracefulness while providing the comfort of reading. 
The novel revolves around a village doctor and expands on the characters around him as well as the complex social relations among them.
Professor Shonku by Satyajit Ray
When we say Satyajit Ray, we think about his amazing films and the widely admired detective Feluda. However, Professor Shonku offers humour, comfort, and sci-fi-laced adventure within the diary entries of a brilliant scientist discussing his inventions and his connections with his neighbours, friends, and his feline companion Newton. 
Professor Shonku serves well as a light-hearted read, and I highly recommend you get the entire collection.
Srikanta by Sarat Chandra Chattopadhyay
The premise of Sarat Chandra's works is simple, yet they're capable of invoking powerful emotions within the readers. Srikanta, Sarat Chandra's masterpiece, is a partially autobiographical tale of a man living the life of a wanderer. The plot follows his life starting from adolescence, telling tales of his voyages, encounters, and romances. 
Sarat Chandra describes Srikanta as "a collection of scattered memories, nothing else". This may explain why Srikanta feels so close to life.  
Golpo Guccho by Rabindranath Tagore
Rabindranath Tagore has many monumental works, but Golpo Guccho may be the most beginner-friendly start. It's a collection of Tagore's short stories, a few of which are included in the National Curriculum and Textbook Board (NCTB) Bangla books. They're generally straightforward and hard-hitting, not to mention the fact that reading short stories is much easier than novels.
The poetic nature of Tagore's writing is sure to win your heart. 
Padmarag by Rokeya Sakhawat Hossain
If you're entirely new to Bangla literature, Padmarag might be slightly challenging to read. This is the author's only piece long enough to be recognised as a novel and has utopian essences similar to her widely regarded work Sultana's Dream. 
Set in the British colonial period, Padmarag speaks of several women from diverse backgrounds and religions, who find refuge and purpose in a school and female welfare institution known as Tarini Bhavan. Padmarag is definitely an essential read if you're into feminist literature and worth a try even if you're not.
Zabin Tazrin Nashita has a pile of unfinished books, yet continues to buy more. Tell her to cut it out at: [email protected]