Fire safety in schools
Within the span of the last three months, Dhaka witnessed tragedy like no other. Hundreds of lives were lost in a blaze; the Chawkbazar fire explosion, the FR Tower fire in Banani, and the Gulshan 1 DCC market fire incident being the three major events amongst several other accidents that happened all over the city in the following weeks.
The recent rise of reports on fire accidents happening in Dhaka all centre around the same issues—lack of infrastructure, limited awareness on fire safety and prevention, inadequate fire extinguishing methods, and the constant reluctance in maintaining building safety codes. The recent tragedies also gave rise to a wave of awareness among the ready-made garment sector as well as corporate institutions to conduct fire safety drills for their employees. What about educational institutes, though? How aware are our students about fire safety and how can that awareness have a further impact in the future?
According to an inspection report prepared in 2017 by Bangladesh Fire Service and Civil Defence (BFSCD), of the 993 educational institutions in Dhaka, more than 89 percent were classified "risky", and nine percent "very risky". Only two percent of institutions were marked "satisfactory". This is mostly owing to the lack of planned infrastructure and the vulnerability caused due to the presence of libraries and computer labs.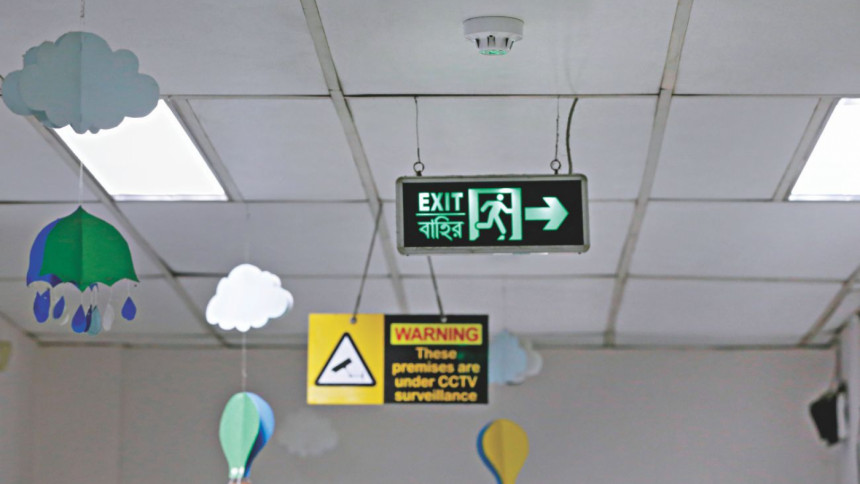 On this issue, the Assistant-in-Charge of a renowned school in Dhaka said, "We are aware of the importance of fire safety in our institution and we have made our students aware of certain protocols and preventive measures although a formal fire safety drill hasn't been performed. Owing to tight schedules and the large number of students in our institution, it's extremely hard to find a common timing to conduct emergency fire drills for all students. But we will be looking into the matter." Lack of proper incentive from school authorities also leads to making these institutions increasingly vulnerable to fire hazards as most students still remain unaware of the practical to-dos during emergency fire breakouts.
Compared to most English medium schools, it has been seen that schools under the national curriculum are less likely to conduct fire safety drills as per the Bangladesh National Building Code (BNBC).
Shaheer Ahnaf, a first-year college student from a renowned school in Mohammadpur, said, "Our school hasn't conducted any fire safety drills in recent times. However, the fire-extinguishers have been replaced after the recent tragedies propped up."
Shah Tazrian Ashrafi, an HSC candidate from a prominent school in Dhanmondi, also attests that his school hasn't performed any safety drills with the exception of an earthquake drill that was conducted once.
Nevertheless, there are exceptions. Shafayatul Amin Diganta, a former student of a renowned school in old Dhaka, "We had an extensive fire safety drill conducted in our school back when I was in class 5 in the year 2010 but this wasn't conducted on a regular basis."
The BNBC—in the appendix of their "Fire Drill and Evacuation Procedure"—mentions the steps on how to perform fire safety drills. This includes an evacuation plan, fire reporting, first-aid firefighting as well as conducting a fire drill.
Scholastica school alumnus Nayara Noor, now studying in BRAC University, said, "Our school used to do fire drills once every few months, and they'd show us the staircase to use in case of a real fire. As far as I know, they'd check the fire extinguishers to make sure they were functional." Noor adds to the issue of fire drills saying her experience participating at her university fire drills was vastly different and comparatively more informative. "The authorities conducted a fire drill when I was in the residential semester (TARC) which was really informative. A firefighter himself talked to us on what to do and what not to, how to help someone in case they got sick, how to protect oneself from the smoke, etc. Then they set a small fire near the dorm and we had to follow protocol and run downstairs using the fire exit," she added.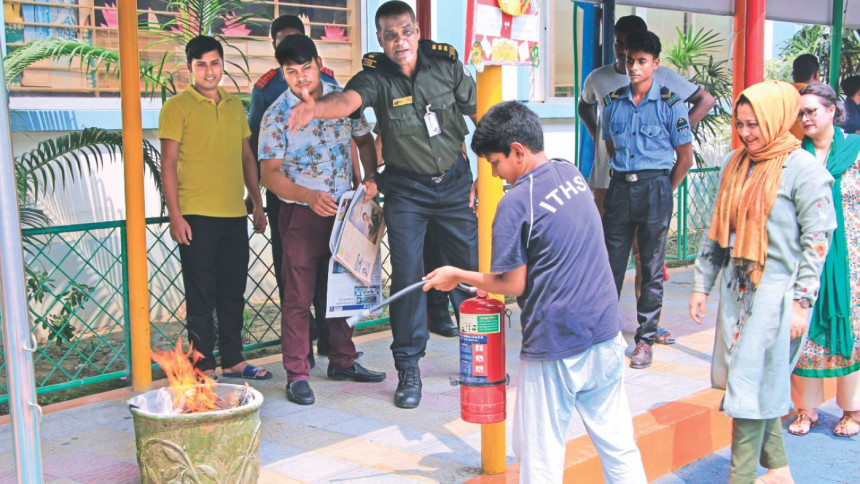 When asked about how the knowledge gained from the practical experience of performing the fire drill, Afsara Khan, a former student from Mastermind, said, "We had a proper fire safety drill conducted at our school in the presence of fire fighters but that was a long time ago. Even then, I think the experience has made me more aware on what to do in cases of emergency."
Nayara Noor adds to this issue saying that the knowledge gained in her school years wasn't that impactful given it wasn't that extensive or included proper measures but the drills performed during her stay at TARC made her properly aware on what she could do in case of a fire hazard.
We talked to Senior Station Officer, Faisal Rahman from Fire Service and Civil Defense, Tejgaon Fire Station if they conducted fire drills in different schools and educational institutions. He mentioned, "We are under protocol to conduct fire safety drills in areas we are stationed in, for example we conducted fire safety drills around most schools in Tejgaon and the drills include activities like teaching students how to extinguish fires, how to perform rescues in cases of emergencies, evacuation drills, and mostly how to reach the assembly grounds as fast as they can in an ordered manner."
On the issue of how prone schools in Dhaka are to fire hazards he said, "Compared to office buildings, schools are less prone to damage as most schools are located near open areas. But then there are institutions that do not follow the building codes, for them the risks remain the same."
In terms of making sure educational institutions keep proper fire extinguishing tools, he said that local fire departments maintain a checklist of schools if they have fire safety equipment or not and they send reminders to appropriate authorities and occasionally drop by to perform regular checks.
He added, "Paragraph 3.3.5 of the BNBC 2006 provides that the owner of the building shall be responsible for the safety of all occupants. This code also enunciates some exit requirements for different occupancies such as health care, educational, institutional, dwelling houses, industries, etc. so this way we can hold the appropriate authorities accountable if they do not respond to our reminders."
In response to the question of how important fire drills are, Faisal Rahman said, "When you teach students, they have an active cognitive function and therefore they remember to remain calm in case of a real fire and act pragmatically. I think fire drills needs to be conducted on mandatory basis so that it gets easier for authorities to subdue damage during a fire and be able to save lives efficiently.
To the same query, Afsara Khan says, "Safety drills are really important as not everyone is properly aware and people make impulsive decisions in case of emergencies and having these drills helps a lot. Frequent fire drills should be made compulsory so that in case of a breakout, the to-dos turn into muscle memory for people as opposed to stirring a situation of panic."
By ensuring regular safety drills and pushing authorities to maintain regulations and abide by the law we can ensure a safer society where we save lives better but at the same time, keep ourselves safe.
Nazifa Raidah is an undergraduate student from Independent University, Bangladesh majoring in media and communications.  Reach her at nazifa0419@gmail.com