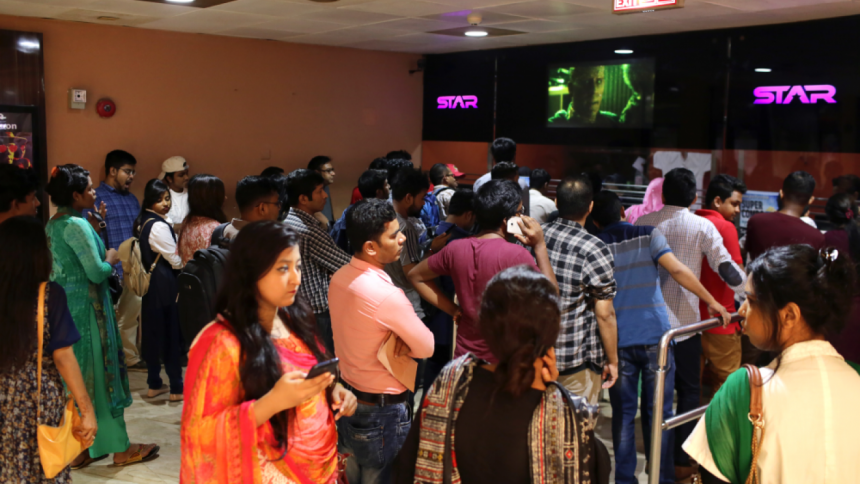 I stopped for a moment this afternoon as news broke of Star Cineplex closing down, for good. I know it's only the Bashundhara City Shopping Complex branch but this is where it all started, right?
The best part, perhaps, is that you didn't need to be a cinephile to love Star Cineplex. It was more than just movies. And for a young person in the city with limited hangout options, be it with friends, family or simply oneself, the halls provided entertainment in a beautifully unique way.
I remember how it all began. Some 16 years ago, when advertisements shined brighter along the roads and on top of buildings than on phone screens, posters adorned the walls around the capital city announcing the release of Spider-man 2 (Tobey Maguire; still my favourite Spider-man). Tickets were sold at around BDT 150 back then. Then came huge billboards along Bijoy Sharani of the movies Sahara (Matthew McConaughey, Penelope Cruz), 50 First Dates (Adam Sandler, Drew Barrymore) and more. Dhakaites were still new to watching Hollywood flicks in cinema halls, and this was a state-of-the-art multiplex.
The attraction for the modern movie theatre didn't spread like wildfire, sure. But it grabbed the attention of the young movie-goer, and that was all it needed.
Once you stepped on the main escalator for Level 8 of the shopping mall, there were only two destinations: Star Cineplex to your left, and the food court to your right. A common question was "Do we get food before the movie, or after?"
Still reeling from flashback after flashback, let me try and gather my thoughts. Just a 15-minute walk from my office and home, what will I miss most about Star Cineplex at Bashundhara City?
I will miss knowing the place like the back of my hand. I will miss standing in front of the box office, unable to decide which movie to watch. I will miss asking the ticket personnel for a good seat, and being denied with a smile. The sound of that dot printer printing my ticket. Forgetting to drop my backpack at the counter. Sneaking in chocolate bars through the gateway.
And I've only just begun. Impatiently standing in line for the popcorn and drinks while eyeing the popcorn chicken. Trying to find my seat in the dark without the help of the staff. Praying I don't step on another person's foot. Never knowing which designated cup holder is mine. Looking around to spot any familiar faces among the crowd. The patriot in me during the national anthem. Coolly and quickly putting up a Facebook status to make my friends angry.
The list goes on. Frowning at ringtones and whispers and crying children; seriously, who brings a kid to watch a horror movie? Losing my voice cheering at the entrance of an angry bald guy in a fast car or a certain Caribbean pirate. Laughing my heart out yet appreciating the timeless creations of AJ. Hiding my tears behind the 3D glasses because I got emotional watching Up, Kung Fu Panda, and Finding Dory. Losing myself every time an Avenger popped up on screen with that music. Staying back for the post-credit scene. Taking the escalators all the way down after the last show of the day in an empty shopping mall.
And I won't stop here. Star Cineplex at Bashundhara City gave us more than just the movie-watching experience. It created a generation of movie geeks, film enthusiasts and encouraging audience. Little did we think there would come a time when the box office would see a line that went all the way down and out of the mall itself, that too for a Bangla movie. That we would actually witness same-day international releases of Hollywood's biggest blockbusters.
I've been there with my family, with my friends, by myself; on sunny days and on gloomy evenings, and I've always come out of the hall a man mesmerized by the big screen. It was home for the cinephile in me.
It is a sad day for Bangladeshi cinema, however, it is not the end. My mind is playing back all the fond memories of years past, as I sift through my collection of ticket stubs and movie premiere invites.
Kazi Akib Bin Asad is In-charge of SHOUT. You can reach him at akib.asad@thedailystar.net