Dhaka University secures 1st and 2nd positions at ICPC Asia Dhaka Regional Contest
Bangladesh University of Engineering & Technology (BUET) secured third position in the same competition.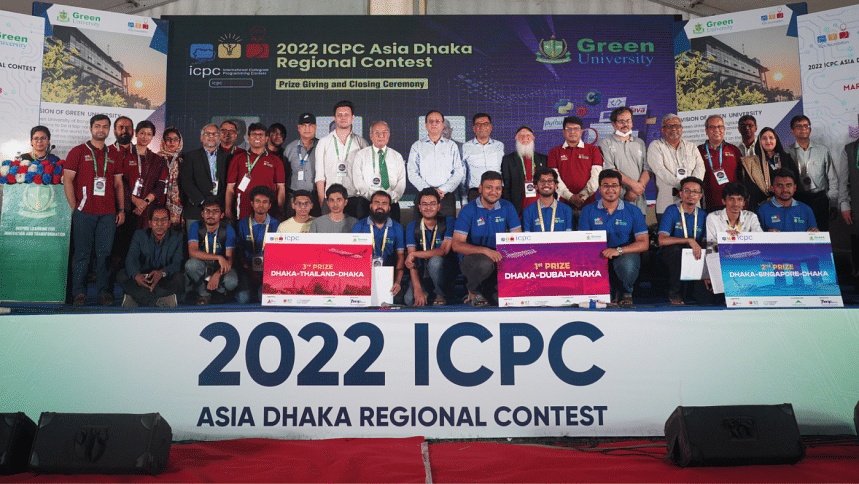 At the 2022 International Collegiate Programming Contest (ICPC) Asia Dhaka Regional Contest organised by Green University of Bangladesh (GUB), Dhaka University secured the first and second positions while Bangladesh University of Engineering & Technology (BUET) came in third. 
Team DU Kronos – consisting of Yeamin Kaiser, Bholenath Das Niloy, and Sakib Hasan – representing Dhaka University was declared the champion of the competition while team DU Not Ready Yet also representing Dhaka University was announced as the first runner-up. From BUET, team BUET Sommohito secured the second runner-up position. This time, 162 teams from 92 universities across the country participated in the final competition. 
ICPC is one of the most prestigious international programming contests. This year, the GUB organised the Asia Dhaka Regional Contest on March 11 at their permanent campus in Purbachal American City, Rupganj, Narayanganj. 
Md Shamsul Arefin, Secretary of the Information and Communication Technology (ICT) Division graced the program as the Chief Guest while GUB VC Prof. Dr Md. Golam Samdani Fakir was present as the Session Chair.