Dhaka is aesthetically tiring to look at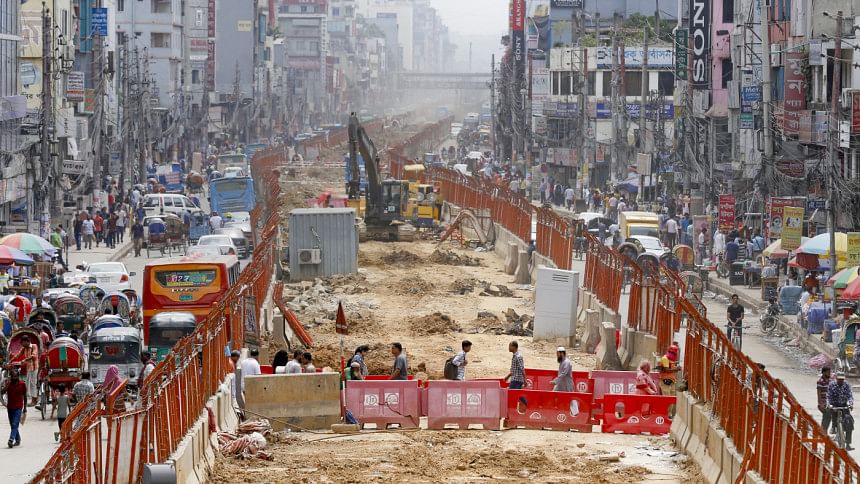 When we aestheticise Bangladesh as a country, the things we first turn to are its idyllic villages, golden crops, meandering rivers, and basically every rural element this country has to offer. Yet as incomparably beautiful our country may be on the agrarian side, the same cannot be said for our busy cities, where a staggering 40 percent of the population live.
As far as city planning goes, Dhaka city may have received the shortest end of the stick. Although urbanisation in Dhaka came much later than it did in neighbouring countries, it posed major infrastructural and socioeconomic transformations very rapidly. However, as a result of these extreme and rapid changes, city planning fell short. While we were busy celebrating large infrastructural wins and boondoggles, we lost sight of how our city slowly disregarded structural and organisational beauty.
Buildings under construction are never paid much heed to. Dusty slabs of concrete and mud-coloured shade nets that high-rise buildings come with while being built, are an eyesore for many.
Urbanisation is not synonymous to development. Urbanisation has favoured the concentration of economic centres and centres for social and capital development. Organic development looks like established street patterns, contiguously aligned buildings, proper colour schemes, easy to access transportation, walkability, realistic long term plans, and people-focused design. While the concrete jungle we live in is a bustling urban boom-box, it falls short in terms of development.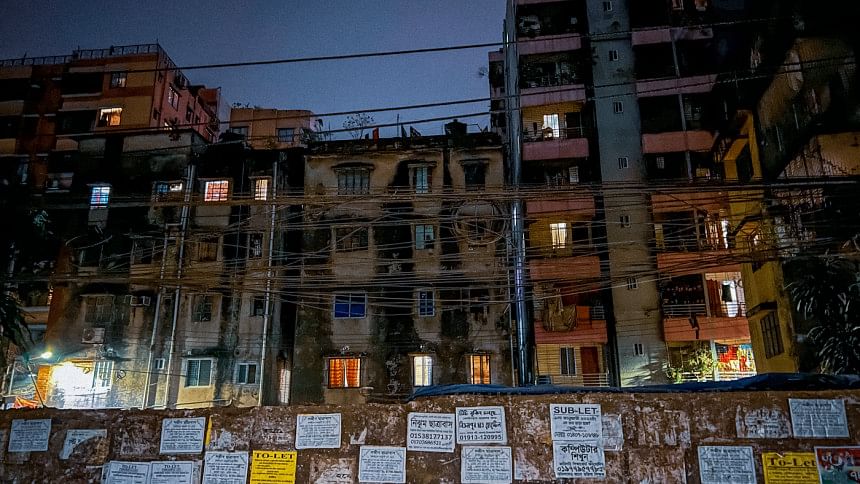 Regulations surrounding posters are lacking. Every freely existing square inch of walls in public areas are covered by posters of every kind, shape, and colour, and though they may be a good method of advertising, they take away the beauty of the city. Roadside stalls and garages occupy space dedicated for walking.
The flurry of colours, dust, and noises drive you to sensory overload, and the unbearable amount of noise pollution does not help either.
A very easy way to instantly beautify our streets is to ensure enough greenery surrounds us. Having an abundance of trees on either side of a road instantly transforms it into a cleaner and much better looking space.
However, Dhaka's greenery has been shrinking at an alarming rate since its urbanisation. The busiest roads do not have ample foliage to contrast the abundance of concrete, but when they do, the plants do not last for long. City planners take attempts to plant trees in between roads or on the sides but there is a conspicuous lack of perennial plants. 
Dhaka may have bigger problems to deal with at the moment, and the sordid state of its aesthetics are definitely not topping the list of its priorities. But the aesthetics significantly affect the liveability of the city we call our home. Picturesque cities are also more likely to attract high skilled workers and higher proportion of college graduates. The better the regulations around the most basic functioning parts of our city are, the easier it will be for the city to adapt to the new changes urbanisation brings.
References:
1. World Economic Forum. (June 24, 2019). This is why attractive cities do better economically
Koushin Unber just wants her exams to end so she can enjoy winter. Send her funny twitter screenshots at [email protected]