Devil left feeling insecure after Bangladesh called 'heaven'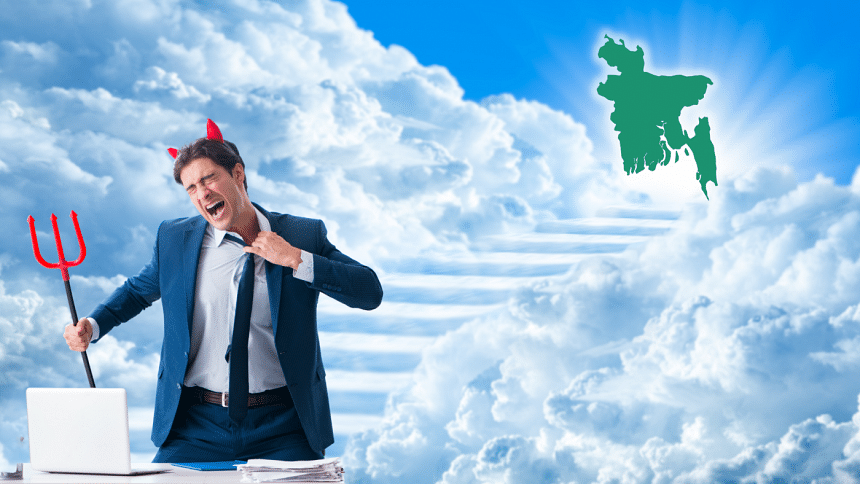 Since Bangladesh was called 'a heaven compared to other countries' by a minister of the government last week, local devil in-charge, Lucifer, has reportedly been in clinical depression as per his therapist. After years of activity in this country, Lucifer feels that his work is getting undone by the ungrateful people at the top and that he deserves much more recognition for his work in this capitalist dystopia.  
"The sub-continent has always been my favourite workplace," Lucifer praised Bangladesh for making him feel at home, "The temperature, scorching heat, dust, smog – it all reminds me of my home. Along with the chaos, corruption and injustice, this place reeks of hell.  After the authority was impressed with my work in the USA during the Trump administration, I was promoted to Operational Chief Devil (OCD) and transferred here."
"However, the pay isn't great, I must admit," Lucifer complained about his job, "When it comes to wreaking havoc and destroying the peace of this nation, we're putting in the same effort as the local politicians. Yet, they're making millions off of it. Our budget was also cut off a few years back after Bangladesh was toppled from the top as the most corrupt country in the world. However, we got inspired by the local corporate culture here in Bangladesh and started hiring unpaid interns. Turns out, BBA undergraduates will literally make a deal with the devil if they have to for boosting their CVs and getting a recommendation."
"Thankfully, the workload is smaller here," Lucifer praised the locals for their contribution, "In other countries, I'd have to go through the rigorous process of inducing evil and manipulating commoners to make them commit sinful activities. But the Bangladeshi people are pretty inspired when it comes to sinning and making this place a living hell. It's in their genes!"
Lucifer introduced his team of co-devils to the press, "All of them have been handpicked from millions of worthy candidates with a lot of potential. It's a small team but the dedication is unreal. I can't wait to invite my colleagues to my home after work once death's done its trick."
"Under my guidance, we've worked day and night to keep the cycle of evil running," continues Lucifer, "The ministry must not forget that, for four consecutive years in 2001-04, we helped this country become the champions in corruption. But after everything we've done for this country, we still have to hear customer complaints claiming this country to be a heaven. We demand a formal apology from the ministry soon. Otherwise, we'll be forced to leave this place forever and join our rising branches in countries whose names end in -stan."
Lucifer ended his press conference with an ultimatum, "Might I remind you, without me running the wheel, there will be dire consequences. The people will get their due rights, nationwide corruption will stop, the economy will stabilise, the rich will be taxed more and worst of all, the country will prosper. If the politicians don't want their worst nightmares to come true, a formal apology must be issued immediately."
Remind Ifti to be quieter at [email protected]