Could Ms. Marvel create a positive shift in Muslim representation?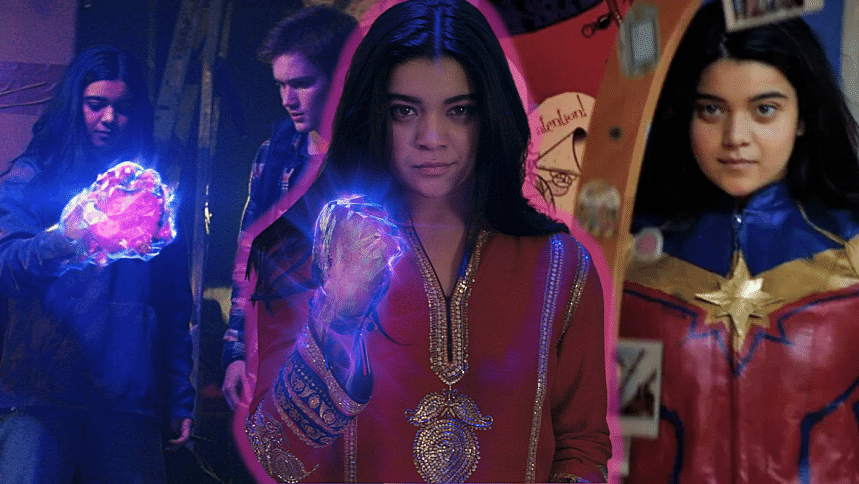 On March 15th, Marvel dropped the first trailer for Ms. Marvel, setting social media abuzz with excitement.
Released last Wednesday, the six-part miniseries follows Pakistani-American teenager Kamala Khan, a Muslim girl with superhuman abilities who idolises Captain Marvel in a unique coming-of-age story. While social media was abuzz with praise for the trailer, it hit a home run in the Muslim community as the series is a watershed moment for Muslims and Southeast Asians around the globe.
While Southeast Asian representation has become more visible and positive in the past couple of years, positive Muslim representation has not changed much. Leading characters in Hollywood are still mainly given to characters of other faith. For example, Devi Vishwakumar from Never Have I Ever, Raj Kingo Deva from The Eternals, and Seema Patel from And Just Like That… are a few examples getting prioritised in major Hollywood roles. On the flipside, eagle-eyed viewers can see a solitary hijabi extra when Carrie Bradshaw takes an early morning stroll in Central Park.  
The impact of 9/11 on the Western perception of Islam is undeniable, and most filmmakers have seemed to conclude that Islam is incompatible with Western media. Thus, Muslim characters are constantly shoehorned into stereotypical and derogatory roles. Popular media rarely includes Muslim characters, and when they do, Muslims are shown as untrustworthy, illiterate, unintelligent, and occasionally perpetrators of violence.
While hit titles such as Ramy and The Big Sick have done a lot in breaking negative Islamic stereotypes, major representation still skews negatively. For instance, the character arc of Nadia in Elite has gained criticism for perpetuating that falling for a white man helps liberate her from the oppressive shackles of Islam.
Furthermore, popular Netflix titles like Extraction (set in Dhaka) and Inventing Anna seem to insinuate that Islamic nations are dangerous, unstable, and strife with poverty. For instance, Anna Delvey, a convicted fraudster, lashes out when pressed to pay her room fees, claiming her bank won't do business with a "dirty" country like Morocco.
Ms. Marvel seems to be shedding some age-old Hollywood stereotypes. Firstly, Islam doesn't seem to be the disempowering factor in Kamala's character arc; she's just a typical New Jersey teenager with adolescent problems who happens to be a Muslim. Shots of prayer congregation in a mosque show that Islam is just a part of her faith instead of being implied to be pseudo-cultist behaviour. Additionally, scenes of dancing and fanfare at a lavishly decorated wedding, as well as featuring Urdu hip-hop in the trailers is a welcome change from the media's stereotypical dull and dreary portrayal of Islamic culture.
Southeast Asian representation has come a long way from comic relief characters such as Raj Koothrappali and Kelly Kapoor to bold and driven characters such as Tahani Al-Jamil. It's high time the same be done for Muslim representation. When Islamophobia and anti-Islamic sentiment continue to increase, we can only hope that Ms. Marvel is the blockbuster that clears out a lot of harmful stereotypes and takes more Muslim characters from menacing extras to leading roles.
Turns out Taaseen Mohammed Islam can write semi-decently at the expense of being able to do basic math. Send him pointers at [email protected]