In conversation with Team Bangladesh – Battle of Minds 2022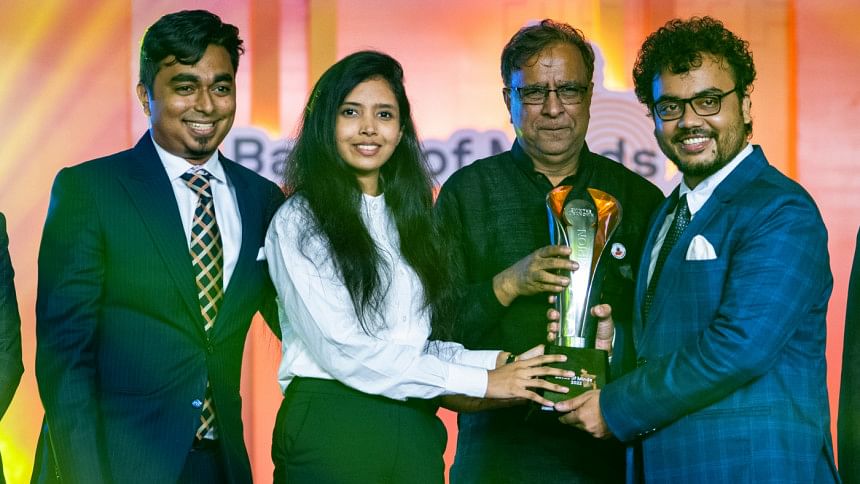 Battle of Minds (BOM) started its journey in Bangladesh in 2004. It was created with the aim of bridging the gap between institutional education and the corporate world and has evolved into a global platform since 2018.
In the 19th edition of BOM, after multiple rounds of ideation, teamwork, and resilience, "Team Drogo" from Institute of Business Administration (IBA), University of Dhaka came out victorious as the champions of the Bangladesh chapter. The team composed of Syed Shadab Tajwar, Tasmim Sultana Nawmi and Sadid Jubayer Murshed have already pitched their winning idea on October 18 in the Global Finale, where they represented Bangladesh amidst top 9 teams selected from the 25 countries that participated.
In this interview with SHOUT, the champions tell us more about their experience throughout the competition.
What motivated you to compete in BOM 2022?
Sadid Jubayer Murshed: BOM has always been regarded as the most glamorous business competition around and we wanted to compete in it to bring out our best and win the trophy.
Tasmim Sultana Nawmi: What piqued my interest was that BOM had activation rounds, where we had to showcase practical demonstrations of our idea. That challenge made me even more interested to do it.
Syed Shadab Tajwar: As a business student who likes participating in competitions, BOM is a no brainer as it is the most prestigious competition. The concept of pitching your very own sustainable business idea to experts from the corporate world and the chance to get direct mentoring from them was too big an opportunity to pass on.
When you first registered for the competition, did you think you would end up winning the title?
Sadid: Our end goal was always to win. We thought we had a fairly good shot since we were seasoned in such competitions. This competition has had multiple winners from our institution in the past, so this strong culture of success motivated us throughout.
Tasmim: Shabab and Sadid kept pushing me to believe we had what it took to win. So, we entered the competition with that mindset. With every stage we thought we have to give it our best to get to the next level.
Shadab: We were always confident we had a solid idea, but our confidence grew as we went further. Each round gave us a taste of how real businesses work, we incorporated these learnings which made us feel like we had a genuine business to pitch.
What was it like being in the competition and making it to the finals?
Sadid: The finals were probably more nerve wracking for us since the director of our institution was going to be in attendance and we wanted to make him proud.
Tasmim: Our experience started with the bootcamp, and those days were quite exciting, yet draining as we had to work through the rounds throughout the day. Once we got a hold of the idea and what we needed to do, things got easier. The highlight was probably the activation challenge we had to do in Savar. The scenario was completely different from what we had expected.
Sadid: There were three broad challenges – governance, workplace digitisation in a post pandemic world and circular economy. We chose the "circular economy" category because we were more familiar with it. Our idea was to use textile waste and bamboo to make sanitary pads, since we observed a great need for it in the market. Even though we were aware that a lot of people would choose this category, we were confident that our product would stand out.
Shadab: The final stage was one of the reasons why the journey was exciting for me. All eyes are on you and it's your turn to make it or break it.
How do you think this competition gears students for the challenges of the business world?
Shadab: The way the competition is designed, it actually prepared us in a lot of aspects. Firstly, if anyone wants to launch their business, this is a great place to gain hands-on experience. The bootcamp round in particular helps to understand how one can handle a brand through activations, focus group discussions etc.
Sadid: Something I hadn't done before, even in other competitions, is bring out a product to reality. Especially for people like us who don't always have to interact with people on the ground and document their experiences.
Tasmim: At every stage of the competition, I was speaking out more and getting more comfortable in my own element. I learned how to navigate through talking to people. 
Do you think it's feasible to implement this idea in real life?
Sadid: I think this is a feasible idea. This idea has tremendous impact in the context of Bangladesh, because not only are we helping the environment by reducing plastic waste, but we would also be introducing a sanitary pad that is backed by research and is safe for women.
Tasmim: When we conducted focus group discussions with women aged between 18 and 26, we found some common problems they were facing, like rashes or itchiness. We designed our product keeping in consideration the concerns they had, which made it far more formidable.
Finally, how have the last few months been after winning the competition? What does it feel like to represent Bangladesh on a global stage?
Shadab: The past few months have been a roller coaster ride. While the feeling of being BOM Champion is unmatched, the task of representing Bangladesh is something we are taking very seriously.
Tasmim: The first few months after winning were filled with excitement. But we also prepared extensively for the global round. We have worked on making our pitch as clear as possible for the global round judges and are excited to present it.
Sadid: We have constantly been refining our ideas and diving into the minutiae of execution. We are thoroughly well prepared for our global finals and excited to present our vision to the whole world.
A message from Saad Jashim, Head of Human Resources, BAT Bangladesh: 
What truly makes BOM a journey to remember is the opportunity it offers by getting graduates to roll up their sleeves and get hands on experience. We dream bigger and bigger each year. By keeping ourselves contemporary, we ensure the most experiential journey for our participants. With next year marking 20 glorious years for Battle of Minds, we are already in full gear for what lies ahead!