CLIMATE CRISIS AND ITS YOUTH ICONS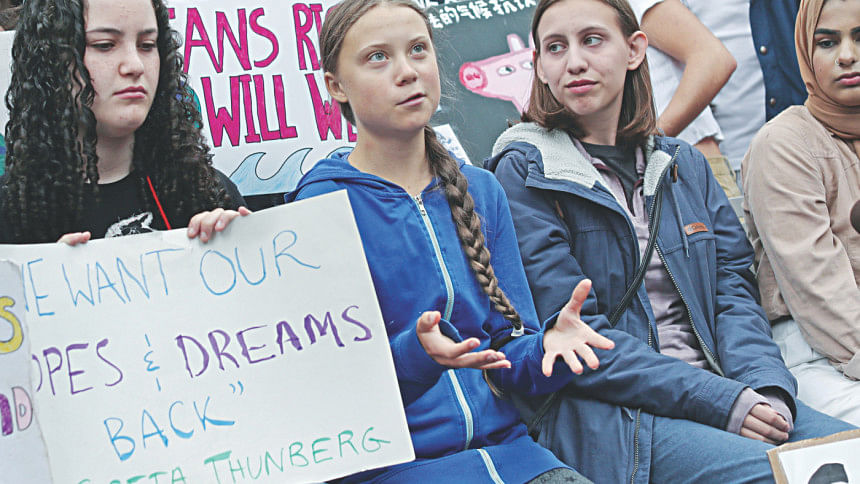 Eight-year old Esme Ruiz attending the climate strike outside the UN Headquarters in New York told the press, "The world is literally melting right in front of our eyes and no one even realises it. We need to teach them. It's hard to make changes sometimes, but if you need to save the world, I'd do it rather than die."
On August 30, 2019, children and youth sat outside the UN Headquarters as part of the ongoing climate protest where they were joined by Swedish climate activist Greta Thunberg. At just 16 years old, Greta started a major global protest against climate change inaction and held political leaders accountable for their lack of commitment to fight climate change.
Her heroic two-week journey across the Atlantic Ocean on a solar-powered zero emissions sailboat to reach USA inspired many to make the environmentally conscious decisions to not fly and opt for other modes of transport. "The Greta Effect" swept across Europe where many people now say they feel 'guilty' for flying and in Sweden a new word 'flygskam' describes feeling shame about flying.
In a Facebook post dated September 19, Barack Obama wrote, "At just 16 years old, Greta Thunberg is already one of our planet's greatest advocates. Her age might have something to do with it. With full knowledge that her generation will bear the heaviest burden of climate change, she's unafraid to believe that progress is possible—and fight for real change."
And it is real change she is after. During August 30's sit down protest, Greta, along with notable 14-year old activist Alexandria Villaseñor and 17-year old activist Xiye Bastida Patrick were invited inside the UN and sat down in an imromptu meeting with UN General Assembly President María Fernanda Espinosa. In this meeting the youth activists raised many issues that have citzens globally concerned including the Amazon fire and forest fires around the world, single use plastics, and the upcoming UN Climate Action Summit  2019 in which Greta herself is slated to speak.
As global temperatures continue to rise and every July sets the record for the hottest month in recorded history, across the world the Amazon and places in Bolivia, Indonesia, Canary Islands, Siberia, Greenland and sub–Saharan Africa continue to burn. Although Indonesia boasts some of the world's oldest and most biodiverse forests, more and more land is being burned to clear the way for the palm oil trade by farmers and corporations. Greenpeace said in a statement, "Siberia, one of the coldest places on Earth, is on fire. The Amazon, one of the wettest places on Earth, is on fire. Fires are burning across the planet, we need to act fast."
With one million species currently at risk of extinction, these desperate times have given rise to youth climate activism around the world particularly with the Fridays for Future movement where children and teenagers demand climate action for themselves. Greta Thunberg summed up the youth's sentiments when she said, "Some people say that we are not doing enough to fight climate change. But that is not true. Because to 'not do enough' you have to do something. And the truth is we are basically not doing anything."
References:
1. https://www.theguardian.com/environment/2019/aug/30/greta-thunberg-un-climate-protest-new-york
2. https://www.vox.com/world/2019/8/20/20813786/wildfire-amazon-rainforest-brazil-siberia
3. https://www.bbc.com/news/world-49515462
4. https://www.dw.com/en/swedes-switch-to-trains-due-to-global-warming/a-49033136-0
5. https://www.bbc.com/news/world-48114220
Mrittika Anan Rahman is a daydreamer trying hard not to run into things while walking. Find her at [email protected]