Azam Khan: Ten Years On, Bhalobasho Manushere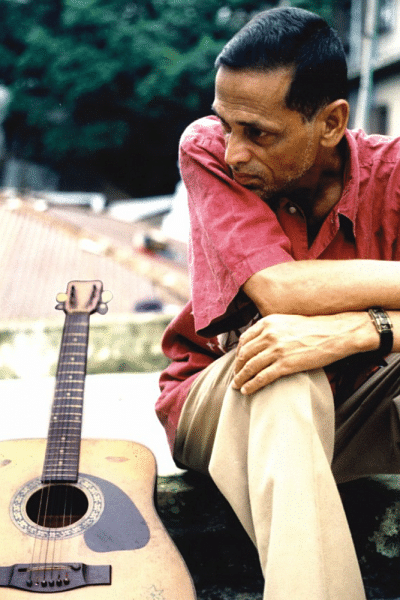 I
It was 1985. Done with our SSC exams, we were passing idle time. Each one of us was exploring life in our own way. I was exploring the 1971 Concert for Bangladesh, Bob Dylan, the Beatles and others, as well as Sachin Dev Burman, Shyamal Mitra, and more. Till then, I had little knowledge about artistes from Bangladesh.
Our friend, Shyamal, told us "Guru" is coming to Jahangirnagar University (JU) to sing in a concert. He didn't need much of an effort to convince us. Shyamal knew much more about life outside the syllabus of the classroom. He educated us on Azam Khan, and the genre that was yet to be coined – Bangla Rock – while we waited for the concert.
When the day of the concert came, we were ready. The venue was what's now the Business Faculty of JU, adjacent to the first students' hall, Al-Beruni. In those days it was the Social Science faculty. As you entered the faculty, there was a stage that no longer exists. Before Muktomoncho, this is where many concerts at Jahangirnagar was performed.
When we reached the venue on the day, it was jam-packed. We couldn't enter. What to do? Shyamal looked around. He told us to climb the grills of what was then the Central Library. Slowly one after one, we climbed. And behold, we weren't the only ones.
The crowd grew impatient. Guru was yet to come on stage. When he finally did, the roar signalled his larger-than-life persona. He knew the crowd was waiting. It was past nine in the evening. To calm the crowd, Guru said, "Hope all of you are ready. We're here for the night." Rocket started a riff. As the band was warming up, Guru chanted, Hey Allah, Hey Allah-re. Eto shundar duniyai…
That voice. That throw of the notes. That tearing of the heart to the alter of music imprinted a kiss in me that has ever since resonated the moment I, and many like myself, recall Guru Azam Khan. Today, June 5, 2021 is his tenth death anniversary.
II
Mahbubul Haque Khan was born to Aftabuddin Khan and Jobeda Begum on Feb 28, 1950 at Azimpur, Dacca. The family moved to Kamalapur in 1956. Mahbub, whom the world would later know as "Azam Khan", was to live the rest of his life in Jasimuddin Road, Kamalapur.
Azam and his pals were attracted to music in their teens. The audio compact cassette would come into existence in 1962 and much later in what was then East Pakistan. The source to listen to physical music was 78 and 45 RPMs, the seven-inch vinyl discs. Twelve-inch LPs became popular in the latter half of the 1960s. If you wanted to listen to music in the late 1950s and early 1960s Dacca, you had to rely on somebody's personal collection, or listen to the radio.
Azam and his friends would listen to whatever they could access from wherever possible. Genres didn't matter; they were listening for the thrill. Abbasuddin, Abdul Alim and others exposed them to Bangla folk songs. Sound waves from the popular Radio Ceylon opened a world of rock n' roll through the Beatles, the Rolling Stones, Elvis Presley, Cliff Richard and the Shadows, and others. The youngsters were enthralled by Hindi playbacks of one Kishore Kumar. Young Azam based his first stage performances at school on Kishore Kumar.
The mid-1960s were changing times. The seeds of the birth of a new nation were being sown. Azam Khan and his generation soon found themselves in these seeds of change. Fakir Alamgir, a close friend, approached Azam and others to join Kranti Shilpo Goshthi. The youngsters sang songs to protest injustice they saw around them. They performed in factories in Dhaka, Tongi and Chittagong to inspire workers. More was to come.
A wonderful year – 1971 – was knocking at the door. The wheels of history were set in motion. The country had reached a point of no return. Bangladesh had been born, but not without a fight to establish a just cause. Azam Khan decided he needed to go to war. He approached his father. The senior Khan solemnly said, "Go, but don't return without liberating the country." That was the talisman. Off Azam Khan went like many others to liberate Bangladesh.
They reached Comilla. The next stop was Mela Ghar in Tripura, where Sector 2 was located. It was a long walk to meet Khaled Mosharraf, ATM Haider, Rumi and others. Soon Azam Khan was appointed as a Section Commander of Sector 2. Like Rumi, he engaged in direct combat and in guerrilla operations.
The training at Mela Ghar was a life-changing experience for the freedom fighters. It included physical training. It also included one of the founding philosophies of all "Art of War" – conflicts are not for the sake of conflicts. Conflicts happen when a cause is just. During the War, Rumi wrote the words to his favourite Pasha Mama that "our cause is just".
Wars expose the brutality of chaos. Wars also expose the moral responsibilities of chivalry to those who can see and read between the lines. Once you become a knight in shining armour, you become aware of the influence you have on others. You become aware of the moral responsibilities of power, be that on the battlefield or in life. Perhaps this is what shaped Azam Khan to become the lasting icon he would go on to become.
The war was over. It was now 1972. Bangladesh was born. A new chapter was to open: the rise of the Guru.
III
Music was always in his blood. Till then he didn't perform seriously, but when he did, he performed tearing his heart out. The war had given him a second life that was meant to be shared and enjoyed with others. After experiencing a bad TV show, Azam Khan decided he would take up music.
The Concert for Bangladesh by George Harrison and Friends; the "Song for Bangladesh" by Joan Baez during the Liberation War had influenced young people like Azam Khan. In April 1, 1973, he and others performed at WAPDA auditorium. That was the beginning of Bangla rock.
Soon, his childhood friends Firoz Shai and Fakir Alamgir joined. A young Ferdous Wahid and Pilu Momtaz joined later. Like Crosby, Stills, Nash and Young, they were all individual artistes. Each had their own style, but when they gelled on stage, they were soon to become the Panchapandavas of Bangla Rock.
Their objective was simple. They were the "minstrels of the dawn". They were the new Bauls; the new rockers of Bangladesh. Music was set to lay the foundations of artistes and bands that were to follow from the end of the 1970s and later.
Assessing Azam Khan and his music means assessing the Panchapandavas and also Uchcharon, his band from the 1970s. Azam Khan may have stood out as an outlier from the rest, but he was humble. His grand persona spilled beyond the stage. Like Chuck Berry influenced the Beatles and the Rolling Stones, Azam Khan influenced numerous bands and artistes who would establish Bangla rock.
IV
Words will never do justice in describing Azam Khan. Any description of his songs will be personal. All listeners have their own story when it comes to his music. He was such a character. Ten years after he embarked on an unknown journey, one can only look back at what made him stand out from others.
Music was a way of life for Azam Khan and his contemporaries. It was a medium for them to connect with young people. When art connects with young people, it has to speak of universal themes of youth. Once it does, it stands the test of time, like the songs of Rabindranath Tagore and Kazi Nazrul Islam have. Azam Khan went one step ahead. He and Uchcharon gave a new sound, a new vibe that was fresh. Their chords, and Azam Khan's voice made them stand out. What was popular music was destined to become heritage later.
The Guru's approach to life also has a universal theme. Bhalobasho Manushere, Jodi Chao Tumi Tare. Once art comes from the soul, it becomes timeless. Ten years on, when young people still hum his tunes, you tell two things. Guru opened his heart out while he was with us. His tunes will keep the spirit and soul of a freedom fighter resonate for at least one more generation.
Asrar Chowdhury is a professor of Economics at Jahangirnagar University. He is the author of the fortnightly column Echoes in Shout. Email: [email protected] or [email protected]