Are today's youths turning away from traditional news outlets?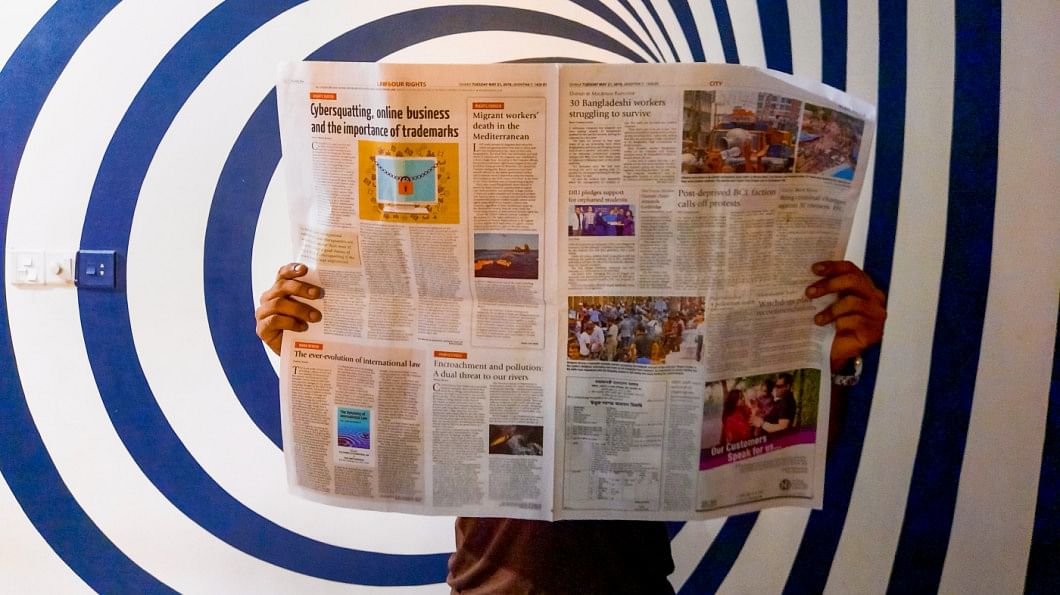 The way we consume news has changed a lot since the olden times, when our only reliable sources of information were the freshly printed newspaper dropped off at our doorsteps, and the scheduled news on TV channels. Nowadays, before the news makes it onto print or bulletin boards, you'll find everyone you know sharing links of it on their social media accounts. In between the articles posted by local and international news portals, you'll find posts made by individuals being shared abundantly. Sometimes these individuals are celebrity personas, and sometimes they're prominent public figures.
This phenomenon of relying on public figures' takes on current issues is especially prevalent among today's youth more than any other demographic.
The youth, despite scouring the wastelands of the internet to a greater degree than their previous generations, are more drawn towards opinions compared to their predecessors. At a glance, it seems like an unreliable and lazy way of consuming news, but the youth is well-aware of the danger that comes with unrestricted flow of information on the internet. Yet, many seem to prefer this way of acquainting themselves with current issues.
However, most of them have their own rationalisation for why they choose to put their trust into public figures rather than media outlets dedicated to the publication of news.
Sumain Aahir, a student of Peace and Conflict Studies at Dhaka University, draws from her experience when asked why she prefers individual accounts.
"When I am conducting any research on a sensitive issue, I find that news portals are biased towards political entities, which makes it difficult to filter out the facts. I need to study both parties objectively," she says.
However, Aahir acknowledges that accounts from knowledgeable individuals can also contain misinformation and bias. She justifies her preference by adding, "Public figures usually exercise their right to freedom of speech and bring an issue to light. I take their words only to acknowledge an ongoing issue, not to rely on them entirely."
The limit on freedom of speech is the main concern of many youths who choose to consume news following sources of public personas. Other factors include reputation – public figures generally try to maintain a respectable image to the public. This is also expected of any media company and news outlet, but their reputation seems to be in decline. News portals have been steadily losing their good image and credibility due to yellow journalism, clickbait articles, invasive and irrelevant content about celebrities and their personal lives. While it is understandable that generating traffic for websites is important for survival when we have online news entities in abundance and print is no longer as popular, the fall in quality is unacceptable to the general population, especially to the youth.
Maria Gomes, 22, provides an explanation for why she favours public figures she follows over news outlets, "Companies and portals are faceless, which causes a disconnect whereas public personas are familiar. Our go to reaction is to associate them with being boring too, or not news relevant to us. If a public figure we like and follow deems something relevant, it's more likely to be relevant to us too."
While the youth gravitating towards individual sources more than any other age group is a phenomenon that is recent and growing in momentum, the majority still consider news portals as their go-to. An official survey will be able to provide numbers with more accuracy, but from a personal survey with a relatively small data set, I've found that around 64 percent of youths find official news outlets more trustworthy.
Faiaz Riasat Saad, 21, believes the views of public figures to be somewhat one-sided. He says, "If I were to know about any current world issue, I need to begin with something that is somewhat unbiased, albeit not completely so. A public persona would address the issue in a more biased way compared to official sources."
What these differing opinions may point to is that neither sources are fully reliable on their own. News portals often face boundaries from different organisations and political entities when it comes to publishing the full story. Public figures may not need to confront the same pressure as a full-fledged organisation, they aren't entirely untethered either. Especially if they hail from a place where freedom of speech is not exercised, well-known figures will face similar risks if they are to publish a truly unbiased account of controversial events. Individuals are also able to push their own agenda more freely than a news portal, as they're not regulated as much. This isn't to say media outlets are innocent of spreading propaganda, which is extremely dangerous considering the number of people placing their trust in them.
As such, some prefer not to take an either/or approach.
Morsaleen Ahmed, 22, remarks, "I rely on both news portals and accounts of public figures. Neither are likely to actually give the full image on their own so typically I'd derive information from multiple sources."
At the end of the day, individuals are free to follow whichever sources they deem more trustworthy. What's important is to note that fact checking is a crucial step in the process, even if you've already put your faith in a particular person or organisation. Some events will have the world by storm, and it's extremely easy to get swayed by misinformation. Current affairs undoubtedly have a huge impact on our lives, which is why it's vital to have an open mind before aligning ourselves too strongly with one side of the story.
News outlets may be losing their once indomitable popularity as of recently, but it's clear that youths are not about to dismiss their credibility entirely. It's also remarkable that they aren't blindly following any public figures without fact checking either, which makes their approach quite sensible and rational.
Zabin Tazrin Nashita is fitting comfortably into her role as an NPC in some random protagonist's story. To interact, find her at: [email protected]