Is bite-sized news making us lazy readers?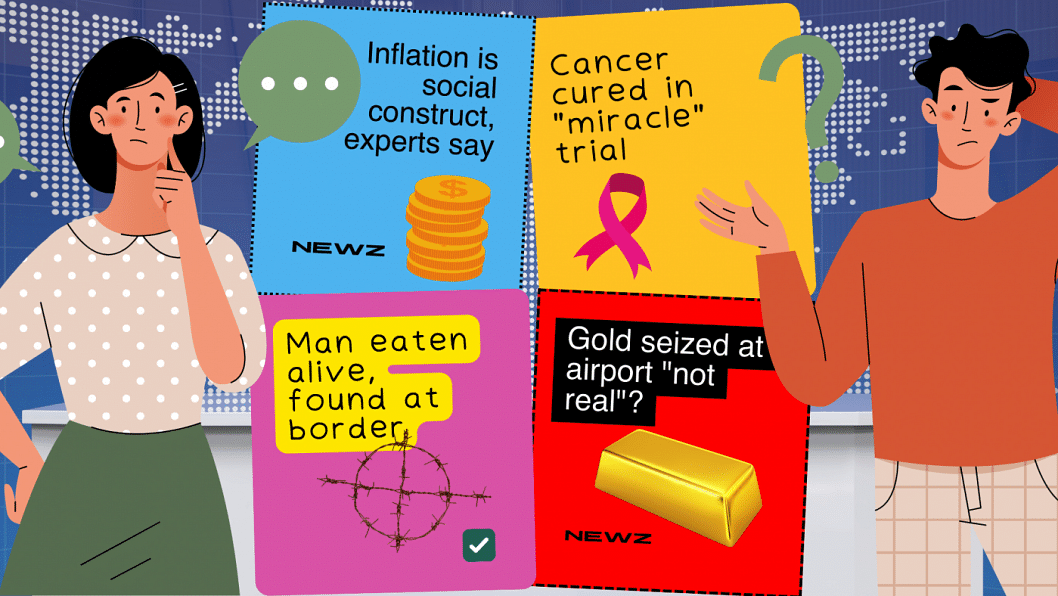 Who is the modern news reader? One who gets their news from their newsfeed on social media? One who is tech savvy and can fact-check their own sources? Or is it simply one who does not have more than 10 seconds to read their news?
Our social media newsfeed is a strange place for news to be. In the curious amalgam of our feeds, traditional newspapers, online news portals, and groups making political memes are all vying for the same space and attention.
One thing is clear, the modern news consumer is drawn towards quick and snappy news presentation – a headline with a graphic – which is the forte of bite-sized news portals. But beyond the aesthetic presentation of news, these portals raise questions of how they are impacting news reading habits, both through their sourcing and style of news presentation.    
Bite-sized news portals essentially operate as highlights. Here, picking and choosing the flashiest and boldest stories of the day and publishing it takes away many of the challenges and restrictions traditional news media is riddled with. There is great liberty in gauging what people will want to listen to, and cover that exclusively.
This automatically creates a bias where readers are more likely to find the news stories of such platforms appealing, as they often skip many of the repetitive, unentertaining stories that news outlets will not neglect out of journalistic duty.
A 2008 Time magazine article quotes anthropologist Robbie Blinkoff using the term "newstritional disorder" to refer to a news audience with a diminished attention span.
By making everything short and snappy then, are such portals cultivating lazy readers? Shadman Sharar Haque, CEO at Tyger Media and co-founder of Nutshell Today, does not believe so.
"The way social media and smartphones are designed is what caused the rise of reading headlines and skimming through articles. Aspects like infinite scrolling, abundance of content, displays of smartphones are a few among the many causes that fall under that umbrella. Bite-sized news is not to blame here, but rather it came in and filled a gap, since such content was unavailable in the past, at this scale at least. So, the trend of reading only headlines or skimming through articles happened because of already existing causes before bite-sized news came in," Shadman comments.
There is also the question of "reach", or how widely your news travels, particularly on social media platforms.
"I think attractively packaged bite-sized news rather allows more people to stay informed since it gets better reach and engagement than general articles. We have clearly seen that through our two verticals, Nutshell Today and Cablgram. A lot of times our content generates more reach and engagement than the original source article," Shadman adds.
On the other side of it are readers with their expectations from the news they get.
Simran Nova Siddique, recent university graduate and bank executive, likes her news to be unbiased. She says, "Realistically, I feel like the only way to get a fuller picture is to get my information from various sources. The reason I follow bite-sized news accounts on social media is to stay in the loop for news that might be important to me so that I can later look it up and read broader articles about. On most days, since I am busy, I tend to look at a singular news source. Whichever link I see first on social media is usually it."
Shah Md. Akib Majumder, co-founder and chief editor of The Front Page believes in the power of news curation.
"We provide readers with the important and relevant parts without the mundane information that would otherwise cause them to lose interest in reading the entire story. The mundane information in the news can sometimes overshadow the important and necessary information. If a reader finds it interesting enough, they will read it no matter how long," explains Shah. However, this strict curation can often confound or even mislead readers.
Simran herself believes to have spotted certain news being misinterpreted.
"I think bite-sized news faces the same problem as traditional newspapers: people read the headline or image and skip the article or caption. I feel it especially spreads misinformation when statistics or rates are mentioned."
A bite-sized news portal recently made a post with a headline stating "28% sexual harassment incidents among young female workers in Bangladesh remain unresolved". Simran explains from her observation, saying, "People misinterpreted this as 28 percent of all female workers in Bangladesh, even though this statistic is from a study, from a very specific demographic. The details of the study aren't mentioned in the caption."
The article in question reveals that the study was conducted on domestic workers and factory workers in Dhaka, and is not a representation of all women working in Dhaka. 
"People who gave opinions on it on social media had incomplete information. The original article covered the topic far more comprehensively, but it's highly unlikely that most people went through the entire article," Simran believes. 
The portals themselves admit headlines cannot do full justice.
"In the world of news, the sources should always be linked in the caption or wherever possible so that people still have the option to get the full picture," explains Shadman.
However, this raises the question of whether people will decide to read the news after a brief version is already presented in front of them.
Debjani Shyama, social media in-charge at The Daily Star believes simply citing a newspaper as a source and running a story isn't standard journalistic practice. She warns it may mislead readers further.
"How can we be a source? We are verifying our own sources. Bite-sized news portals are posting our source as a link. They are not in touch with our reporters when they cite us. In journalism, you must have communication with your source. A newspaper can be a reference for research or academic work, but not for another news portal. When your business itself is news, you cannot do it without communicating with your sources," comments Debjani.
She adds, "In journalism, you also have to decide on an angle and present your story accordingly. But if these portals are citing someone else, they are simply adopting their angle. We also source a lot of news from AFP and Reuters, which is based on an agreement we have with them. They are news agencies meant for sourcing."
Readers may choose bite-sized news because they present information concisely, but what happens when that news changes by the minute?
Debjani enlightens, "News is constantly updating. Pictures have to be changed along with the stories. Developing stories must be followed. About 80 percent of the stories we share, we are always updating, but where are their follow ups?"
Furthermore, the emergence of such portals has introduced certain practices among the wider news industry. Debjani says of recent times, "Bite-sized news has changed us. We, too, sometimes package our news to share, but there are differences. Firstly, the news is sourced and produced by our own reporters. Many times, we want to prepare bite-sized news, but we refrain from doing so. Because it's misleading and unfair. So, where would our responsibility be?"
Debjani's final comments? "It's attractive, sure. But it's not the whole news. You have to read the whole story."
Mrittika Anan Rahman is a sub-editor at SHOUT, The Daily Star.