Appreciating shows that take themselves too seriously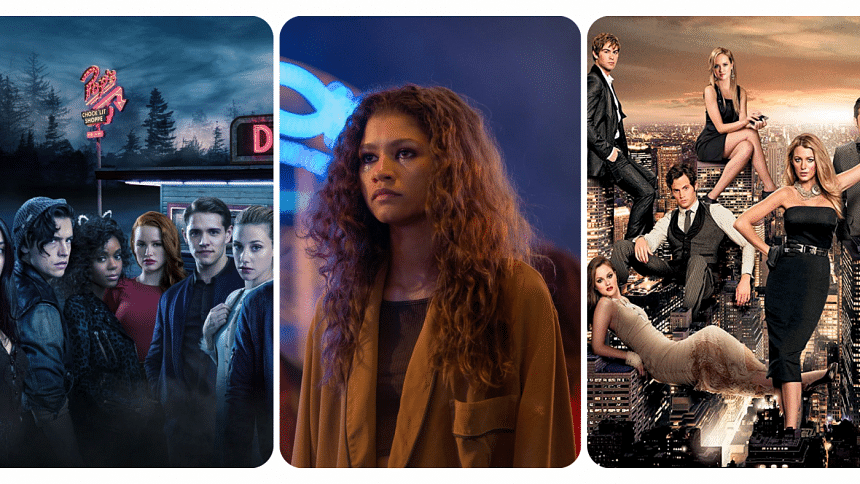 Hello followers, Gossip Girl here. An Instagram account made by a teacher to keep the unruly students of New York's most elite private school in check. Yet, somehow, this Instagram account snowballed into a tool used to take down billionaires. Gossip Girl has since been also used to blackmail literal teenagers, cancel influencers and celebrities, and cause FBI extraditions. 
You wouldn't be alone if you thought this was a bit ridiculous. Not to mention that a character will say something as absurd as "Should we throw our lattes on her? Turmeric stains forever", followed by "We own this school. They work for us". Maybe it's an after-effect of a global pandemic, but nothing seems to matter anymore. 
In recent years, shows have lost the serious tone they once had, but here's the thing. Television and streaming services are trying harder than ever to be serious, only to end up producing unintentionally hilarious content.
While the pandemic has caused shows to become ironically funny tenfold, the biggest example of a TV series trying hard to be taken seriously and failing miserably is Riverdale. Before the show took a turn towards becoming off-the-rails and unhinged, Riverdale spent a whole season assembling an Avengers-style team of local supervillains, only to reveal that they are under the influence of a goat-headed scarecrow called "The Gargoyle King". 
Riverdale's crimes against humanity don't end there. Whatever seriousness the show has tried to muster up dissipates whenever Veronica calls her boyfriend "Archiekins". And let's not forget the series' most emotional, iconic, and impactful quote, "I dropped out in the 4th grade to run drugs to support my nana. That means you haven't known the triumphs and defeats, the epic highs and lows of high school football." 
How Riverdale isn't the most-awarded show in history is beyond me.
Speaking of TV that takes itself way too seriously, we have Euphoria season 2 up next. While the first season was ridiculous but somewhat grounded, the second season was completely unhinged. The plot becomes so convoluted that, at times, it feels like the writers wrote a handful of fan theories they found on Twitter. 
Numerous plot points from the first season and some characters seemingly vanish into thin air. Furthermore, how does an underfunded LA public school have the funds to put on a Broadway-level annual drama? Why are the students dressed in high fashion? Most importantly, how does a teenager swindle $10,000 of narcotics from a major dealer in Los Angeles with zero consequences?
Last but not least, we have Ginny and Georgia, the most mind-bogglingly ironically hilarious tv series to exist. Someone, please tell the writers to calm down; it's not that serious. These are 15-year-olds. But more importantly, the backstory of Georgia's life leading to Wellsbury is nothing short of an Orwellian coming-of-age tragedy. While the events in her life are awful and harrowing, the overly intense flashbacks make it feel like Colleen Hoover wrote the whole thing. 
As dumb as these TV shows are, we still need them. In a world where children have to drop out of school to support their grandmothers by running a business of illegal substances, and billionaires can be taken down by all-powerful Instagram accounts dedicated to spying on teenagers, we need our small wins when we get them.
Rest assured that Taaseen Mohammed Islam is silently judging you from the corner of the room. Ask him why at  [email protected]