Bangladesh tour of Sri Lanka, 1st Test
Sri Lanka score 321 for 4 after Day-1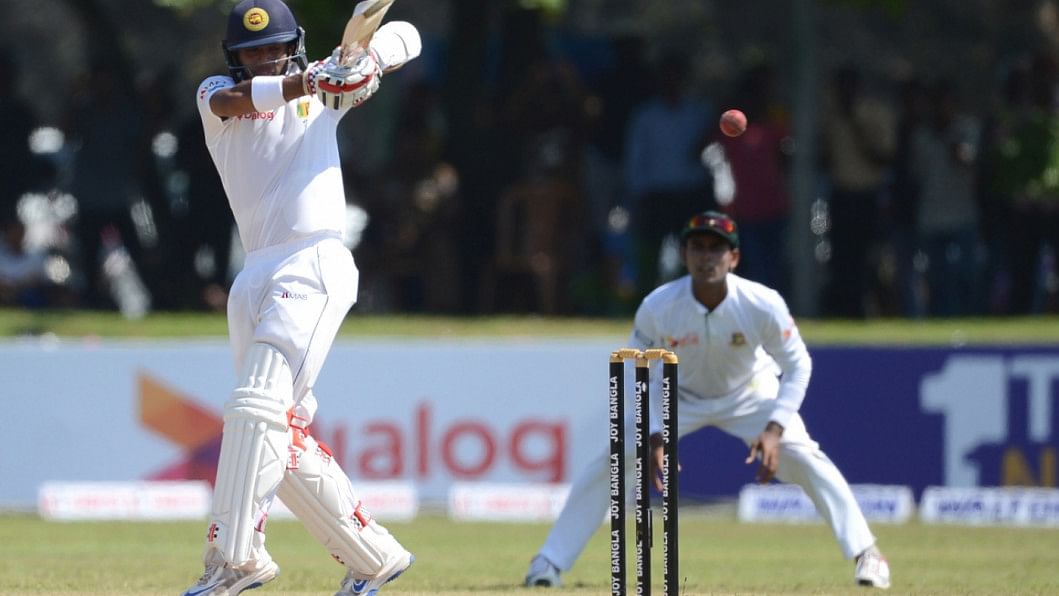 Sri Lanka amassed 321 for 4 after 88 overs after the first day of the first Test against Bangladesh at the Galle International Stadium today.
Kusal Mendis was batting on 166 and Niroshan Dickwella on 14 when the players left the field. The fourth wicket partnership between Kusal and Asela Gunaratne of 196 runs changed the tempo of the match with positive batting and kept the Bangladesh bowlers at bay.
For Bangladesh, Mustafizur Rahman, Taskin Ahmed, Subashis Roy and Mehedi Hasan Miraz took a wicket each.
With only a handful of overs to go before the end of play, Bangladesh got their fourth wicket when Taskin Ahmed removed Asela Gunaratne for 85 to leave the hosts at 288 for 4 after 82.5 overs.
Taskin stopped the fourth wicket stand between Asela and Kusal at 196 after 43 overs. Asela tried to play the pull shot with an angled bat but the new ball skidded on, took the inside edge and crashed onto the stumps.
DAS Gunaratne b Taskin Ahmed 85 (134b 7x4 0x6) SR: 63.43
Fall of wicket 288/4 (82.5 ov); Partnership: 196 runs, 43.0 overs, RR: 4.55 (Gunaratne 85, Mendis 106)
Earlier, the fourth wicket unbroken stand between Kusal Gunaratne and Kusal Mendis of 130 runs took Sri Lanka to 222 for 3 after 71 overs.
Kusal was batting on 112 from 186 while Asela was not out at 59 when the report was last filed. Kusal reached his second hundred of his career today, and was looking to dominate the bowlers during his stay at the crease.
Sri Lanka reached 155 for 3 after 53 overs at tea with the unbeaten fourth-wicket stand of 63 between Kusal Mendis and Asela Gunaratne keeping the Bangladesh bowlers at bay.
Kusal was batting on 80 from 136 balls and Asela on 26 from 42 when the players left the field for the tea-break. The only wicket to fall in the post-lunch session was taken by Mustafizur Rahman when he dismissed Dinesh Chandimal for 5.
Earlier, Mustafizur Rahman struck after lunch and gave Bangladesh their third wicket when he had Dinesh Chandimal caught for 5 to leave Sri Lanka at 92 for 3 after 39.5 overs.
The pressure of dot balls from both ends got to the batsman. The off-cutter from Fizz jumped up sharply from a length and took a thick edge to gully where Mehedi Hasan Miraz didn't make any mistake.
LD Chandimal c Mehedi Hasan Miraz b Mustafizur Rahman 5 (54b 0x4 0x6) SR: 9.25
Fall of wicket 92/3 (39.5 ov); Partnership: 32 runs, 17.2 overs, RR: 1.84 (Chandimal 5, Mendis 26)
Earlier, Kusal Mendis and Dinesh Chandimal played watchfully after lunch to take their team to 92 for 2 after 39 overs.
The third wicket stand between them reached 32 from 16.3 overs when the report was filed. Earlier in the second session of the day-1, Subashis Roy got one to nip back from off in the 26 th over that struck Chandimal on the pads. The appeal was turned down and Bangladesh did not review the decision.
During the first session, Mehedi Hasan Miraz gave Bangladesh their second wicket when he sent back Dimuth Karunaratne for 30 to leave the hosts at 60 for 2 in 22.3 overs.
After a solid second wicket stand of 45 in 16.5 overs, Sri Lanka were dealt a blow few overs before lunch when Dimuth chopped a ball from Mehedi onto his stumps against the run of play.
The good length ball from Mehedi outside off didn't turn and took the under-edge of Dimuth's bat.
FDM Karunaratne b Mehedi Hasan Miraz 30 (76b 2x4 0x6) SR: 39.47
Fall of wicket 60/2 (22.3 ov); Partnership: 45 runs, 16.5 overs, RR: 2.67 (Karunaratne 20, Mendis 19)
Bangladesh got their first breakthrough in the sixth over of the morning when Subashis Roy bowled Upul Tharanga to leave the hosts at 15 for 1.
Tharanga was surprised by the extra pace of the delivery, and his half-hearted defence could not prevent the ball from disturbing the furniture.
WU Tharanga b Subashis Roy 4 (14b 1x4 0x6) SR: 28.57
Fall of wicket 15/1 (5.4 ov); Partnership: 15 runs, 5.4 overs, RR: 2.64 (Tharanga 4, Karunaratne 10)
Bangladesh nearly had two wickets in consecutive deliveries when Subashis had Kusal Mendis caught behind…the jubilant celebration turned into bitter exasperation when the replays showed Subashis had overstepped.
The on-field decision was overturned and Kusal was reprieved to the delight of his teammates.
Sri Lanka captain Rangana Herath won the toss and chose to bat first.
On a hot day in Galle, Bangladesh have chosen to go in with three pacers, with pacer Subashis Roy winning his second Test cap in place of left-arm spinner Taijul Islam, who played Bangladesh's last Test against India in Hyderabad last month.
Subashis will part of a three-man paced attack along with Taskin Ahmed and Mustafizur Rahman, who comes in place of Kamrul Islam Rabbi.
Batsman Sabbir Rahman has also been dropped in favour of Liton Das, who will keep wickets instead of skipper Mushfiqur Rahim, who will play as a batsman.
Sri Lanka 
FDM Karunaratne, WU Tharanga, BKG Mendis, LD Chandimal, N Dickwella†, DAS Gunaratne, MDK Perera, HMRKB Herath*, RAS Lakmal, CBRLS Kumara, PADLR Sandakan
Bangladesh
Tamim Iqbal, Soumya Sarkar, Mominul Haque, Mahmudullah, Mushfiqur Rahim*, Shakib Al Hasan, Liton Das†, Mehedi Hasan Miraz, Taskin Ahmed, Mustafizur Rahman, Subashis Roy