Cocoa Cravings
Single Serving Chocolate Recipes
Even the laziest of us excitedly break out the pots and pans when random mouth-watering delicacies grace our screens. Sorry to say, not many can pull it off and end up with a huge mound of food that taste nothing like it should. That's where the single serving recipe comes in. For all your experiments and for less wastage of expensive ingredients, it is best to get your chocolate fix on a smaller scale. 

Of course then there is the obvious advantage which is satisfying momentary chocolate cravings. Why make huge portions when there is one no one to share with and you are not going to want it tomorrow? Also, for the sake of your bank account and your diet goals, read on. 
ONE BIG CHOCOLATE CHIP COOKIE

Yields: One 7" cookie

Ingredients:

 2 tbsp salted butter

 3 tbsp packed light-brown sugar

 1 pinch salt

 1 tbsp whisked egg*

 1/4 tsp vanilla extract

 1/3 cup all-purpose flour

 1/8 tsp baking soda

 1/4 cup chocolate chips 
Directions:

Preheat oven to 350 degrees. Heat the butter in microwave until nearly melted (lumps should still be there).
To the melted butter, add brown sugar, salt, 1 tbsp egg, the vanilla, flour and baking soda. Stir with a spoon until well combined. Mix in 3 tablespoons of the chocolate chips. Shape dough into a 3 1/2-inch disk on parchment paper lined baking sheet, gently press remaining 1 tbsp chocolate chips randomly over top and sides of cookie. Bake in preheated oven 12 - 14 minutes, until cookie is golden. 
To get 1 tbsp egg, whisk an egg completely and measure out 1 tbsp.

Recipe Source: Cooking Classy
SMALL BATCH BROWNIES

Proceed with ease, because I actually made this and it tastes almost as good as the brownies from North End.

Yields: 3 – 4 pieces.

Ingredients:

 1/4 cup salted butter

 1/2 cup granulated sugar

 1 large egg

 1/2 tsp vanilla extract

 1/4 cup all-purpose flour*

 3 Tbsp unsweetened cocoa powder
Directions:

Preheat oven to 300 degrees. Line parchment in an 8 by 4-inch bread pan (don't use a 9 by 5 or they'll be too thin).
Heat butter in microwave until 2/3 of the way melted, about 25 seconds. Mix in sugar, stirring until butter is fully melted, then mix in egg and vanilla extract. Add flour and cocoa powder and mix just until combined.
Pour into prepared baking dish and spread into an even layer. Bake in preheated oven until set, about 20 minutes.
*For a rich chocolate brownie, use 1/4 cup cocoa powder and 3 tbsp flour.
Recipe source: Cooking Classy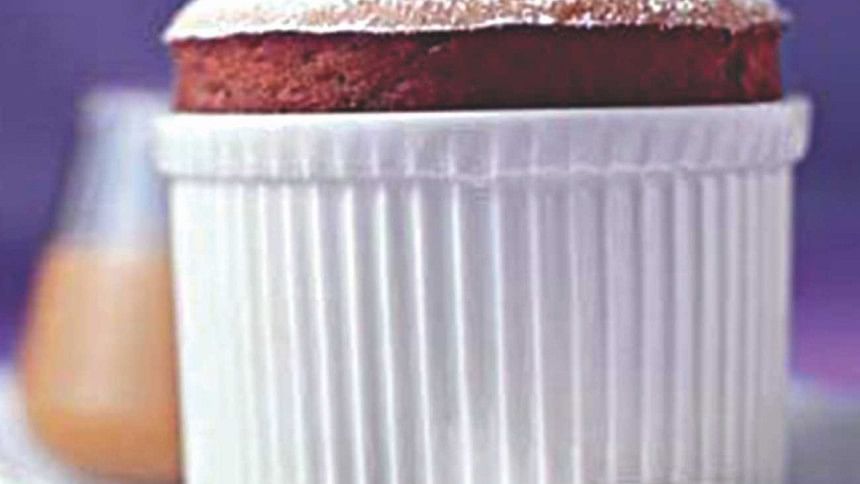 CHOCOLATE SOUFFLÉS 

I am aware of the fact that it provides two portions, but if done right, they are so good you'll want the second helping.

Yield: 2 soufflés*

Texture: Like eating a chocolate cloud in heaven

Appearance: Unfortunately as the soufflés cool they begin to drop and lose their height, making it difficult to get a good envy-inducing photo for Instagram: 
Ingredients:

 3 tbsp unsalted butter, divided

 2 tbsp unsweetened cocoa powder

 3 ounces bittersweet chocolate, chopped

 1/2 teaspoon vanilla extract

 2 large egg yolks

 2 large egg whites

 2 tablespoons granulated sugar

 Pinch salt

 Pinch cream of tartar**

 Powdered sugar, for garnish



Directions:

Preheat the oven to 375°F. Use 1 tablespoon of the butter to grease two 8-ounce ramekins (oven prove cups work too). Coat the ramekins with cocoa powder, tapping out the excess.
In a large microwave-safe bowl, microwave the chocolate and remaining 2 tablespoons of butter in 30-second bursts, stirring between each burst, until melted and smooth. Stir in vanilla and egg yolks, one at a time.
In a clean bowl, use an electric mixer to beat the egg whites, sugar, salt, and cream of tartar just until stiff peaks form. 
Gently fold the egg white mixture into the chocolate and spoon it into the prepared ramekins. Soufflés can be covered in plastic wrap and refrigerated at this point for up to 1 day.
Bake until puffed and set, about 20 minutes (25 minutes if baking directly from the refrigerator).
Garnish the chocolate soufflés with powdered sugar and serve immediately
*You can also halve the recipe, but at your own risk

**Can be substituted with 1 tsp of lemon juice or omitted altogether 
Recipe source: Handle the Heat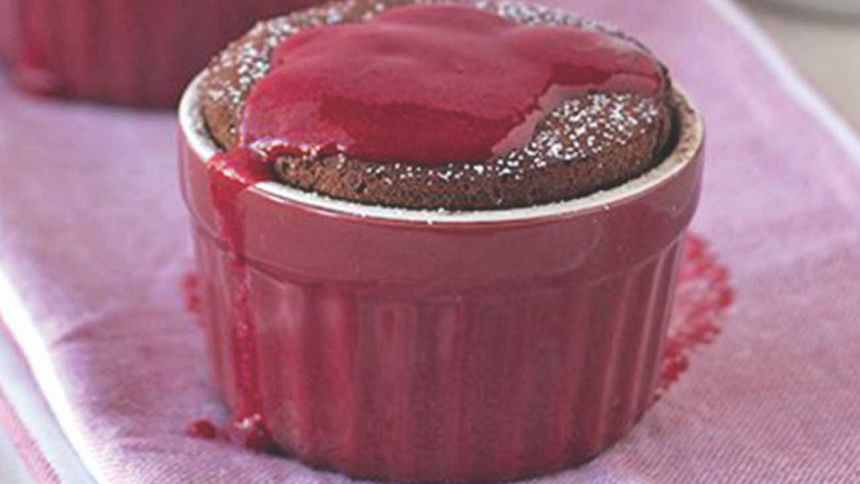 CHOCOLATE CUPCAKE 

This is for you if you prefer something less rich than brownies and more fluffy and moist.
Yield: 1 cupcake
Ingredients:

 1 tbsp egg white

 1 tbsp granulated sugar

 2 tbsp melted butter

 1/4 tsp vanilla extract

 2 tbsp all-purpose flour

 1/4 tsp baking powder

 1 tbsp cocoa powder

 1 tbsp grated milk chocolate

 pinch of salt

 1 tbsp milk
Directions:

Preheat the oven to 350°F and line a muffin tin with 1 cupcake liner.
Beat the egg white in a small bowl until soft peaks form.
Gently stir in the sugar, melted butter and vanilla extract.
Fold in the flour, baking powder, salt, cocoa powder and grated chocolate. Stir until smooth.
Pour in the milk and gently stir until fully incorporated.
Bake in the pre-heated oven for 8-12 minutes, or until the cake is fully set and springy to the touch. Leave cool completely then frost as desired.
Recipe Source: Happy Healthy Motivated 
These recipes aren't for the faint hearted. Tie your aprons, take out your measuring cups and get ready to go on a chocolate adventure!
Mashiyat Nayeem has a genuine phobia of onions and has mastered the art of scavenging for beresta in her biryani. Learn more at [email protected]