Mama Bari gets International Guests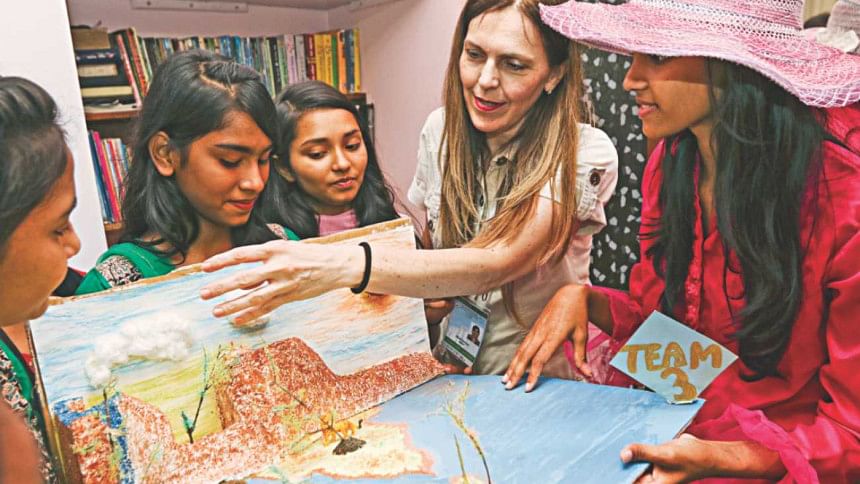 Seven years ago on a June afternoon, the young people of a nine-storey Mirpur building wanted to teach the kids of nearby slums. They invited the kids to their rooftop. Before the school, college and university students of the apartment building decided to take the initiative, not much thought was put into it. Hence the complaints from fellow apartment dwellers about the entrance of slum kids were the first hurdles Mr. and Mrs. Robbani had to deal with. They brought the makeshift weekend school from the rooftop into their own home, so that no one could oppose it. 
I was one of the very few volunteers who witnessed the beginning of Mama Bari with nothing more than eight kids, two bed sheets to serve as seating for the children, and 10 taka being collected weekly from the volunteers. Seven years later, I stood in the living room of the Robbani home (which is also the happiest place on earth for 70 slum children) dressed to the nines, eagerly waiting for the arrival of four honourable Members of the Hungarian Parliament – Mónika Eva Bartos, Dr Jozsa István, Dr Schmuck Erzsébet and Somfaine Adam Katalin – along with Bangladeshi surgeon Dr Firdous Quader Minu. The MPs were in Dhaka to participate in the 136th Inter Parliamentary Union and they chose to come to Mama Bari on their own accord with suitcases filled with gifts for the kids.  
Within six days' notice, all the preparation had to be done. That included training the kids to put up a memorable show all by themselves, coming up with a security plan and so on. Hours and hours of preparation went into readying a show so that the kids could demonstrate the impact Mama Bari has had on their lives. The school which started with an ambition no bigger than teaching the kids etiquette, morals, values and social skills has transformed their whole world. They have been admitted to good schools, taught music and various martial arts. They have even won awards in several international competitions.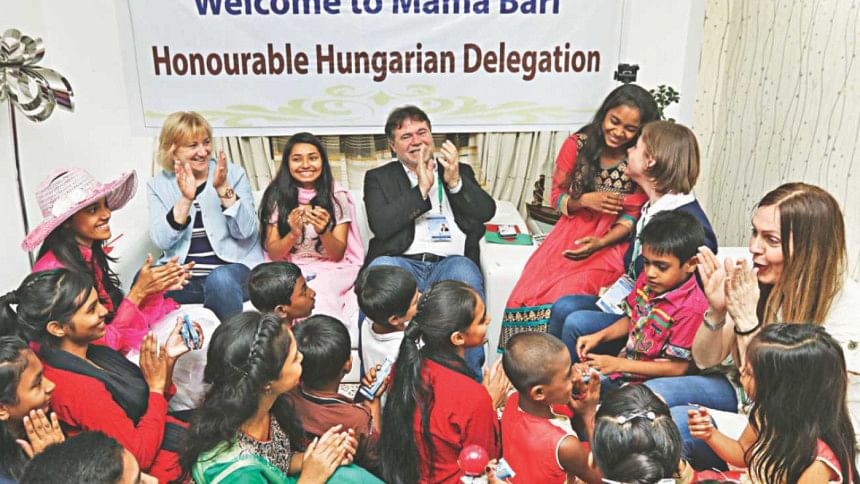 The entire Block B of Mirpur 10 was secured by the police. The people passing with the most ease were those kids, who upon being asked their destination could reply, "I am going to Mama Bari." Just before 5 p.m. all the kids lined up in the garage with paper flags of Hungary in one hand and Bangladesh on the other. They gave the warmest welcome to the guests. They extended their visit well past their plan. After the show ended, both parties mingled for hours which resulted in elaborate chorus singing in both Hungarian and Bengali. If the pure joy of singing and having affectionate company was not enough, the gifts which followed made the kids' day even better.
Anupoma Joyeeta Joyee is a perpetually sleepy Law student who emotionally identifies with ducks and occasionally sets out on writing sprees. Feel free to rant to her at [email protected]