A Convention of Young Bangladeshi Innovators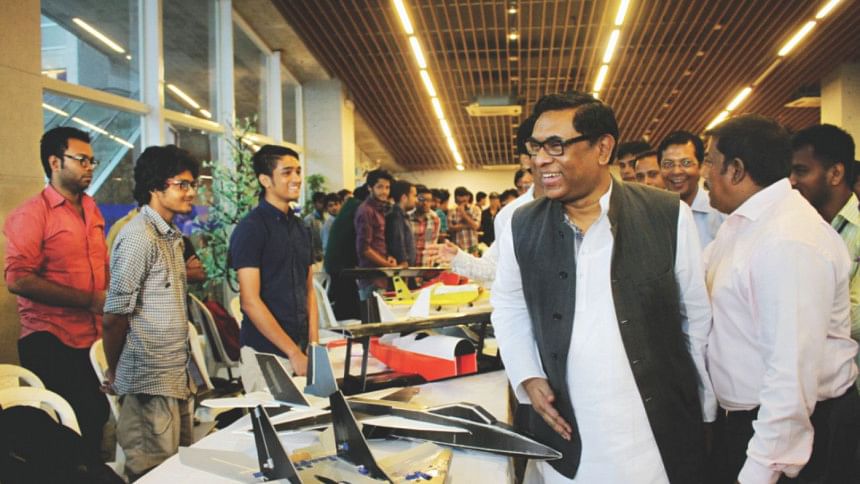 The Engineering Students Association of Bangladesh (ESAB) organised the International Engineering Innovation Summit Bangladesh (IEISB) 2015 on June 11, 2015 at KIB, Dhaka. This programme was the biggest of its kind in Southeast Asia and 823 people participated as delegates, contestants and mentors with a total of 214 projects. 
After a brief registration session, the event commenced with the National Anthem. Arif Raihan Maahi, General Secretary of ESAB and Summit Lead of IEISB 2015; Asif Al Hye, President of ESAB; and Md. Harun-Or-Rashid, Specialist, Social Development and Advisor, ESAB, shared their experiences and views on such events.
The event was divided into two parts that ran simultaneously. Seminars and talks were held in the first part. Ejaj Ahmed, President, BYLC spoke about innovation and leadership. John Pineau, an American aerospace engineer, informed the delegates about the fundamentals of the Rosetta Mission, which is a robotic space probe developed by the European Space Agency. A talk titled "E-Commerce and Big Data Resources" was held by Martin Malmström, CEO of Bikroy.com.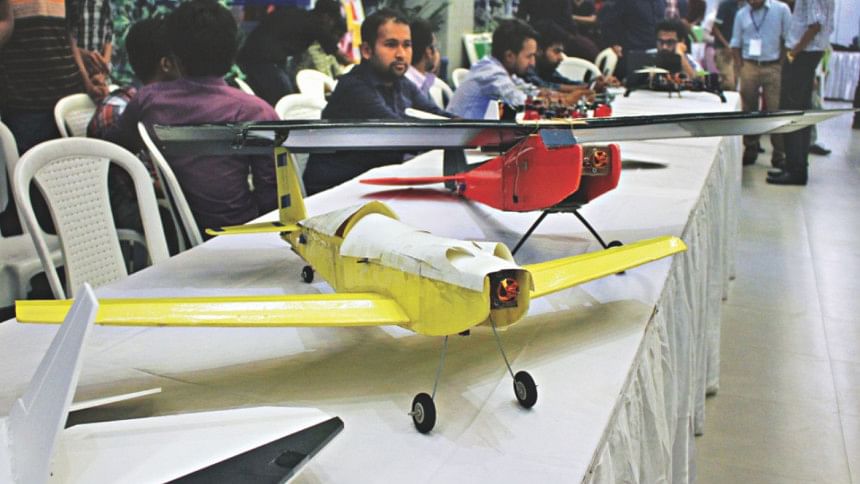 A capacity-building workshop was held where Tahseen Zakaria, Head of Talent Acquisition, Airtel Bangladesh Ltd. and Asif Al Hye talked about the different aspects of innovation, technology and career. A panel discussion titled "People and Policy: U.S. Embassy Dhaka and Engineering" was moderated by George Mesthos, American Cultural Affairs Officer, where Josh Hatch, Political Officer, Human Rights; Sarah Flewelling, Economics Officer, Environment Science Technology Health (ESTH); and Jeffrey Chow, Yale Ph.D. candidate, Fulbright-Clinton Fellow, Ministry of Forests took part. Mesthos also headed the EducationUSA talk. Shahid Uddin Akbar, CEO, BIID; Fayaz Taher, CEO, Fortuna; and Atiqur Rahman Sarker, CEO, Muspana were present at the CEO Meet session. Lastly, Anir Chowdhury, Policy Advisor, a2i Program, Prime Minister's Office, Bangladesh, gave a speech in the "Innovation and Public Service" segment. 
The other part of the festival was competitive in nature. There were 12 competitions held throughout the course of the day. With various robots, quadcopters, jet planes, drones and the like, it was quite evident that the participating young students were all budding innovators having a good working knowledge of their own projects.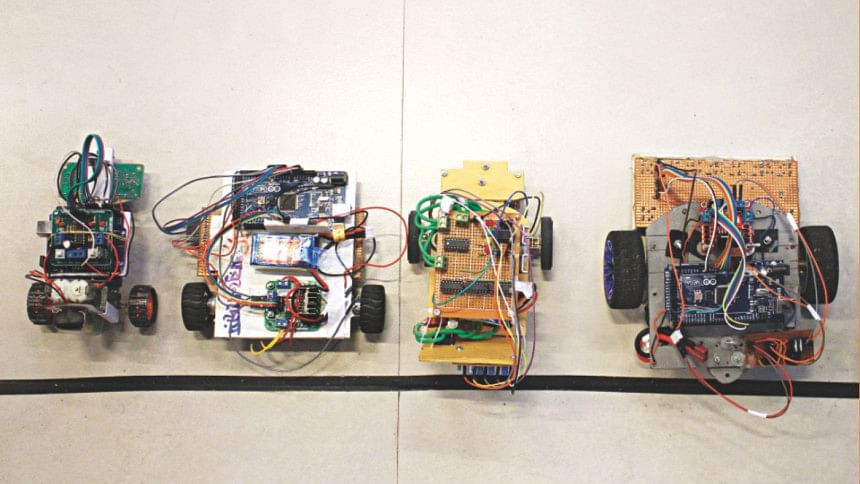 One such innovation was an android-controlled wheelchair. Tarun Debnath, the project lead from Pabna University of Science and Technology, informed, "The idea originated from motion sensors that we use in games. We wanted to use that technology for human benefit." A differently-abled person can use motion sensors of his/her cell phone or press corresponding buttons to move the wheelchair. The "smart chair" can also determine the physical conditions of the person sitting on it through heart-beat sensors. Tarun also said that they plan to expand this project to make it more feasible. 
Another interesting project was a human-sized robot that can go to places considered hazardous for people, such as a toxic site. "The live video stream system connected to the robot can be used by us to determine any problem from the control room, and we can instruct the robot to act accordingly to mitigate the problem," said Mainul Hasan from Chittagong University of Engineering and Technology, who was the project lead. He also said that future developments would include adding artificial intelligence.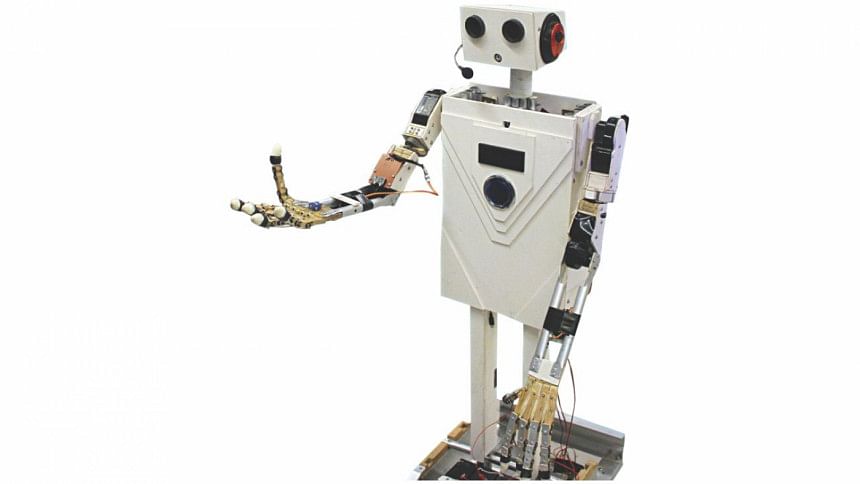 The champion of "International Battle of Speed" was Team Resonance. Nirvik and SUST Optimistic were the champions of "Soccer Bot" and "Micro Mouse" rounds respectively. "Solid Works" competition was won by ShwapnoBaz. Source Code was the leading team in "App Fest", while Ethereal won the "Hackathon" round. Team Ambot won the "Exploring the Dreams" competition and Team ICE Robot won "International Robots Got Freedom" round. The champion of "International Hover Exhibition" was Centurions, and lastly, the "SmartCity Challenge" was won by Team Shohure. The champions and delegates were awarded with certificates and prizes by the guests.
Arif Raihan Maahi informed, "Around 5000 visitors attended the programme. Summit declaration was 'Technology for Public Services' that will be the working issue for calendar year of ESAB's activities. Of the 300 ideas submitted by the delegates, we will try to initiate at least 50 in this time frame."
It is not every day that we get to see so many Bangladeshi innovators, who are all students, displaying their projects under the same roof. ESAB's initiative provided them with a platform to showcase their ideas and talents. Surely, if these ideas are nurtured and guided, Bangladesh will be seeing the dawn of a new technological era in the near future.