THE HIP-HOP STORY
Hip-hop, as a music genre has gone through a unique journey in our country. Hip-hop was first introduced as a form of entertainment to the masses when foreign, particularly American television channels got popular during the early 2000s. The style of music, lyrics and culture associated with hip-Hop wasn't something one would consider compatible with the social norms of Bangladesh. But before long, artists such as Stoic Bliss and Deshi MCs emerged and started producing rap music in Bangla, which got popular among the youth within a short period of time. Fast forward to 2018, although the tag of being an underground scene remains, hip-hop has garnered widespread recognition. A quick search on YouTube will provide a large list of practicing rappers, b-boys and beatboxers. Various events now regularly host hip-hop artists, some have even made it to the mainstream media.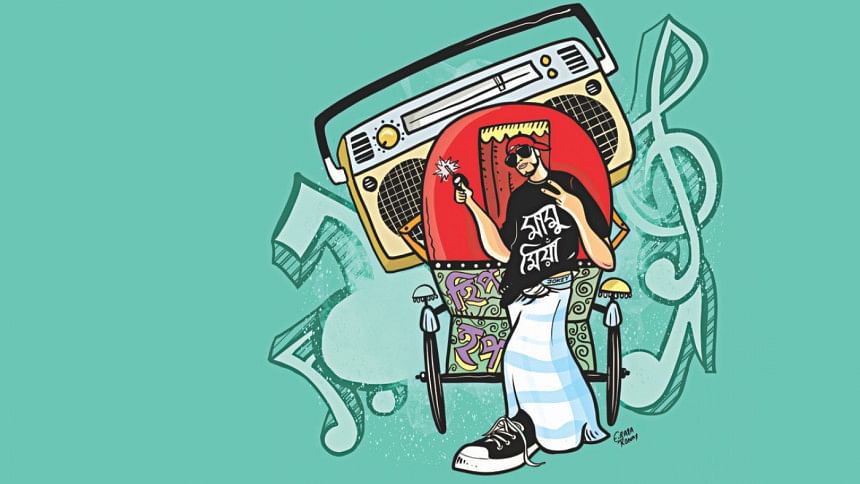 The story starts in 2004. A group of eight Bangladeshis who shared a passion for rap music came together and formed a hip-hop crew. They called themselves "Stoic Bliss". Stoic Bliss ventured into the music industry in Bangladesh with a view to introducing a new genre of music. They eventually signed with G-Series and produced their first album, "Light Years Ahead". The album was a success and had sold over 250,000 copies within the first 10 months. And thus, with the release of the first successful hip-hop album of Bangladesh, Stoic Bliss established themselves as pioneers of the movement. 
It was around the same time when Shaqiel Niaj Mirza, popularly known by his stage name MC ShaQ, started uploading rap tracks onto a website named amadergaan.com. Kazi of Stoic Bliss had met MC ShaQ through the same website and had invited MC ShaQ to an online forum of Bangladeshi hip-hop enthusiasts. From there, he came to know about and met with other rappers from Bangladesh including another big name in the scene, Skib Khan. In 2005, the iconic "Deshi MCs" was formed.
Throughout the following years, the hip-hop scene in Bangladesh was defined by hit songs from the aforementioned bands. Stoic Bliss's "Abar Jigay" from their first album "Light Years Ahead" was one of the first rap tracks in Bangla to receive widespread recognition. This song and the album in general, refuted the idea that Bangla hip-hop wouldn't take off. Deshi MCs also released their album "Banned", along with some other singles. Some of their most popular tracks include "Ganjam", "New Age", "Baap re Baap", "Boma Hamla", "Dhakaiya Gangsta" and many more. These songs became popular mainly through word of mouth among the youth at the time. These tracks were also the introduction to Bangladeshi hip-hop for the majority of its enthusiasts.  
When it comes to pioneering the hip-hop scene in Bangladesh, two more names must be mentioned. First of all, T.O.R. or Theology of Rap, was a crew that had also formed in 2005. They had played a major role in expanding the scene not only through their music but also through hosting concerts and events to provide the upcoming rappers with a platform. T.O.R. is etched in the heart of many old school Bangla Rap fans because of their album "Hip-Hop Jati". In 2008, Uptown Lokolz hit the scene. The crew had instant success with their debut album "Kahini Scene Paat" and rose to fame. "Ai Mama Ai" remains as one of the most successful Bangla rap tracks even to this day.
Around this time, the Internet and social media was becoming extremely popular. This trend reshaped the concept of music sharing and many people got exposed to Bangla hip-hop through the Internet. Moreover, communication became much more convenient and social media was phenomenal in terms of bringing strangers together who shared similar interests. So more and more people became familiar with hip-hop, new artists were able to enter the scene and the existing hip-hop enthusiasts could come together. Soon, the hip-hop community underwent major expansion.
As hip-hop music and its culture progressed in the country, certain trends started to emerge. The artists were and are producing songs in both Bangla and English, including some tracks having both Bengali and English verses. The language of the Bangla tracks typically had the Old Town dialect and had the distinguishable feature of using a lot of explicit words. Exceptions were of course, present. For example, Skib Khan of Deshi MCs is known to have a rapping style that features a more polished and almost formal version of the Bengali language.
The majority of rap songs produced during the mid and late 2000's were influenced by American gangster rap from the 90's. While the lyrical content of are more diverse in current times, back then it used to be mostly about rebelliousness, conflict, drugs, gang violence and such. This is because around that time, hip-hop was still brand new and so rappers were simply inspired by the gangster rap subculture that was popular in the West. One of the reasons Uptown Lokolz became so successful right away was that they had their own unique theme to their music rather trying to copy a foreign style. A prominent member of the crew, Asiful Islam Sohan, better known by his stage name Black Zang, stated that, "Back then, most rappers were trying to portray a gangster lifestyle through their music. What we tried to do to differentiate ourselves was that, we had portrayed the local urban lifestyle of Bangladesh. We weren't pretending to be gangsters and saying we were cool and all that. We were expressing our actual selves genuinely and to the point. That's why Uptown Lokolz quickly established its place in the hip-hop industry. Our message was that you can be yourself and still stand out."
Hip-Hop has come a long way in the country since the days of Stoic Bliss and Deshi MCs. Today, not only are there a large number of rappers and music labels that regularly produce rap music, but there's also a strong and growing presence of hip-hop culture. Many mainstream musicians and music producers now look to include rap verses in their music, compose songs to a catchy Hip-Hop beat or feature graffiti in their music videos. For example, Shafin Ahmed's popular music video "LEGEND", which was released in 2017, had featured Towfique Ahmed as a rapper. Even many songs from recent Bangla films include rap verses, such as the song "Bubly Bubly Bubly" in Shakib Khan's movie "Boss Giri". According to the veteran artists who were involved with the hip-hop scene since its inception, this advancement is owed to the active rappers and rap crews of the 2000's and this decade. Although they were limited in number, they were committed. They worked hard and were dedicated to the scene. Aside from the names already mentioned, the rap crew "Rajotto" and "Fokir Lal Miah" played a prominent role as senior artists in the hip-hop industry and they continue to release new tracks to lead the scene.
The recognition achieved by these rappers paved the way for other parts of the hip-hop culture such as beatboxing and breakdancing to find their footing in Bangladesh. MC Mugz, a veteran rapper, former member of Deshi MCs and current member of Jalali Set, said, "At first, rap music came and started the hip-hop culture in Bangladesh. Breakdancing, DJ-ing, beatboxing and graffiti art made their way in shortly after." "Planet Hip-Hop", which used to be aired on Colours FM 101.6, was a radio show that promoted all aspects of Hip-Hop culture. It had become a platform for showcasing young upcoming talent, whether it was rappers, beatboxers or graffiti artists.
The promotion of rap music and hip-hop in general can be attributed to both the individual efforts within the nation as well as the global phenomenon of hip-hop attaining immense popularity and redefining mainstream music. A quick look at the most popular and trending music videos right now will reveal that a lot of them fall under the hip-hop label. Even the melodic pop songs these days feature a rap verses. Beatboxing has exploded across the world and its popularity is only going up. Asiful Islam Sohan [Black Zang] summed it up perfectly, "I mean, look at the world. Hip-hop is everywhere. How can you miss Bangladesh!?"
So where does hip-hop go from here? Well, it's a booming culture and many local events, especially the ones targeting young people now regularly invite hip-hop artists, be it rappers, b-boys or beatboxers. At the same time, the currently practicing rappers including veterans feel that producers and mass media need to come forward and provide hip-hop artists with a bigger platform, even if it means taking a little risk. Hip-Hop has shifted from the controversial gangster theme of its early days and has rather become an art-form that expresses the urban lifestyle of Bangladeshi youth. The entertainment industry in Bangladesh is indeed becoming more and more youth centric, from music to television to literature. So as of right now, it seems that glowing prospects await the hip-hop scene in this country. 
Mushfiqur Rahman Shanto is a lost and confused soul going through his early twenties' crisis. Send him life advice at [email protected]