How Much Screen Time Is Too Much?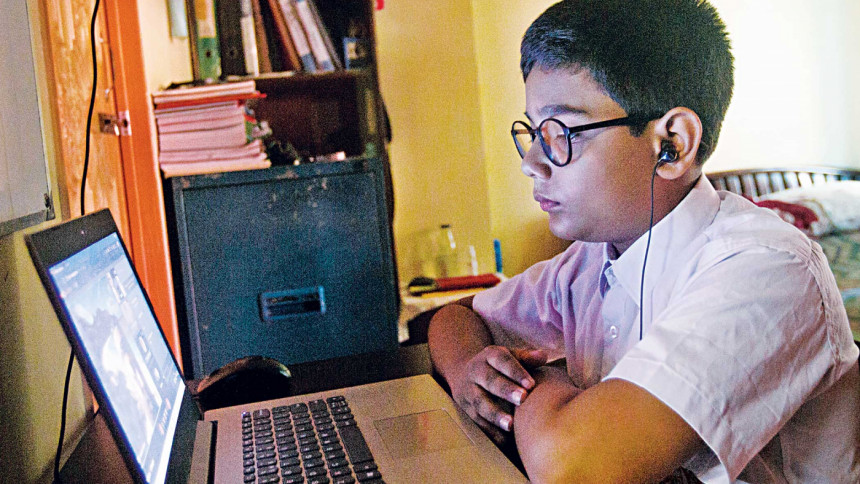 The current pandemic has dramatically reshaped how we interact with the world from indoors to outdoors. Since the past year, there has been a massive surge in virtual learning amongst students of all ages. Learners, especially school students, are getting screen time now more than ever.
Owing to the pandemic, screen time has seen a hike of up to 60 percent. The increased screen time and its potential impact on school children leaves parents questioning how much screen time is healthy and how they could put justified restrictions in place.
The American Academy of Pediatrics has established a set of guidelines that recommends screen time, in hours, as per the age of the child. Generally, for children under five, the limit is less than an hour a day and only under adult supervision. Between ages 5 and 18, the screen time should be tailored to the child's needs.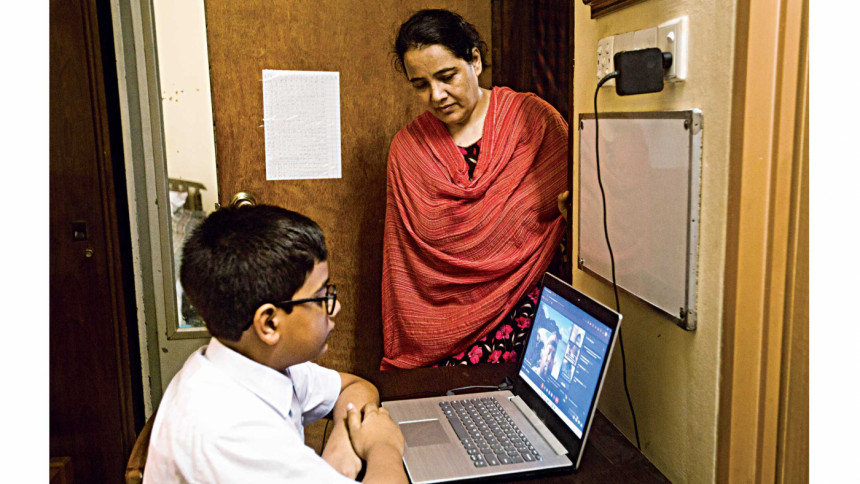 Although online learning models have made it possible for education to continue in these struggling times, it does come at a price. Excessive screen time can lead to a number of detrimental health effects.
To begin with, too many hours spent staring at a screen affects the circadian rhythm of the body. The blue light radiated delays the release of melatonin, a hormone associated with the sleep-wake cycle and ultimately pushes back the bedtime. With schools starting at strict hours, later bedtimes cause less restful sleep and more next-day drowsiness.
Fifth grader Samah Noor says that she spends "almost all of the day" engaged with electronic devices. She complains of headaches and irritable temperament. She also adds that her new routine consisting of increased screen time makes her lose track of time very easily which only adds up to her ill feelings.
Parents, similarly, have noticed severe shifts in behaviour. Sadia Sharmin, who works as a manager at a group of companies, reinforces Samah's comments telling us how her two children are suffering the same fate.
"They've been so moody, it's become increasingly difficult to manage them," says Sadia, "I can't blame them. They're only children, and if staring at a screen for hours has any effect on us, we can only imagine what it's doing to our children."
Apart from online tutorials and homework, there is another element vying for a child's attention, often stronger than the former -- recreation and entertainment.
Samah says, "After school, I play online games with my friends and siblings. I often end up spending the rest of the day this way".
It seems that the added stress of online learning has not detached children from using the same devices as a way to get rid of boredom. As both factors are very demanding in a child's life, often kids do not think much about how much screen time is safe and healthy for them. Given the existing conditions of lockdowns, non-device alternatives for relaxation have become limited.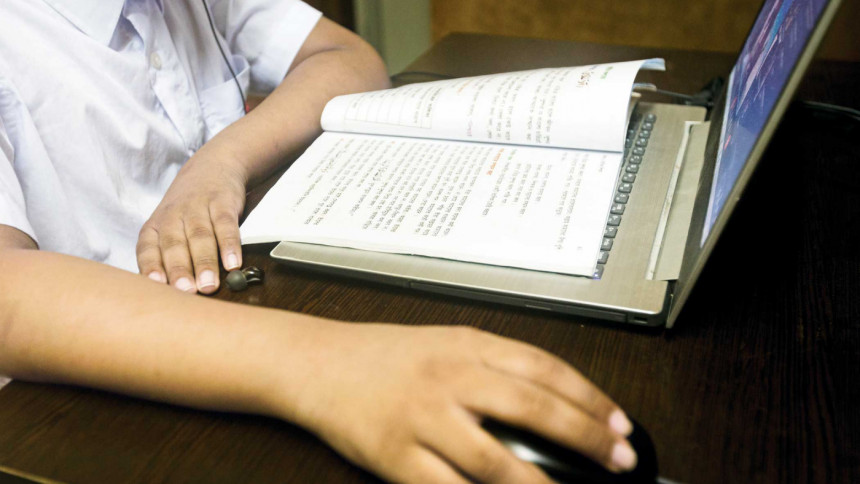 As a result, parents often opt to let their children stay online for longer hours. When the time comes for limitations, most parents, including Sadia, are faced with the same question, "What should I do, then?"
With entertainment available at our fingertips, imagination and creativity have bred themselves differently in today's children. There was a time when a child was entertained by something as mundane as a stick; children today, in a world of flashing images and interactive screens, need more.
Both parents and teachers agree that this is largely affecting a child's growth. Apart from emotional, mental and physical growth, another major aspect of their lives that is being impacted is their social development. For growing children, social interaction and exposure to the outside world is an essential part of growing up. However, in light of recent events, social connectivity has seemingly become a thing of the past. While people in this day and age may be the most connected through a virtual plane, they are disconnected in the ways that matter most. Many studies have suggested that increased screen time can also result in development of social anxiety later on in life which proves to be another matter of concern for the parents.
Sadia gives us some insight about how this is affecting her children's ability to socialise. Their worlds have shrunk down to one small screen. Social gatherings or simply meeting people outside of the ones in their own homes is becoming difficult for them.
"The quieter children are sinking right back into their shells. Without social interaction and a connection to the outside world, some children have more to lose," worries Jannatunessa Muna, a teacher at Stride International School. Several studies and experts discuss the direct relation between social interactions within young children and self-esteem and confidence.
However, she also stresses that it is not all bad, with this much interaction of technology, the children have become more tech savvy than anyone could have hoped, which, in present times is a necessary skill. While some children shrink in confidence, others have found confidence in their new development of skills in dealing with technology. So, as bleak it may seem, Muna chooses to have an optimistic outlook telling us that there is a silver lining.
Parents, however, are still worried. They worry about another impact on the children, this being their now close to nonexistent routines. With so much time spent on their screens, when it comes time to sleep, children often cannot.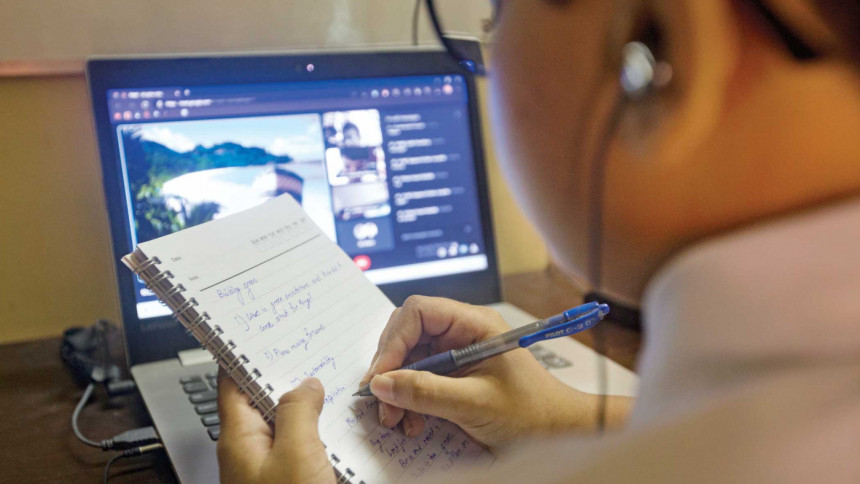 Younger children have pent up energy from the lack of physical activity, inadvertently making them restless. Other times, they cannot sleep, despite being tired. This once again, can be directly linked to the amount of time they spend on their screens. In a study conducted by the Sleep Foundation, lack of sleep comes from the delay in the release of melatonin which causes sleep to be delayed along with it. This leaves children staying up for long hours of the night and sleeping through most of the day which also contributes to their moods and irritability.
With the possibility of schools opening up for the children soon, parents and teachers are in doubt. While they agree there will certainly be a period of time when children will have to adjust to another new change, will things eventually be okay?
"Children will adapt to their new lifestyle, just as they did this one," believes Riffat Jafrin, teacher at an English medium school. "But it's our job, as parents and teachers, to make things as smooth as we can."
Teachers suggest that the opening be done in phases, easing the children back into this routine, rather than thrusting them back into it, which might be overwhelming. As for parents, Sadia suggests, they require guidance as to how to best deal with children, now and later. She suggests that professionals help guide the nation's parents as a whole, as they await schools to reopen and some form of normalcy to return to their children's lives.
References
1. Frontiers (July 22, 2021). Social Connectedness, Excessive Screen Time During COVID-19 and Mental Health: A Review of Current Evidence.
2. Sleep Foundation (February 5, 2021). Screen Time and Insomnia: What It Means for Teens.
3. Reid Health (n.d). How much screen time should kids get during the pandemic?
4. Kiddie Care Nurseries (January 12, 2021). The importance of social interaction.
5. National Bureau of Economic Research (March, 2000). Self-confidence and social interactions.
6. Online Psychology Degrees (n.d).  How Does Screen Time Affect a Child's Social Development?
Syeda Erum Noor is dangerously oblivious and has no sense of time. Send help at erum.noor1998@gmail.com
Hiya loves food that you hate by norm – broccoli, pineapple pizza and Bounty bars. Find her at hiyaislam.11@gmail.com