Uttara University takes responsibility of student who lost father in Turag explosion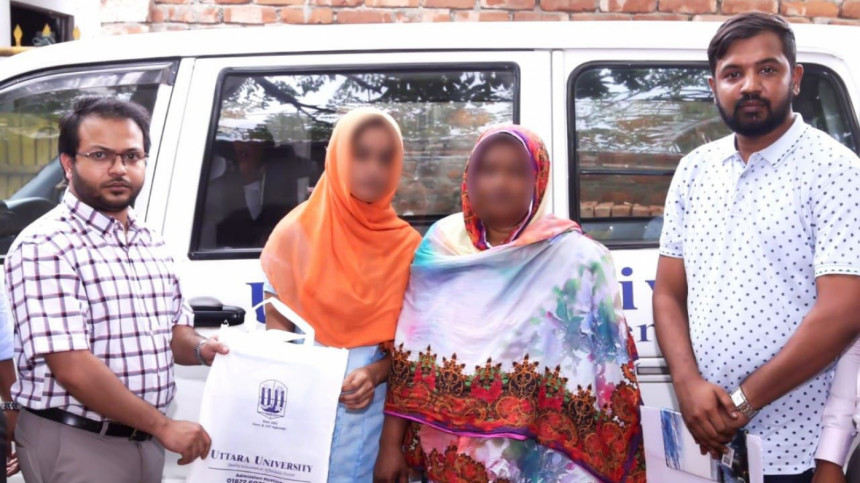 Uttara University has taken full responsibility of the education of Bithi Akhter, the daughter of Gazi Mazharul Islam, who was killed in the Turag explosion. Gazi Mazharul died of burns in a tragic explosion at a bhangri shop in Turag on August 6.
On August 10, a team led by the Uttara University Board of Trustees member Abid Aziz visited Bithi Akhter's home in Dhaka. Abid Aziz and his team conveyed their condolences to Bithi's mother and offered their full support in her future academic endeavours. 
Admission at Uttara University with a 100% scholarship was awarded to Bithi so she can start her degree at the Department of English in a four-year' honor's program. 
It is to be noted that on the day of the explosion, Bithi took BDT 12,800 from her father to enroll in the English Department of Uttara University. On her way to the university, she was notified that her father was in the explosion. Bithi immediately turned around without enrolling in the university and made her way to Sheikh Hasina National Institute of Burn and Plastic Surgery in Dhaka, where her father and others injured in the explosion were sent for treatment.
That night, her father died while undergoing treatment. Bithi's university admission money was spent for her father's treatment and burial. 
This news caught the attention of Abid Aziz of Uttara University. They considered the matter very seriously to ensure higher education of Bithi, and took all responsibilities of her higher education.