Tripartite collaboration among govt, media and citizens urged at Internation Press Freedom Day webinar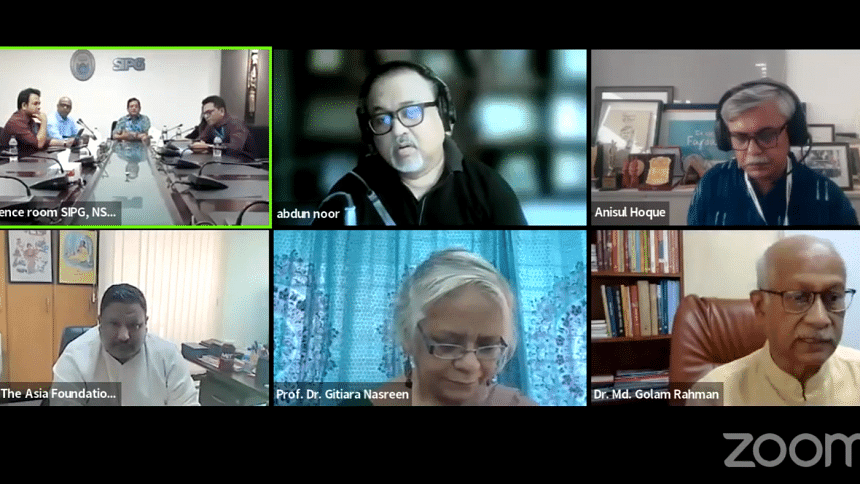 Media leaders, academia, and development practitioners underscored the necessity for continuous dialogue among government, media, and citizens to achieve mutual agreement, thus addressing the popular demand for good governance in the country.
They noted that cultivating public trust is a demanding, long-term process. The panelists stressed the need to abandon outdated, confrontational media reporting, especially in the face of rapidly evolving information and communication technologies. They advocated for enhanced collaboration among government, media,
and citizens.
These insights were shared during a webinar titled "An Outcome-Based Tripartite Collaboration Model Among Government, Media, and Citizens" organised by the Media and Journalism Program of the Department of Political Science and Sociology at North South University to observe International Press Freedom Day.
Dr. Rezwan-Ul-Alam, an Associate Professor at NSU's Media and Journalism Program, proposed a new collaborative model. Professor Dr. Golam Rahman, Editor of Ajker Patrika, was the webinar's chief guest. Other distinguished guests included Anisul Haque, Managing Editor of Prothom Alo; Professor Dr. Giti Ara Nasreen from the Department of Mass Communication and Journalism at Dhaka University; Dr. Abdun Noor Tushar, Media Personality; Dr. Samikhsha Koirala, Assistant Professor of Media and Journalism at NSU and Kazi Faisal Bin Seraj, the Country Representative of Asia Foundation Bangladesh. Dr. Md. Towfique E Elahi, an Assistant Professor of Media and Journalism at NSU, moderated the webinar.
Dr. Rezwan noted the importance of political will and a conducive communication environment for the mass media to function effectively. He called on the government to consider media as a public good, discouraging the application of undue pressure through restrictive laws and regulations. He expressed concern about the decline in media quality and the rise of journalism that seeks to appease or express solidarity with audiences.
Professor Dr. Golam Rahman, Editor, Ajker Patrika, said that the quality of journalism deteriorated during military rule in Bangladesh. Dr. Golam Rahman emphasised responsible journalism for the welfare of the people.
Anisul Haque, Managing Editor of Prothom Alo, highlighted the positive collaboration of media with the government that resulted in several good impacts in curbing acid violence and reducing the negative affect of famine-like situations in northern districts.
Professor Dr. Giti Ara Nasreen observed that various forces seriously undermine the freedom of expression in Bangladesh, thus losing public trust in the media.
Dr. Abdun Noor Tushar emphasized the importance of ensuring transparency and accountability of mass media owners and investors.
Dr. Samikhsha Koirala said that ethical and objective journalism could help restore public confidence on the media.
Kazi Faisal Bin Seraj observed that good journalism is a good business in economic terms, and the authorities must engage the media and citizens to ensure sustainable development in the country.
To operationalize the proposed collaboration model, a five-point recommendation was presented. It urged the government to recognise media freedom as a cornerstone of all other human rights and called for formulating a comprehensive national communication strategy. The recommendations also included encouraging community radio to broadcast local news, promoting media literacy among the public, expanding the role of news ombudsmen, and urging the media to adhere to principles of sustainable
journalism.