IUBAT celebrates 32nd founding anniversary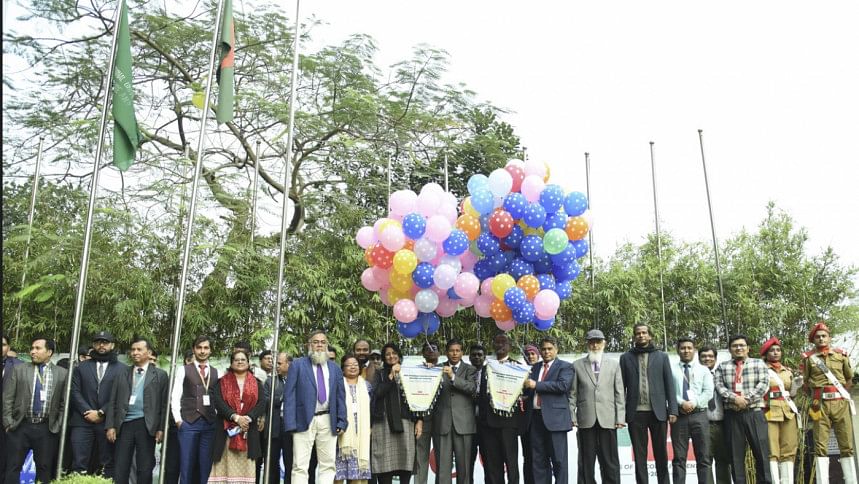 The International University of Business Agriculture and Technology (IUBAT) celebrated its 32nd foundation day at its own campus in Uttara, Dhaka on January 16.
IUBAT VC Prof. Dr Abdur Rab inaugurated the opening ceremony with the national anthem. The celebration began with hoisting flags and placing floral tribute at the grave of its founder.
In the afternoon, colourful balloons and white pigeons were released. Prof.  Dr Abdur Rab, Treasurer Prof. Selina Nargis, Registrar Prof. Dr Md. Lutfar Rahman, Exam Controller Brig Gen Dr Md Zahid Hossain (Retd), Engineering Dean Prof Dr Md. Monirul Islam, Agriculture Dean Dr Md Shohidullah Miah, Business Dean Associate Prof. Mozaffar Alam Chowdhury, and other professors were present.
Also, a special discussion program was organised with the participation of teachers, officials, and students.
IUBAT declared a month-long program including sports competition, English spelling contest/mastermind, blood donation program, seminars, workshops, debate competition, and cultural competition as part of the celebrations of its foundation day.
The journey of IUBAT started in 1991, under the guidance of eminent educationist Prof. Dr M Alimullah Miyan, as the first non-government university of Bangladesh. The vision is to produce at least one graduate from each village of the nation. From all around the country, thousands of students along with more than a hundred foreign students from 12 countries of Asia and Africa Region have enrolled here for their higher studies under eleven departments.