IS IT THE PERFECT TIME TO BUY A USED PREMALLION?
The first generation Allion & Premio, code-named "T240", started invading our streets sometime around 2002 and sold like hot cakes because of the price and standard entry-level luxury features such as reclining rear seats and climate control. They share most parts with the E120 generation Corollas and are fairly bullet-proof, which makes them great daily-drivers.
Most of the T240s that made it into the country were driven by a 1.5-liter 1NZ-FE motors producing 107 hp and 141 Nm of torque going to a 4-speed automatic transmission. You could also opt for a 1.8-liter 1ZZ-FE powered variant producing roughly 120 hp and 165 Nm of torque still going through a 4-speed automatic and if you tick the right boxes, they will sell you a 4wd variant too.  The top of the range models were powered by a 2-liter 1AZ-FSE engine producing 148 hp and 200 Nm of torque, paired to a CVT transmission.
Upgrades:
Engine: Now we've got the boring stuff out of the way, these cars do surprisingly well with an 1.8-litre 2ZZ-GE VVTL-I engine swap from the Toyota Celica GT-S or RunX RSi, which produces 189 hp at 7800 revs and 181 Nm of torque with the option of a either 4 speed automatic transmission or a 6 speed manual transmission. This engine will fit bolt-on without any frame modifications using OEM parts from different models. Still not enough? Maybe a 2-litre turbocharged rally-bred 3S-GTE motor will satisfy you with a power output of 220-260 hp depending on generation - fits snugly with minor modification to the mount points.
Handling: Since they share suspension components with the E120 generation Corollas, you can readily find reconditioned coilovers and lowering springs for these cars in the market. Ultra-Racing makes all the braces you can think of for these cars - can go a long way in making the driving experience of these cars much better. Polyurethane bushings are also.



Brakes: Larger front brakes from the Toyota Celica / 2L variants are a straight swap and rear discs from the Celica or Wish will fit bolt-on, making sure you can stop for those random unmarked speed-bumps we encounter every day.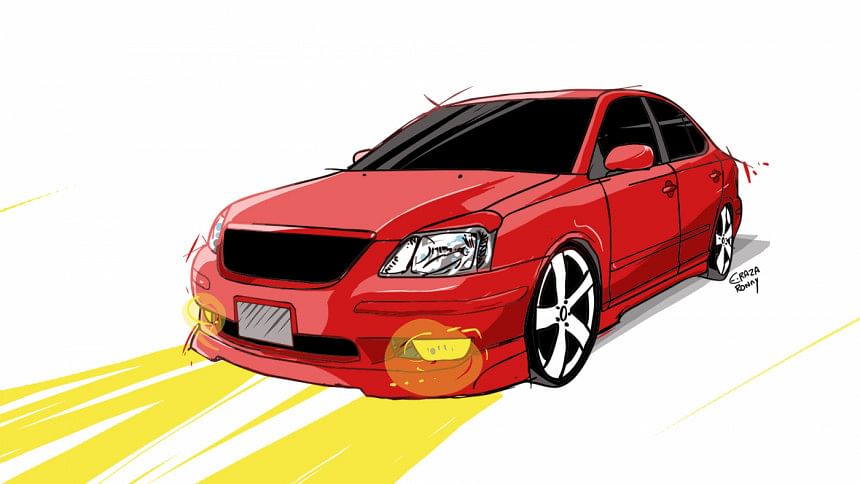 Pros: Cheap to maintain, spare parts readily available in different qualities making it affordable for everyone, adequate rear legroom, quiet and comfortable enough to daily drive around the streets in stock form. Can be turned into a Celica in disguise.
Cons: Underbody extends quite a bit below the side sills - making it difficult to get that hella-fitment, hard to find one with a straight body and clean paint, steering rack tends to go-out relatively quickly. Headlights starts to wear and develop micro-cracks if not taken care of properly.
Illustrations: Ehsanur Raza Ronny
Infographic: Shaer Reaz