Virtual racing replaces real world racing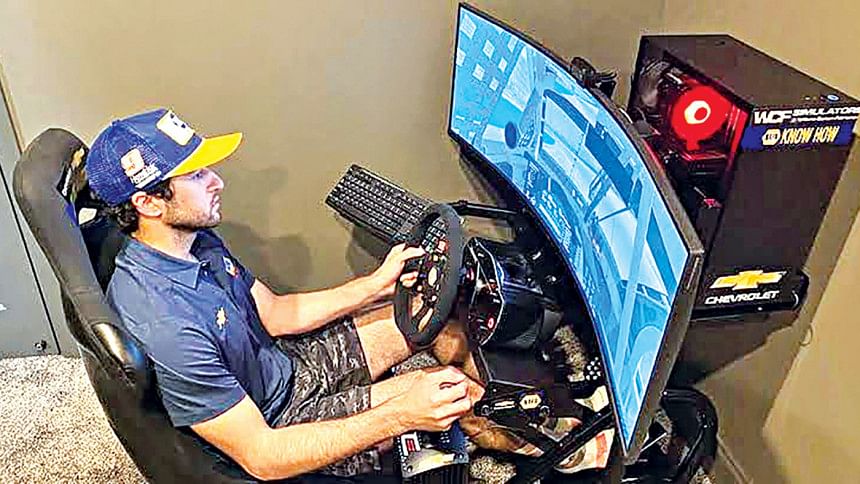 As the world confronts Coronavirus, causing events to cancel, fans are turning to virtual Simulator Racing events, to make up for the real world races lost to the pandemic. As shallow as it might sound, the pandemic felt real for the first time with the cancellation of major sporting events. While basketball, football, and baseball stars have nothing to turn to fill the void on their Sundays anymore, motorsport fans are a testament to the popularity of sim racing, namely iRacing and rFactor to name a few, as fan-favorite drivers have turned to their screen and webcam to stream the entire ordeal on twitch and YouTube. How this came to be is a funny one actually. As world's top racing series, Formula One, Formula E, NASCAR and IndyCar hastily decided to cancel their season opening debut races and ultimately, the season, TJ Majors, a spotter from #22 Team Penske NASCAR team, had a lightbulb moment whilst making lunch days before the cancelled Atlanta season opener, as he explained in an email to The Verge. Majors wanted to join in on an existing race by iRacing that was already scheduled along with his nothing-to-do-on-Sunday colleagues. As he explained his idea to his colleagues, they had ideas of their own, about starting their own race instead on the virtual oval of Atlanta Motor Speedway. From then onwards, it was only a matter of a few calls here and some texts there to and fro with behind the scenes people of NASCAR before actual drivers like Dale Earnheardt Jr. decided to join in the virtual grid, making history. Just like that, aptly named 'The Replacements 100' waved the checkered flag for boredom. According to iRacing's statistics, the 'replacement' race clocked in over 70,000 viewers on their official twitch stream.
Formula One soon followed suit after the cancellation of the season opening Australian GP. While NASCAR turned to a third party sim racing software, Formula One had two aces up their sleeves. Besides boasting their own official proprietary sim-racing video game published by Codemasters, McLaren Racing's very own Lando Norris's and Max Verstappen's online fame came to be a crucial component. While racing fans know Lando as the 20 year old rising starlet in a papaya orange-ish McLaren, to his beloved twitch subscribers, he's just a funny guy who streams himself playing PUBG. As Sunday rolled, the virtual grid was dominated by Lando and max, along with a plethora of top racing gamers each popular on YouTube, each worth their weight in salt. The virtual lights went out on as virtual carnage ensued. Lando's twitch stream pulled in 70,000 viewers alone. the ' not AUS GP' tallied in 175,000 viewers starved of action since November of last year. Legend has it that you can still find Lando Norris lurking inside a F1 2019 online lobby.
The latest to join in the online race day is Formula E, launching a virtual racing season, while Formula One announced a 'virtual gran prix' series to fill in the canceled races.
Not taking work from seriously enough? NASCAR driver Kyle Larson has been fired by his team, Chip Ganassi after using a racial slur during sim race as he tried to communicating with a friend privately while leaving his mic on. Virtual actions seem to have real world consequences as NASCAR driver Bubba Wallace lost a sponsor after he rage quit a sim race preceding a virtual crash, in true gamer fashion.
Simulator racing laminates to be the only game where the player can live in their dream of being a racing driver. Be it racing in their favorite racing idol's car or their favorite track. Albeit the so called realism aspect of simulator racing lacks one key element; the sheer G force a driver experiences in real life racing, simulator racing has a lot to give. More so as racing drivers are where they are because of sim racing. Jann Mardenborough started off with a play station controller in Gran Turismo. In 2011, he beat 90,000 players at the GT academy competition, a program in association with Gran Turismo and Nissan. The reward? Drive a GTR race car at the Dubai 24 hour race, in real life. In short, he made a career; gamer to racing driver. In a similar fashion, sim racing can help hone one's driving skill. Which is evident as Formula One teams spend millions in R&D in sim racing as they go as far as signing up seperate drivers whose sole purpose is to eat, sleep and come back to the office (and have a go at their simulator, locating flaws at their virtual race car, which loosely translates to troubleshooting for errors in the real life car) and repeat. All in a day's work.
As the world is cooped up fighting an invisible enemy, what better time to bust out the PlayStation (or Xbox if your orientation lies that way) and drive around on virtual roads, pushing priceless animated cars to the limit or cruising with online friends in an open world Forza horizon lobby? You might even find your true calling to be the next Jann Mardenborough.