Automobile visionaries
5 people that pressed a rest button on the automobile world
These are the designers, engineers and CEO's that saw a vision of the future when others were blind, and in the pursuit of their dreams of the future, left a lasting impact on the world of transportation and mass mobility. There will always be mention of the Henry Fords and the Enzo Ferraris and the Horacio Paganis, but these men are the unsung heroes and deserve their share of the limelight.   
---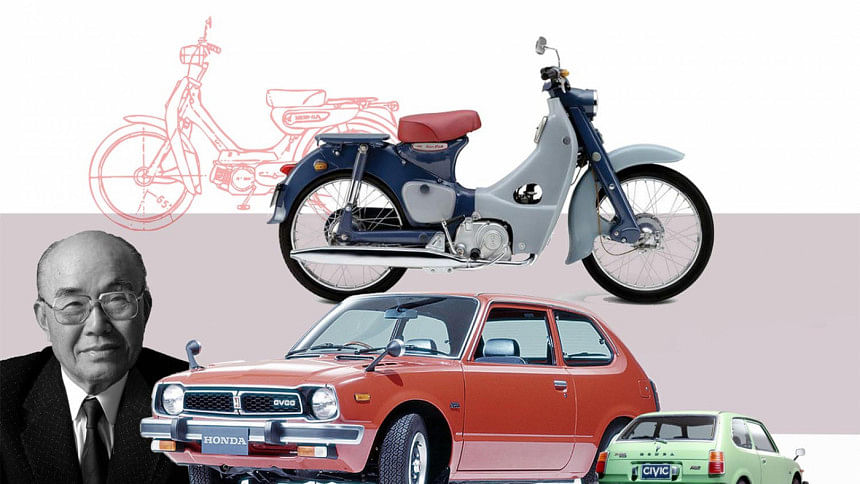 SOICHIRO HONDA
Famous word: "The value of life can be measured by how many times the soul has been deeply stirred"
Founder, Honda Motor Corp.
Soichiro Honda started his stellar career as one of the best minds in the automotive world as a bike mechanic, fitting electric motors to bicycles to make rudimentary motorbikes. He would go on to design the Honda Super Cub, the highest selling motorised vehicle on the planet. Honda's vision of a globalised world led to him taking the decision of exporting his cars to North America and setting up dealerships abroad, starting with what is still one of the best selling cars on the planet - the Honda Civic. He also got his company involved in motorsport like Formula 1 in order to drive R&D - decades before other mainstream manufacturers followed suit. 
---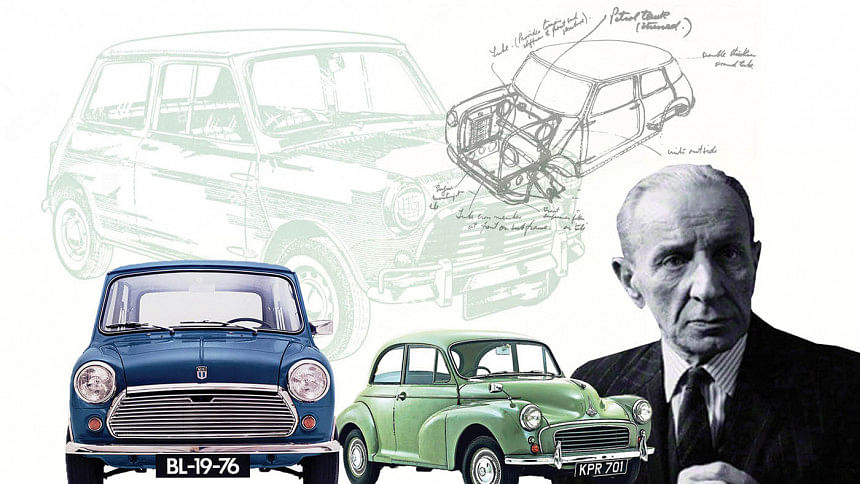 SIR ALEC ISSIGONIS
Famous word: "An expert is someone who tells you why you can't do something."
Designer & technical director, British Motor Corporation.   
Referred to as the "Greek God" by his colleagues at the now defunct British Motor Corporation, genius designer and engineer Sir Alec Issigonis was responsible for two of Britain's greatest hits - the John Lennon that is the original Austin Mini and the Paul Mcartney that is the Morris Minor. The Mini is the best selling British car in history with a production run of 5.3 million cars, featuring ingenous packaging that left engineers scratching their heads trying to come up with city cars that coul beat it in practicality. It would become a global icon, along with the man who designed it.
The Minor and the Mini were early heroes of the race to build cheap, eco city runabout car - combining chic style with endless praticality before it became cool. It's funny how oil crises' gifted us some of the coolest cars.
---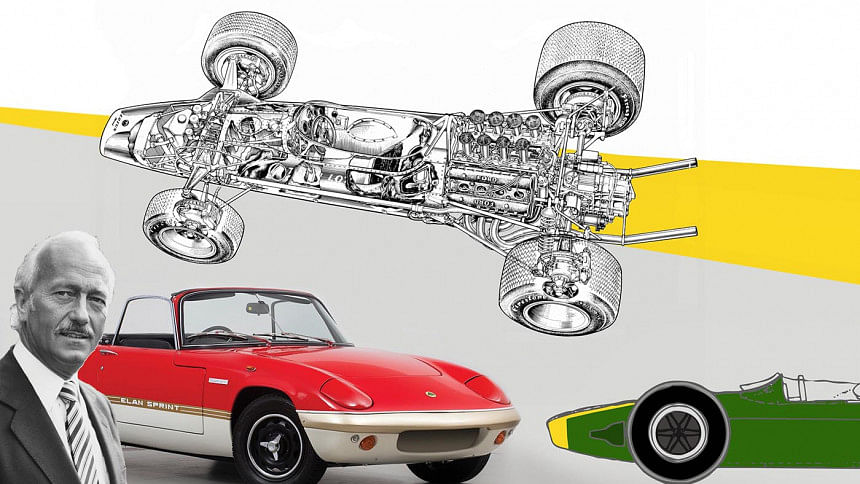 COLIN CHAPMAN
Famous word: "Simplify, the add lightness"
Engineer and founder, Lotus Cars.
Colin Chapman, chap amongst men, studied structural engineering at UCL before training to be a pilot and almost joining the RAF. We're glad he didn't, because without him and his knowledge of lightweight materials and construction techniques, the world of supercars and lightweight sports-cars would be very different. Chapman's ideas about monocoque construction and chassis design helped his company Lotus win at Formula 1, paving the way for modern safety standards and body rigidity. Under his direction, Team Lotus won 7 Formula 1 Constructors' titles, 6 Drivers' Championships, and the Indy 500, between 1962 and 1978. While Lotus has been a dominant force on the track, its road cars proved that you didn't need 8 cylinders to make a good sports car - the Elan, Elise and Espirit are all by-products of that ethos of going light. It inspired a whole class of cars - the British lightweights - as well as track cars like the modern day Ariel Atom, BAC Mono and more.
BMW and Tesla on the next page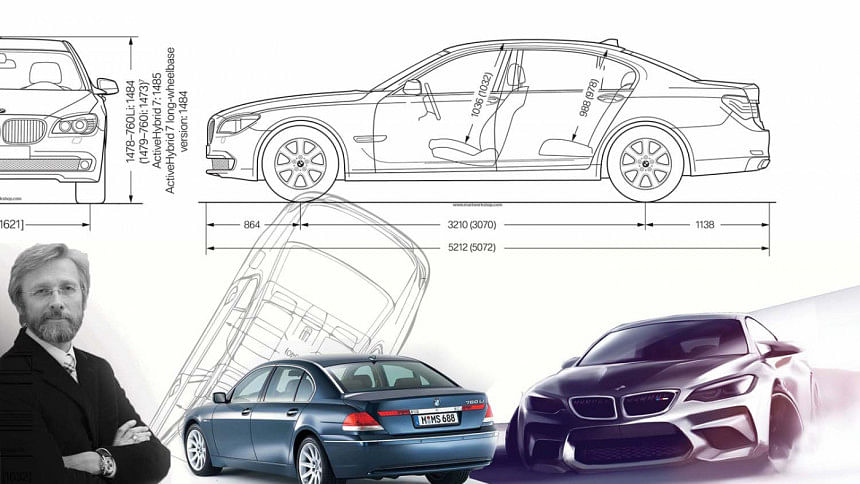 CHRIS BANGLE
Famous word: "Cars are not a suit of clothes; cars are an avatar. Cars are an expansion of yourself: they take your   thoughts, your ideas, your emotions, and they multiply it."
Ex-Chief of Design, BMW Group.
Chris Bangle studied Industrial Design in California and University of Wisconsin before starting his career at Opel in Germany. His first hit was the sensational Fiat Coupe of the early 90's, earning him the position of chief of design at BMW. He would go on to define the design language of ALL modern BMW's for two decades straight. Best known for his notorious revamp of the BMW designs in the early 2000's (complete with the signature "Bangle Butt"), he was initially hated and cursed at for ruining a popular German marque. Fast forward 10 years and every single modern sedan, coupe and hatch has borrowed from his design ideas about flame surfacing and the "wheels at the corners" look - from  Honda to Ford to KIA and Hyundai. His work became so influential that he it's impossible to think of a modern vehicle that does not borrow his ideas.
(Some of us have serious doubts about him contributing to GOOD design. THere's a reason the term 'Bangle Butt'exists. - Ed)
---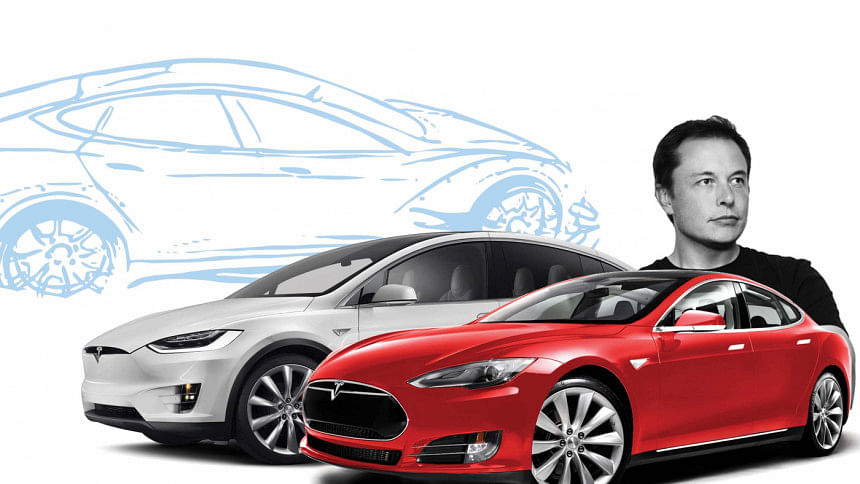 ELON MUSK
Co-founder, CEO, product architect, Tesla Motors
It's near impossible to name an inventor, entrepreneur and engineer who has a brighter vision of the future and the means and will to attain it than Elon Musk. From envisioning extraordinary ideas of mass transport to viable space travel to redefining the luxury car, Elon Musk has taken the idea of transportation to a whole new level. Tesla is breaking boundaries that would take a mainstream manufacturer decades to even get board approval and get the ball rolling. Under his direction, Tesla has taken a leap forward into electric cars, built an extensive support infrastucture to make electrics mainstream, and turned the luxury car into a smart accessory. The innovation doesn't stop there: Tesla has invested billions into developing driverless technology in a safe and viable way. Whatever your view regarding the future of automobiles, Tesla has invested in it and wants to make it happen - not in 5 years or 10, but now. And Elon Musk will do it while giving the finger to the fossil fuel dinosaurs roaming around today.