Skylines R34 from Autoart, Kinsmart and Hotwheels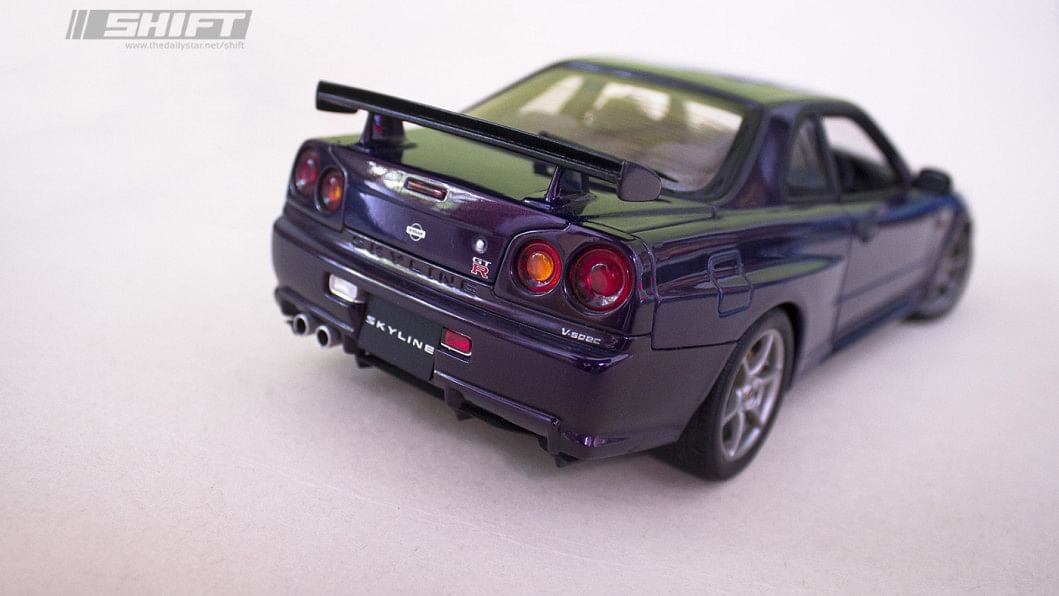 Skylines are special cars to petrolheads in the way pizza is special. There's some version of a pizza or Skyline somewhere in history that will excite a person. You can't argue though how special the R34 is. Some may not like it for its butch design and industrial sharpness to form. Others will find it beautiful. Regardless, it finds a place in most car guys list of cars to have for its amazing handling, power and rock solid techno wizardry. And it starred in a few instalments of Fast and Furious. This week we have an Autoart 1:18 provided by a Rubab Momen. And a couple of sibling R34s from our own stash.
Autoarts are expensive and it shows in the finish quality. The paint is brilliantly done and the casting is perfect. Body panels are smooth as is the paint. This is in stark contrast to more common models from Maisto and the currently Chinese Bburago. The latter have paint that is often full of orange peel and noticeable bumps. The Autoart on the other hand has smooth as glass paint. And that purple paint is just like he actual pearlescent one on the real car. Quite possibly the best color for an R32 aside from the electric blue.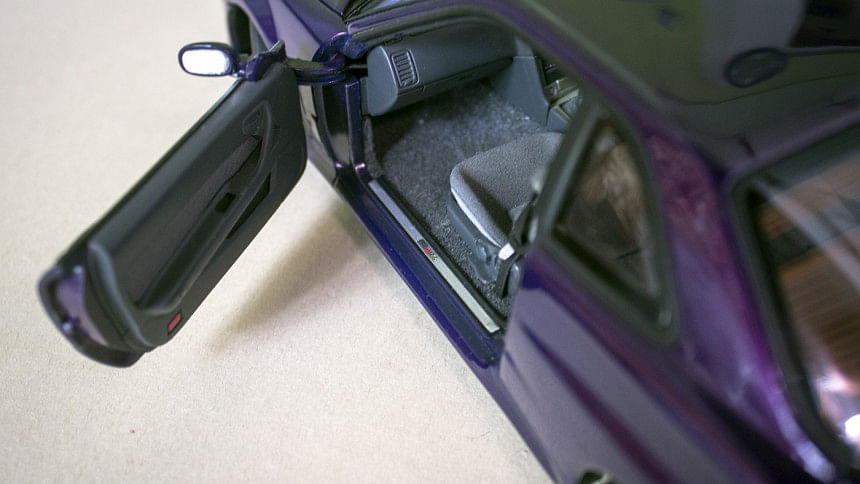 The interior
is fantastic. There's flocked carpet and seat belts with photoetched belt clasps. The seats have a suede-like material covering them. That same flocking is present on the rear shelf as well as in the trunk interior. Since this car doesn't have windows on the doors, expects the interior to catch a whole lot of dirt unless you keep it stored behind glass. Later casting of the R34 such as the Z-Tune version have rolled up windows.
Seems even Autoart has base models and this is probably it. You'll notice that in the slight lack of detail of the engine bay. Pop it open and you'd be amazed by the legendary RB26DETT engine. But I was hoping there would be more tubing to make it look more authentic. The fuse box is plain black where the Z-Tune version has a decal showing all the fuse markings. The Z-Tune also has a small rod to hold the hood up which is not here in this V Spec. But all the Autoart R34 engines have a bit of a simplistic detail level. The 'Twin Turbo' badge on the intake pipe is supposed to be raised and embossed but here it's just a sticker. I know I'm nit-picking but when I see Autoart, I expect to be able to be shrunk down, be able to start the car and go for a drive beneath my dining room table. It's the little things that make these scale models more amazing.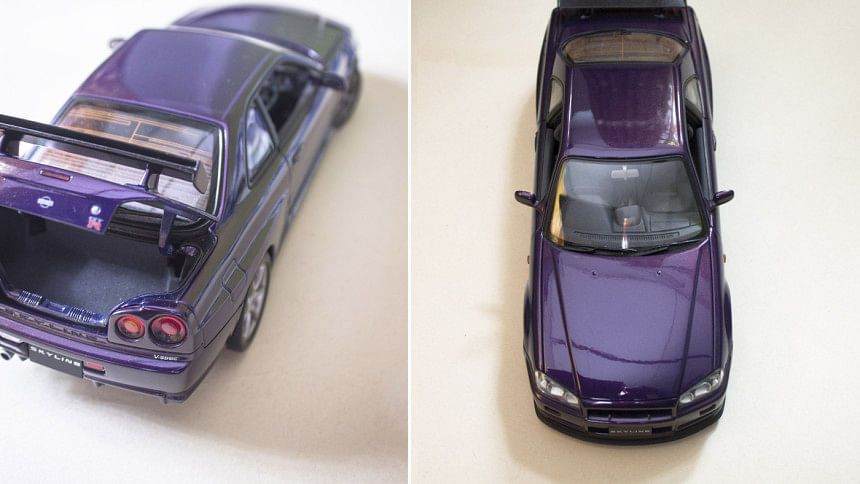 You'll love the decals all around the car. These are aluminium decals that look and feel like actual scaled down badges. The same thing is on the door sill. Be careful how you handle them though because these are fragile and a hard bump or snag can damage the deals. Keep away from cats and people with clumsy thumbs. As Rubab found out when a worker at his house broke off the rear spoiler and threw it away in fear.
These cost $120-160 on eBay new. Despite the slightly lacking engine detail, this is an exceptionally well built model with a beautiful interior.
 
---
The Kinsmart model shown here is an old casting and has plenty of flaws. It's an old piece that's been lying in a desk drawer at home. It rides too high, headlights don't have painted details and the doors are narrow metal without any padding. But the proportions are good and it's pretty rare now if you can find one. If an R34 is on your wishlist but the wallet has as many flies as a Dhaka municipal dustbin, then the Hotwheels R34 is the best option for you. It is possibly one of the best castings by HW. The proportions are spot-on with the wheels being just the right size instead of the usual child's toy dimensions. The interior has very nicely detailed bucket seats with moulded in seat belts and bonus feature include very cool looking front and rear wipers. The one you see here has custom wheels to look more like the Nismo five spokes. TIP: You can grab hold of five spokes from a Matchbox or fill in the spokes of a typical Hotwheels PR5 wheels.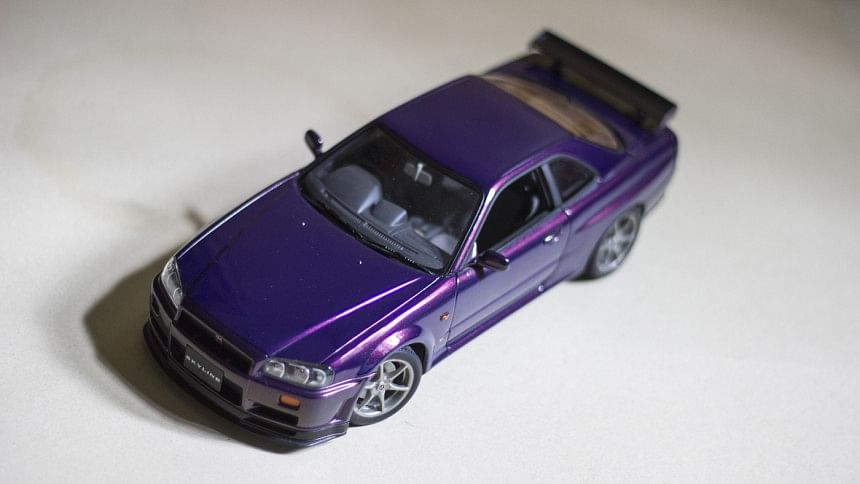 Scale models often get damaged. The galleryu below shows how the missing spoiler on this R34 was rebuilt.