Sexual minorities being harassed
Sexual minorities being harassed
Law enforcers using Section 54 to do that; lawyers tell Bandhu Social Welfare Society workshop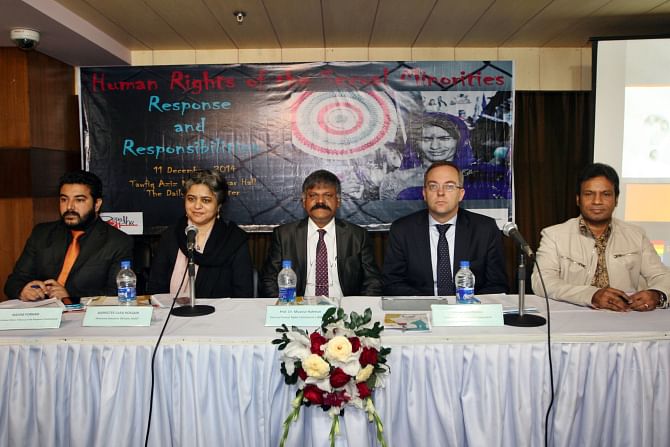 Law enforcers often use Section 54 of the Code of Criminal Procedure to harass homosexuals and other sexual minorities as it allows arrest of anyone without a warrant, lawyers from around the country told a workshop yesterday.
It remains the most convenient way to harass people, they observed at the programme, "Human Rights of the Sexual Minorities: Response and Responsibilities", organised by Bandhu Social Welfare Society in the capital's The Daily Star Centre.
"Section 54 is often abused at the whim of law enforcers.
Besides, being politically motivated, sometimes the arrests take place simply to take bribes," said Barrister Sara Hossain, honorary director of Bangladesh Legal Aid and Services Trust.
Referring to a 2003 High Court directive asking police and magistrates to make responsible use of the act, she said before arresting anyone police were supposed to reveal their identity and explain the reason for the arrest.
"If people inform the Supreme Court about any incidents of abuse of section 54, the law enforcers concerned would face contempt of court proceedings," she said.
Maintaining that the time has not come to advocate for same sex marriage, National Human Rights Commission Chairman Prof Mizanur Rahman narrated the plight of socially ostracised sexual minorities.
"We have not been able to ensure the basic rights of sexual minorities yet," he regretted.
The society Chairperson Anisul Islam Hero said schoolteachers need to be sensitised so that they do not throw sexual minority students out of schools.