SpaceX launches Bangabandhu-1 with most powerful Falcon 9 rocket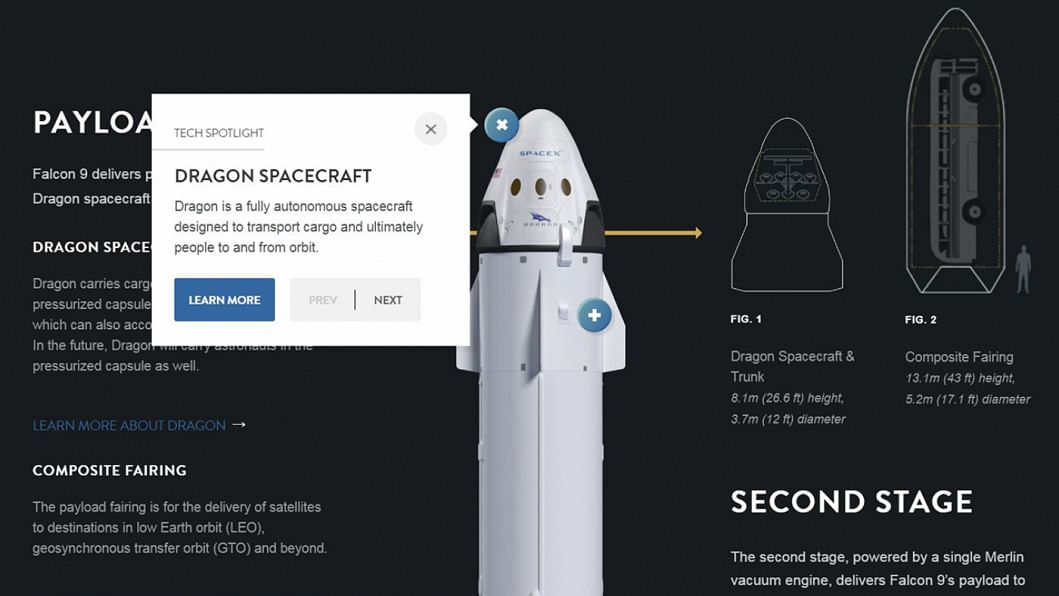 SpaceX on Friday, May 11, blasted off its newest and most powerful Falcon 9 rocket, known as the Block 5, carrying the first communications satellite for Bangladesh called Bangabandhu Satellite-1, and marking a leap forward in re-usability for the California-based aerospace company.
The main goal for the maiden mission of Block 5 Falcon 9 rocket was to launch the high-orbit communications satellite for Bangladesh to a geostationary transfer orbit roughly 22,000 miles (35,000 kilometers) above Earth, reports AFP.
The achievement was hailed by Bangladesh Prime Minister Sheikh Hasina in a livestream video from Dhaka aired on SpaceX's launch webcast.
"In the continuous advancement of Bangladesh another milestone is added today," the PM said.
"With the launch of Bangabandhu-1, we are hoisting our national flag into space," she added.
How many satellites out there?

Total number of operating satellites is now 1,738.
United States
803
Russia
142
China
204
other
589


Bangabadhu-1 to save $14m/yr
The Falcon 9 rocket's payload, the Bangladeshi government's first communications satellite, Bangabandhu-1, was placed into Earth orbit just 33 minutes after launch.
Talking about the benefits of the Tk 2,765.66 crore commercial satellite, project officials said it would immensely contribute to the digital advancement of the country.
The satellite will offer video and communications coverage over Bangladesh and its territorial waters in the Bay of Bengal, as well as in India, Nepal, Bhutan, Sri Lanka, the Philippines, Indonesia, Myanmar, Tajikistan, Kyrgyzstan, Uzbekistan, Turkestan and a part of Kazakhstan.
Renting out broadcasting capacity will be one of the main purpose of the satellite as Bangladesh currently meets its demand for satellite connectivity renting from foreign operators spending about $14 million a year.
Bangabandhu-1 could save the foreign currency and its unused capacity could also be rented to other nations.
However, over the last few months, a number of local TV channels have expressed their reservations that Bangabandhu-1 would be far out in the east and it might not be suitable for them. 
State-owned Bangladesh Communication Satellite Company Ltd would operate the business of the Bangabandhu-1.
The satellite will also provide broadband connectivity to rural areas throughout Bangladesh, according to a SpaceX statement.
The satellite is expected to be operational for at least 15 years, it added.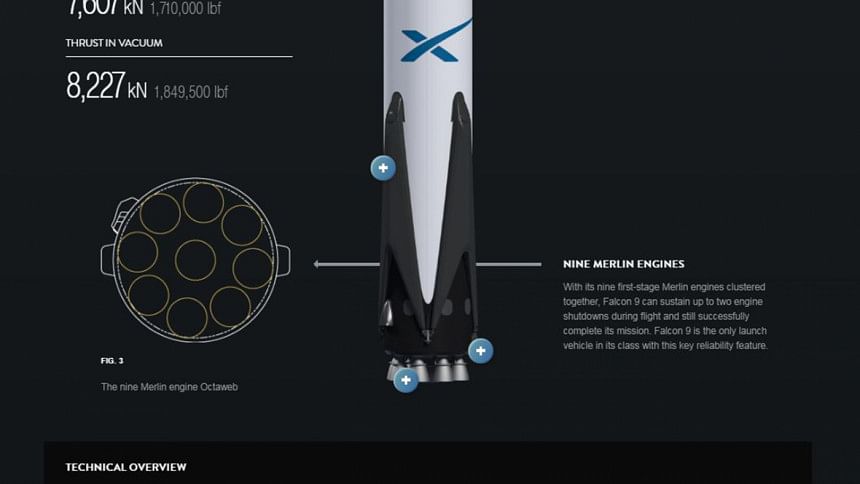 The rocket launched at 4:14pm local time (2:14am Bangladesh time) from the Kennedy Space Center in Cape Canaveral, Florida.
Minutes later, the rocket's main-stage booster flew itself back to Earth to achieve a safe return landing on an unmanned platform vessel floating in the Pacific Ocean.
About a half hour after launch, live images showed the satellite drifting into the inky blackness of space, as cheers and screams erupted at SpaceX headquarters in Hawthorne, California. 
SpaceX Falcon 9: Future is now
The newly minted SpaceX Falcon 9 Block-5 rocket is an update to its predecessor Block-4, being equipped with about 100 upgrades for greater power, safety and reusability, reports Reuters.
With less weight and a more easily produced structure, the Block-5 rocket has been tailored for eventual crewed missions for NASA.
Reliability is crucial to the next milestone for SpaceX: Putting astronauts on top of Falcon 9 in the company's Crew Dragon capsule. NASA requires SpaceX fly the same design of Falcon 9 seven times to certify it for human flight.
The rocket requires far less maintenance and refurbishment between flights, and is certified to carry humans to space later this year when SpaceX would launch its Dragon crew capsule to the International Space Station.
The maiden mission of the Block-5 rocket was the ninth launch by SpaceX so far this year, compared to five orbital-class missions the company had logged at the same point in 2017, according to Musk.
"This rocket is really designed to be the most reliable rocket ever built," said SpaceX CEO Elon Musk. 
On Thursday, the maiden launch was postponed at the last minute when an automatic abort switch was triggered, which SpaceX said was just a glitch and the spacecraft remained in good health.
The rocket is built to re-fly up to 10 times with minimal refurbishment, Elon Musk told reporters ahead of the launch.
SpaceX has now landed 11 of its boosters on land and 14 on its droneships, which are floating platforms in the ocean, as part of its effort to bring down the cost of spaceflight and re-use costly rocket parts.
The tentative first crew launch for SpaceX is planned for December this year, marking the first time that a rocket has left US soil carrying people to space since the end of the US space shuttle program in 2011. 
Besides missions to the space station, the new rocket will be used to launch US Air Force global positioning satellites and other high-value, military and national security payloads.
For the orbital class rocket shuttle, SpaceX has a plan for more ground breaking innovations including launching and landing the same rocket twice in 24 hours – as early as next year, reports CNBC.
Turning around a rocket in a single day would be a momentous achievement. Being able to launch, land and launch again with minimal refurbishment between flights has been a central focus for SpaceX. The company has become quite successful at landing the largest part of the rocket -- known as the first stage or booster. But it has yet to complete more than two flights with the same Falcon 9 booster. Block 5 is set to change that, according to the CNBC report.
Last year, the company recorded 18 successful launches.
For manned missions
Block-5 marks the final version of the Falcon 9 lineup before SpaceX introduces its super heavy-lift launch vehicle, dubbed the Big Falcon Rocket, or BFR, which will be designed to send manned missions to Mars, 
SpaceX is one of two private companies hired by NASA to ferry astronaut crews to the space station. The other is Boeing Co, reports Reuters.
SpaceX is set to complete testing over the next 12 months for its Dragon capsule built to carry humans. With SpaceX nearing the crucial final tests, Musk stressed how the long road the company traveled to get to where it is today, reports CNBC.
"It's taken us, man, from 2002, 16 years of extreme effort and many, many iterations, and thousands of small but important development changes to get to where we think this is even possible," Musk said.
"Crazy hard. And, of course, we still need to demonstrate it. So it's not like we've done it. But it can be done," he added.
Low cost
The recoverable Block-5 booster designed to be reused at least 10 times with minimal refurbishment between flights allows more frequent launches at lower cost - a key to the SpaceX business model.
Enhanced rocket reusability also is a core tenet of SpaceX owner and billionaire entrepreneur Elon Musk's broader objectives of making space travel commonplace and ultimately sending humans to Mars.
SpaceX has safely return-landed 24 of its boosters and reflown 11 of them.
$28b worth company
SpaceX now dominates the global market of orbital rocket launches, which the US had seceded to Russia and Europe until last year. Launching nearly every other week -- while developing a gigantic reusable Mars rocket and a constellation of 4,425 broadband satellites -- SpaceX has become one of the most valuable private companies in the world, worth nearly $28 billion.
Block 5 simply concretes SpaceX's business case. Each improved Falcon 9 "is capable of at least 100 flights," according to Musk, CNBC reports.