Hasina opens Bangabandhu Satellite's two ground stations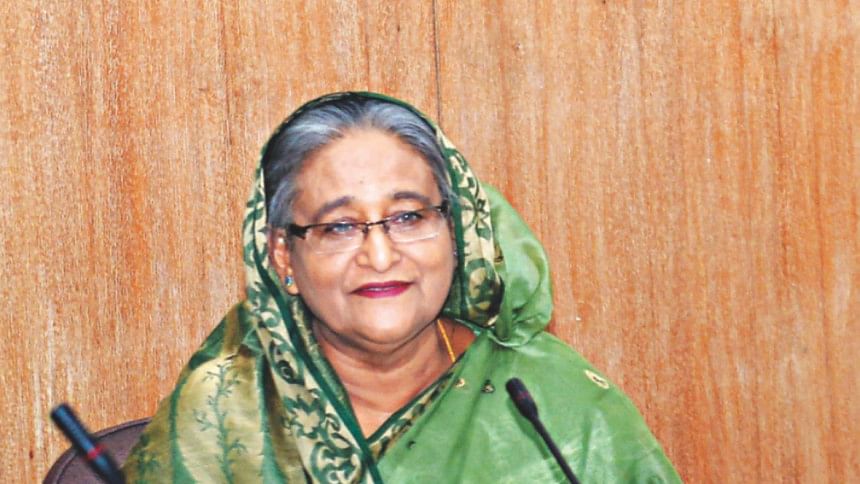 Prime Minister Sheikh Hasina yesterday expressed her firm conviction that Bangabandhu Satellite-1 would play a pivotal role in overall development of the country.
"Through the satellite we will be able to know the whole world and our children will be able to learn about space and nuclear technology, marine science and other areas of science, culture and nature which will be useful for them as well as the country's development," she said.
The prime minister was addressing a function in the capital's Bangabandhu International Conference Centre organised marking the successful launch of Bangabandhu Satellite-1 and inauguration of its ground stations in Gazipur and Betbunia, Rangamati.
Hasina said Father of the Nation Bangabandhu Sheikh Mujibur Rahman had laid the foundation stone of the country's first satellite station at Betbunia. But after his brutal death, space technology didn't get due importance to flourish.
Bangladesh has emerged as the 57th country having satellite in space and the 34th nation to have constructed nuclear power plant, the PM said.
She said her government attached importance to the development of the entire country. The government was striving to create a democratic atmosphere and ensure people's rights to food and franchise, she added.
The PM inaugurated the two ground stations for Bangabandhu Satellite-1 through video conferencing with the officials of the Gazipur and Rangamati districts and engineers of the stations. She also released commemorative stamps issued by the postal department on the occasion.
The ground stations have been named after PM's ICT Affairs Adviser Sajeeb Wazed Joy in recognition of his contribution to successful launching of Bangabandhu Satellite-1 and development of space and digital technology in Bangladesh.
Hasina said her previous government in 1996 had taken steps to provide modern education on computer technology to the people. About nine crore people use internet while 13 crore mobile SIMs are being used in the country, she told the programme.
She said information technology was being used for "learning and earning" and many unemployed rural youths have found their employment opportunities in the IT sector. Government services were made available for people from 5,275 digital centres across the country, she said.
The PM congratulated the engineers and officials who worked for successful launching of the sattelite-1 into space and inaugurating the ground stations.
Finance Minister AMA Muhith, Information Minister Hasanul Haq Inu, PM's ICT Affairs Adviser Sajeeb Wazed Joy and State Minister for ICT Zunaid Ahmed Palak attended the programme, with Post, Telecommunications and ICT Minister Mustafa Jabbar in the chair.
Cabinet members, PM's advisers, chiefs of naval and air forces, lawmakers, diplomats of different countries and top civil and military officials attended the programme.