Bangabandhu satellite to link 39,000 ships at sea
MoU signed with shipping ministry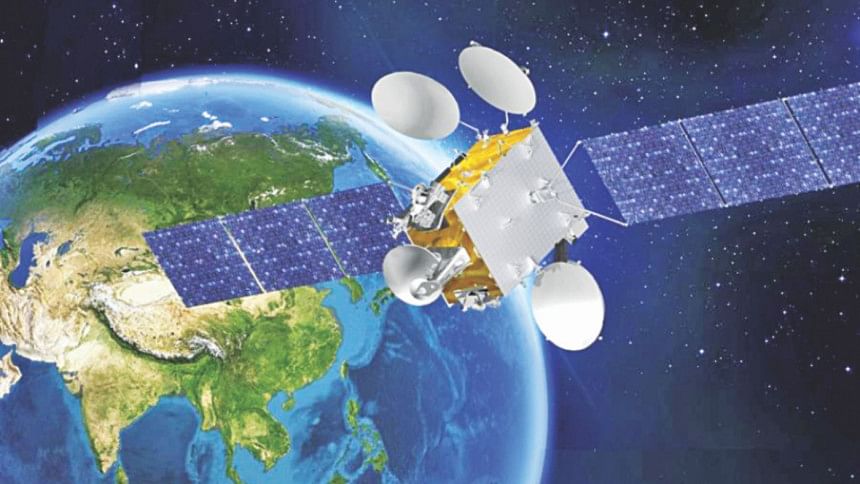 Bangabandhu-1 satellite will provide the connectivity to around 39,000 ships in the Bay and the inland ports of the country in a year.
Bangladesh Communication Satellite Company Limited (BCSCL) today signed a memorandum of understanding with the shipping ministry to make the efforts a success.
This is the first business promise from the BCSCL, is also engaged negotiations with eight other ministries and divisions to provide them connectivity, said Md Saiful Islam, managing director of the government-owned company.
"BCSCL will earn huge amount yearly by providing this service to shipping ministry when after the country's first communication satellite will starts its commercial activity in September," Islam told The Daily Star after the agreement.
However, Islam, also an additional secretary at the telecommunications division, denied to provide the actual value. "When the final deal will be accord the value will be declared."
As per the agreement, with the help of the satellite, all the country's ships and vessels navigating through the country's rivers and seas will be able to maintain communication with each other and prevent accidents, helps them when needed, gain uninterrupted access browse internet, enjoying televisions and other telecommunication facilities.
The agreement was signed by the secretary of the ministry Md Abdus Samad and BCSCL managing director.
In the signing ceremony, Abdus Samad said that approximately 4,000 international vessels enter Bangladeshi waters annually, while 35,000 domestic vessels navigate throughout the country annually.
This agreement would help the vessels to maintain uninterrupted communication with each other and prevent collisions, enable access to internet and many more facilities, the secretary added.
Alongside the vessels, the facilities can also be availed by the inland river ports, ferry ghats and other riverside establishments, they said.
Citing the agreement as the first contract attained for Bangabandhu-1, Islam estimated September to be the time when they can formally begin to provide its services. He said there is target to go for more commercial service contracts after September.
BCSCL is also on final stage of negotiation with youth and spots ministry, which the ministry will use for e-learning process, as a meeting also hold yesterday about the issue, Islam added. "Some non-governmental organizations also contacting with us to get connectivity and will finalise it gradually." 
Project director of Bangabandhu-1 Mezbahuzzaman, attended the signing ceremony, told The Daily Star that no technical faults are found in the satellite so far, which is operating smoothly and in constant communication with the two ground control stations at Betbunia in Rangamati and Gazipur.
Shipping minister Shahjahan Khan and telecom and ICT minister Mustafa Jabbar were also present at that time.
On May 11 the Bangabandhu Satellite-1 thrown to its orbit, a project was initially worth Tk 2,967 crore and revised down to Tk 2,765 crore later.
BCSCL has also plans to save huge amount of foreign currency by providing connectivity to the local television channels and leased satellite's unused connectivity to other countries.