Meet the disorganised crime family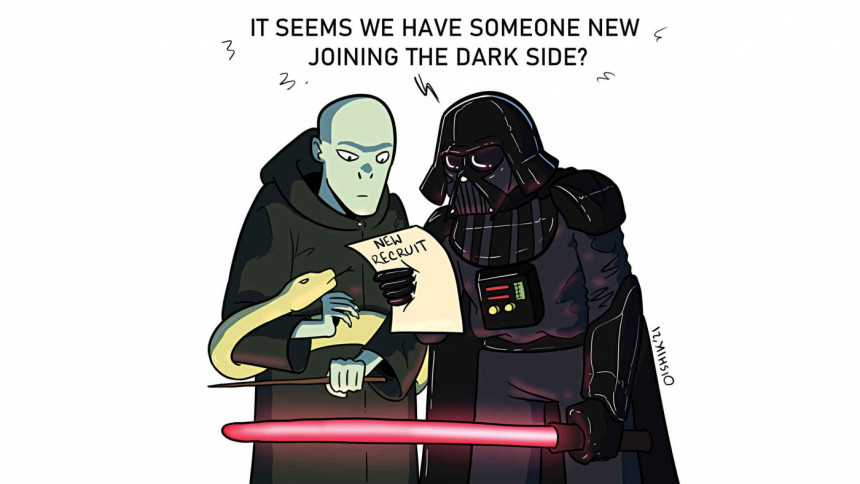 A disorganised crime family – The Dark Side -- has suddenly come in the crosshairs of a multimillion-dollar propaganda machine, also known as News. Although no one is supposed to talk about it, so as to avoid feeding the propaganda, how innocent Third World country citizens are targeted by more prosperous nations merited some discussion.
All over social media, citizens whispered of the making of the campaign, which began with a mockumentary. The boldest among men, who have no fear in their heart and only the desire to be outspoken, even dared to share the mockumentary.
Some demanded that local journalists follow their international counterparts, as if the former had not been indulging in small-scale propaganda all this time.
In the carefully planned smear campaign, which took around two years to develop, people disguising themselves as investigative journalists, followed around members of the disorganised crime family around the globe. Their plan was to learn what the family was up to. Turns out, they were up to no good.
Meet the disorganised family. At the head was a man simply known as Sultan. We say was because Sultan, as people bad at crimes, is dead. He was replaced by James. James was supposed to be a proficient identity thief. Except, James would always sign using his real name even when he was forging documents. His fake documents were also really fake. In fact, his fake passport was emblazoned with the words "Fake Passport". As expected, James was soon caught and had to flee the country, leaving the family business to his younger brother Stalin.
How good was Stalin? Not good at all. Stalin was so bad at his criminal enterprise that he soon found himself in jail. He spent nearly a decade in the hospital jail, after falling sick very early on in his term. Spending his time repenting, Stalin's newfound love for the lord and all that is good was soon recognised and he was pardoned for all the murders and extortion. He was the Lil Wayne, before there was a Lil Wayne.
Stalin then packed his bags and left the country to meet with James, who was now in a Western country, where most of our criminals are sheltered. The Western Country, hungry for the vaccines which they knew we would one day have, allowed James to stay under a false identity. The two teamed up and began to scheme more disorganised dreams. For it all to work this time around though, they had an ace up their sleeve: their final brother. The final boss.
Meet Ansari. Ansari was such a bad criminal that he turned to law enforcement instead and became a police officer. Not just a police officer though, Ansari rose high, becoming the greatest traffic sergeant this country had ever seen. Ansari would always stop CNG-run autorickshaws while letting unlicensed four-wheelers with tinted windows speed by. He would also frisk and search those on rickshaws. If he ever saw a young man with a young girl after 11:00pm, then he knew his day was made.
With someone in the in now helping them out, the disorganised crime family began to plan an empire. That is until they fell unwitting victims to News' sting operation. News actually wore hidden microphones and cameras to get on record members of the crime family talking about how criminal they really are. "We are the dark side," one of the brothers boasted for some reason, proud to have been able to flee the country they are supposedly running. 
But as disorganised crime families do, the brothers could not keep their mouths shut and ended up implicating all of the current governing politicians, dropping more names than rapper The Game.
In fact, many think Stalin has a future in the rap game as he tells everyone what his business is. "I will feed everyone to the dogs because the rulers have said I can do anything I want," he quipped like a child.
Caught up in the sting operation, the release of the mockumentary sent government high-ups in panic. The PR plan was simple: attack the weakest arguments and completely ignore everything else.
"These are all fabricated," a minister, who happened to attend a party thrown by the criminals, video of which was uploaded on Youtube, said. When pointed out he was in the video dancing very badly, the minister said his moves were right and the occasion called for the Desi-Uncle dance. He then spent a few more minutes talking about the Desi-Uncle dance. Classic evasive technique.
The Headquarters of the Police also released a statement on the mockumentary. "This is a smear campaign. It is all lies. Everything is doctored," the statement simply said.   Meanwhile, supporters of the country, whose patriotic sentiments were hurt by foreign journalists doing their job without the threat of an oppressive digital security act, changed their profile pictures to show support for the corruption. "Foreigners are always meddling in our affairs. So what if we are a mafia state? At least we don't indulge in slave trade. We don't, right?" one commentator said.